Buxton 6 Man Waterproof Tent

- Green

×
BESTSELLER
This item is selling fast!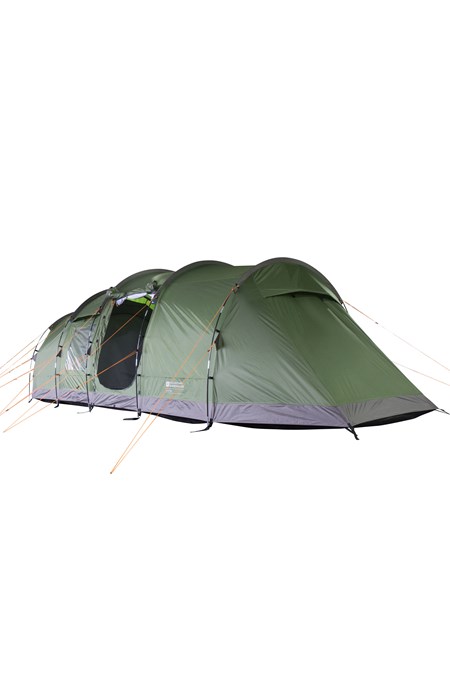 Buxton 6 Man Waterproof Tent

- Green

Save For Later
Free Exchanges & No Hassle Returns
Code: 025892
The Buxton 6 man tent is a great option for big family camping trips. The Vis a Vis layout provides two bedrooms at either end with one large, spacious living area at the centre, perfect for quality time with the family. Tent comes with a sewn in groundsheet and insect mesh doors and large vents above the window that allows breathability while keeping out the bugs! The buxton 6 is a must have tent on your next camping trip.
Weight - 17kg
Dimensions - 700cm x 240cm x 195cm
All in one pitch - tent can be pitched all in one as a flysheet and inner tent. Note: the tent will require the inner tent to be clipped in on first pitch; but do not need to be removed to pack away
Inner tent - inner tent and bedrooms separate from the flysheet allows for better breathability and helps to reduce condensation
Taped seams - all seams on flysheet are factory taped, providing a watertight seal
Sewn in groundsheet - secures the inside of your tent from drafts, wetness, and insects
Vis A Vis lay-out - 2 bedrooms with dividers either side of the tent, providing a large living area with stand up height
Air Vents - allows plenty of airflow, helping to reduce condensation
Electrical Outlet - this tent includes conveniently located electricity cable outlets
Waterproof - 4000mm Hydrastatic head, providing long-lasting protection from weather
Organiser Pocket - an internal organiser pocket for storing belongings
Lantern Hook - ideal for hanging lanterns and providing light to the tent
Adjustable peg points - provides enhance stability in pitch
Colour coded fibreglass poles - the fibreglass poles are flexible, strong and stable, and colour coded for ease of pitching
Mesh Flysheet door - a full mesh door on entryway allows for increased ventilation and prevents insects from entering
"Clear-View" Windows - Large windows allow natural light into the tent
Zipped curtains - easily adjustable and no flapping about; provides privacy to the tent