Bracken Melange Womens 3 in 1 Jacket
×
BESTSELLER
This item is selling fast!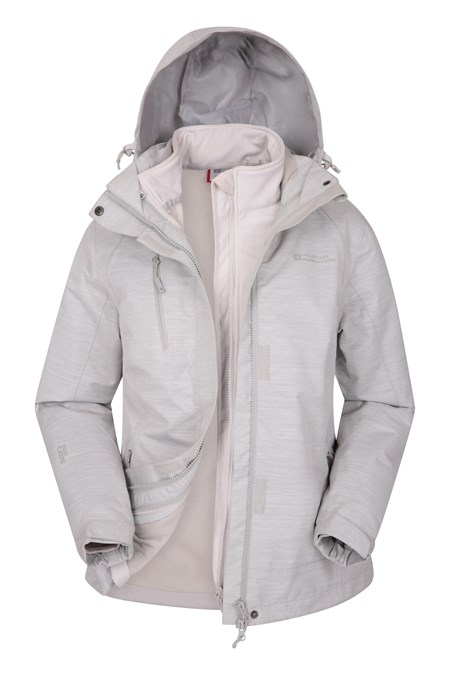 Bracken Melange Womens 3 in 1 Jacket

Ships from Canada
Code: 023748
The Bracken Melange 3 in 1 Womens Jacket is a great versatile jacket. It is fully waterproof, breathable and has a detachable inner softshell jacket, so it can be worn in three different ways, making it ideal for travelling or as everyday wear.
Waterproof - Our IsoDry fabric has a waterproof and breathable membrane to allow perspiration out, but keep you dry
3 In 1 Jacket - Wear three ways, outer waterproof shell, inner warm lightweight jacket and both together for waterproof & warmth
Breathable - The fabric allows perspiration to pass out of the garment, keeping you cool and comfortable
Taped Seams - All seams are taped to make this garment fully waterproof
Detachable Hood - Detachable for greater versatility. Ideal for all weather conditions
Adjustable Fit - Adjustable cuffs, hood and hem for a great fit
Mesh Lining - Improves breathability by allowing air to circulate through your clothing
Storm Flap - Prevents wind or rain penetrating the zip by covering the zip mechanism
Lots Of Pockets - Multiple pockets to keep valuables safe
Fabric Composition
Polyester 100%
023748 BRACKEN MELANGE WOMENS 3 IN 1 JACKET
023748 BRACKEN MELANGE WOMENS 3 IN 1 JACKET
023748 BRACKEN MELANGE WOMENS 3 IN 1 JACKET
023748 BRACKEN MELANGE WOMENS 3 IN 1 JACKET
023748 BRACKEN MELANGE WOMENS 3 IN 1 JACKET
023748 BRACKEN MELANGE WOMENS 3 IN 1 JACKET
023748 BRACKEN MELANGE WOMENS 3 IN 1 JACKET
023748 BRACKEN MELANGE WOMENS 3 IN 1 JACKET
023748 BRACKEN MELANGE WOMENS 3 IN 1 JACKET
023748 BRACKEN MELANGE WOMENS 3 IN 1 JACKET
023748 BRACKEN MELANGE WOMENS 3 IN 1 JACKET
023748 BRACKEN MELANGE WOMENS 3 IN 1 JACKET
023748 BRACKEN MELANGE WOMENS 3 IN 1 JACKET
023748 BRACKEN MELANGE WOMENS 3 IN 1 JACKET
023748 BRACKEN MELANGE WOMENS 3 IN 1 JACKET
023748 BRACKEN MELANGE WOMENS 3 IN 1 JACKET
023748 BRACKEN MELANGE WOMENS 3 IN 1 JACKET
023748 BRACKEN MELANGE WOMENS 3 IN 1 JACKET
023748 BRACKEN MELANGE WOMENS 3 IN 1 JACKET
023748 BRACKEN MELANGE WOMENS 3 IN 1 JACKET
023748 BRACKEN MELANGE WOMENS 3 IN 1 JACKET
023748 BRACKEN MELANGE WOMENS 3 IN 1 JACKET
023748 BRACKEN MELANGE WOMENS 3 IN 1 JACKET
023748 BRACKEN MELANGE WOMENS 3 IN 1 JACKET
023748 BRACKEN MELANGE WOMENS 3 IN 1 JACKET
023748 BRACKEN MELANGE WOMENS 3 IN 1 JACKET
023748 BRACKEN MELANGE WOMENS 3 IN 1 JACKET
023748 BRACKEN MELANGE WOMENS 3 IN 1 JACKET
023748 BRACKEN MELANGE WOMENS 3 IN 1 JACKET
023748 BRACKEN MELANGE WOMENS 3 IN 1 JACKET
023748 BRACKEN MELANGE WOMENS 3 IN 1 JACKET
023748 BRACKEN MELANGE WOMENS 3 IN 1 JACKET
023748 BRACKEN MELANGE WOMENS 3 IN 1 JACKET
023748 BRACKEN MELANGE WOMENS 3 IN 1 JACKET
023748 BRACKEN MELANGE WOMENS 3 IN 1 JACKET
023748 BRACKEN MELANGE WOMENS 3 IN 1 JACKET
023748 BRACKEN MELANGE WOMENS 3 IN 1 JACKET
023748 BRACKEN MELANGE WOMENS 3 IN 1 JACKET
023748 BRACKEN MELANGE WOMENS 3 IN 1 JACKET
023748 BRACKEN MELANGE WOMENS 3 IN 1 JACKET
023748 BRACKEN MELANGE WOMENS 3 IN 1 JACKET
023748 BRACKEN MELANGE WOMENS 3 IN 1 JACKET
023748 BRACKEN MELANGE WOMENS 3 IN 1 JACKET
023748 BRACKEN MELANGE WOMENS 3 IN 1 JACKET
023748 BRACKEN MELANGE WOMENS 3 IN 1 JACKET
023748 BRACKEN MELANGE WOMENS 3 IN 1 JACKET
023748 BRACKEN MELANGE WOMENS 3 IN 1 JACKET
023748 BRACKEN MELANGE WOMENS 3 IN 1 JACKET
023748 BRACKEN MELANGE WOMENS 3 IN 1 JACKET
023748 BRACKEN MELANGE WOMENS 3 IN 1 JACKET
023748 BRACKEN MELANGE WOMENS 3 IN 1 JACKET
023748 BRACKEN MELANGE WOMENS 3 IN 1 JACKET
023748 BRACKEN MELANGE WOMENS 3 IN 1 JACKET
023748 BRACKEN MELANGE WOMENS 3 IN 1 JACKET
023748 BRACKEN MELANGE WOMENS 3 IN 1 JACKET
023748 BRACKEN MELANGE WOMENS 3 IN 1 JACKET
023748 BRACKEN MELANGE WOMENS 3 IN 1 JACKET
023748 BRACKEN MELANGE WOMENS 3 IN 1 JACKET
023748 BRACKEN MELANGE WOMENS 3 IN 1 JACKET
023748 BRACKEN MELANGE WOMENS 3 IN 1 JACKET
023748 BRACKEN MELANGE WOMENS 3 IN 1 JACKET
023748 BRACKEN MELANGE WOMENS 3 IN 1 JACKET
023748 BRACKEN MELANGE WOMENS 3 IN 1 JACKET
023748 BRACKEN MELANGE WOMENS 3 IN 1 JACKET
023748 BRACKEN MELANGE WOMENS 3 IN 1 JACKET
023748 BRACKEN MELANGE WOMENS 3 IN 1 JACKET
023748 BRACKEN MELANGE WOMENS 3 IN 1 JACKET
023748 BRACKEN MELANGE WOMENS 3 IN 1 JACKET
023748 BRACKEN MELANGE WOMENS 3 IN 1 JACKET
023748 BRACKEN MELANGE WOMENS 3 IN 1 JACKET
023748 BRACKEN MELANGE WOMENS 3 IN 1 JACKET
023748 BRACKEN MELANGE WOMENS 3 IN 1 JACKET
023748 BRACKEN MELANGE WOMENS 3 IN 1 JACKET
023748 BRACKEN MELANGE WOMENS 3 IN 1 JACKET
023748 BRACKEN MELANGE WOMENS 3 IN 1 JACKET
023748 BRACKEN MELANGE WOMENS 3 IN 1 JACKET
023748 BRACKEN MELANGE WOMENS 3 IN 1 JACKET
023748 BRACKEN MELANGE WOMENS 3 IN 1 JACKET
023748 BRACKEN MELANGE WOMENS 3 IN 1 JACKET
023748 BRACKEN MELANGE WOMENS 3 IN 1 JACKET
023748 BRACKEN MELANGE WOMENS 3 IN 1 JACKET
023748 BRACKEN MELANGE WOMENS 3 IN 1 JACKET