Exodus Kids Printed Water Resistant Softshell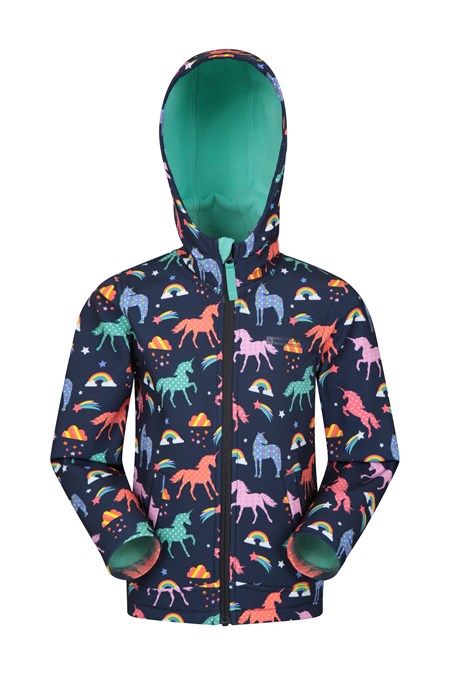 Exodus Kids Printed Water Resistant Softshell
Members Price
$29.99
What is a members rewards card?

The Mountain Warehouse Members Rewards Card is an exclusive card that entitles you to significant discounts across our range of products. You will receive a digital card to save on plastic and space in your wallet.

Ships from Canada
Code: 022691
The Exodus Kids Printed Softshell Jacket is lightweight and breathable, perfect for everyday wear. With a hood for added warmth, your child will be well protected by the water resistant and wind resistant fabric which is incredibly warm. Ideal for cycling and hiking, the Exodus Kids Printed Softshell Jacket is a lively piece to brighten up their wardrobe.
Wind-resistant - Keeps cold air out so you stay warmer and comfortable while walking
Breathable - The fabric allows perspiration to pass out of the garment, keeping you cool and comfortable
Chin Guard - Fabric covering the underside of the zip for more comfort at your chin and neck
Water-resistant - Treated with Durable Water Repellent (DWR), droplets will bead and roll off the fabric. Light rain, or limited exposure to rain
Side Pockets - Two convenient side pockets
022691 EXODUS KIDS PRINTED WATER RESISTANT SOFTSHELL
022691 EXODUS KIDS PRINTED WATER RESISTANT SOFTSHELL
022691 EXODUS KIDS PRINTED WATER RESISTANT SOFTSHELL
022691 EXODUS KIDS PRINTED WATER RESISTANT SOFTSHELL
022691 EXODUS KIDS PRINTED WATER RESISTANT SOFTSHELL
022691 EXODUS KIDS PRINTED WATER RESISTANT SOFTSHELL
022691 EXODUS KIDS PRINTED WATER RESISTANT SOFTSHELL
022691 EXODUS KIDS PRINTED WATER RESISTANT SOFTSHELL
022691 EXODUS KIDS PRINTED WATER RESISTANT SOFTSHELL
022691 EXODUS KIDS PRINTED WATER RESISTANT SOFTSHELL
022691 EXODUS KIDS PRINTED WATER RESISTANT SOFTSHELL
022691 EXODUS KIDS PRINTED WATER RESISTANT SOFTSHELL
022691 EXODUS KIDS PRINTED WATER RESISTANT SOFTSHELL
022691 EXODUS KIDS PRINTED WATER RESISTANT SOFTSHELL
022691 EXODUS KIDS PRINTED WATER RESISTANT SOFTSHELL
022691 EXODUS KIDS PRINTED WATER RESISTANT SOFTSHELL
022691 EXODUS KIDS PRINTED WATER RESISTANT SOFTSHELL
022691 EXODUS KIDS PRINTED WATER RESISTANT SOFTSHELL
022691 EXODUS KIDS PRINTED WATER RESISTANT SOFTSHELL
022691 EXODUS KIDS PRINTED WATER RESISTANT SOFTSHELL
022691 EXODUS KIDS PRINTED WATER RESISTANT SOFTSHELL
022691 EXODUS KIDS PRINTED WATER RESISTANT SOFTSHELL
022691 EXODUS KIDS PRINTED WATER RESISTANT SOFTSHELL
022691 EXODUS KIDS PRINTED WATER RESISTANT SOFTSHELL
022691 EXODUS KIDS PRINTED WATER RESISTANT SOFTSHELL
022691 EXODUS KIDS PRINTED WATER RESISTANT SOFTSHELL
022691 EXODUS KIDS PRINTED WATER RESISTANT SOFTSHELL
022691 EXODUS KIDS PRINTED WATER RESISTANT SOFTSHELL
022691 EXODUS KIDS PRINTED WATER RESISTANT SOFTSHELL
022691 EXODUS KIDS PRINTED WATER RESISTANT SOFTSHELL
022691 EXODUS KIDS PRINTED WATER RESISTANT SOFTSHELL
022691 EXODUS KIDS PRINTED WATER RESISTANT SOFTSHELL
022691 EXODUS KIDS PRINTED WATER RESISTANT SOFTSHELL
022691 EXODUS KIDS PRINTED WATER RESISTANT SOFTSHELL
022691 EXODUS KIDS PRINTED WATER RESISTANT SOFTSHELL
022691 EXODUS KIDS PRINTED WATER RESISTANT SOFTSHELL
022691 EXODUS KIDS PRINTED WATER RESISTANT SOFTSHELL
022691 EXODUS KIDS PRINTED WATER RESISTANT SOFTSHELL
022691 EXODUS KIDS PRINTED WATER RESISTANT SOFTSHELL
022691 EXODUS KIDS PRINTED WATER RESISTANT SOFTSHELL
022691 EXODUS KIDS PRINTED WATER RESISTANT SOFTSHELL
022691 EXODUS KIDS PRINTED WATER RESISTANT SOFTSHELL
022691 EXODUS KIDS PRINTED WATER RESISTANT SOFTSHELL
022691 EXODUS KIDS PRINTED WATER RESISTANT SOFTSHELL
022691 EXODUS KIDS PRINTED WATER RESISTANT SOFTSHELL
022691 EXODUS KIDS PRINTED WATER RESISTANT SOFTSHELL
022691 EXODUS KIDS PRINTED WATER RESISTANT SOFTSHELL
022691 EXODUS KIDS PRINTED WATER RESISTANT SOFTSHELL
022691 EXODUS KIDS PRINTED WATER RESISTANT SOFTSHELL
022691 EXODUS KIDS PRINTED WATER RESISTANT SOFTSHELL
022691 EXODUS KIDS PRINTED WATER RESISTANT SOFTSHELL
022691 EXODUS KIDS PRINTED WATER RESISTANT SOFTSHELL
022691 EXODUS KIDS PRINTED WATER RESISTANT SOFTSHELL
022691 EXODUS KIDS PRINTED WATER RESISTANT SOFTSHELL
022691 EXODUS KIDS PRINTED WATER RESISTANT SOFTSHELL
022691 EXODUS KIDS PRINTED WATER RESISTANT SOFTSHELL
022691 EXODUS KIDS PRINTED WATER RESISTANT SOFTSHELL
022691 EXODUS KIDS PRINTED WATER RESISTANT SOFTSHELL
022691 EXODUS KIDS PRINTED WATER RESISTANT SOFTSHELL
022691 EXODUS KIDS PRINTED WATER RESISTANT SOFTSHELL
022691 EXODUS KIDS PRINTED WATER RESISTANT SOFTSHELL
022691 EXODUS KIDS PRINTED WATER RESISTANT SOFTSHELL
022691 EXODUS KIDS PRINTED WATER RESISTANT SOFTSHELL
022691 EXODUS KIDS PRINTED WATER RESISTANT SOFTSHELL
022691 EXODUS KIDS PRINTED WATER RESISTANT SOFTSHELL
022691 EXODUS KIDS PRINTED WATER RESISTANT SOFTSHELL
022691 EXODUS KIDS PRINTED WATER RESISTANT SOFTSHELL
022691 EXODUS KIDS PRINTED WATER RESISTANT SOFTSHELL
022691 EXODUS KIDS PRINTED WATER RESISTANT SOFTSHELL
022691 EXODUS KIDS PRINTED WATER RESISTANT SOFTSHELL
022691 EXODUS KIDS PRINTED WATER RESISTANT SOFTSHELL
022691 EXODUS KIDS PRINTED WATER RESISTANT SOFTSHELL
022691 EXODUS KIDS PRINTED WATER RESISTANT SOFTSHELL
022691 EXODUS KIDS PRINTED WATER RESISTANT SOFTSHELL
022691 EXODUS KIDS PRINTED WATER RESISTANT SOFTSHELL
022691 EXODUS KIDS PRINTED WATER RESISTANT SOFTSHELL
022691 EXODUS KIDS PRINTED WATER RESISTANT SOFTSHELL
022691 EXODUS KIDS PRINTED WATER RESISTANT SOFTSHELL
022691 EXODUS KIDS PRINTED WATER RESISTANT SOFTSHELL
022691 EXODUS KIDS PRINTED WATER RESISTANT SOFTSHELL
022691 EXODUS KIDS PRINTED WATER RESISTANT SOFTSHELL
022691 EXODUS KIDS PRINTED WATER RESISTANT SOFTSHELL
022691 EXODUS KIDS PRINTED WATER RESISTANT SOFTSHELL
022691 EXODUS KIDS PRINTED WATER RESISTANT SOFTSHELL
022691 EXODUS KIDS PRINTED WATER RESISTANT SOFTSHELL
022691 EXODUS KIDS PRINTED WATER RESISTANT SOFTSHELL
022691 EXODUS KIDS PRINTED WATER RESISTANT SOFTSHELL
022691 EXODUS KIDS PRINTED WATER RESISTANT SOFTSHELL
022691 EXODUS KIDS PRINTED WATER RESISTANT SOFTSHELL
022691 EXODUS KIDS PRINTED WATER RESISTANT SOFTSHELL
022691 EXODUS KIDS PRINTED WATER RESISTANT SOFTSHELL
022691 EXODUS KIDS PRINTED WATER RESISTANT SOFTSHELL
022691 EXODUS KIDS PRINTED WATER RESISTANT SOFTSHELL
022691 EXODUS KIDS PRINTED WATER RESISTANT SOFTSHELL
022691 EXODUS KIDS PRINTED WATER RESISTANT SOFTSHELL
022691 EXODUS KIDS PRINTED WATER RESISTANT SOFTSHELL
022691 EXODUS KIDS PRINTED WATER RESISTANT SOFTSHELL
022691 EXODUS KIDS PRINTED WATER RESISTANT SOFTSHELL
022691 EXODUS KIDS PRINTED WATER RESISTANT SOFTSHELL
022691 EXODUS KIDS PRINTED WATER RESISTANT SOFTSHELL
022691 EXODUS KIDS PRINTED WATER RESISTANT SOFTSHELL
022691 EXODUS KIDS PRINTED WATER RESISTANT SOFTSHELL
022691 EXODUS KIDS PRINTED WATER RESISTANT SOFTSHELL
022691 EXODUS KIDS PRINTED WATER RESISTANT SOFTSHELL
022691 EXODUS KIDS PRINTED WATER RESISTANT SOFTSHELL
022691 EXODUS KIDS PRINTED WATER RESISTANT SOFTSHELL
022691 EXODUS KIDS PRINTED WATER RESISTANT SOFTSHELL
022691 EXODUS KIDS PRINTED WATER RESISTANT SOFTSHELL
022691 EXODUS KIDS PRINTED WATER RESISTANT SOFTSHELL
022691 EXODUS KIDS PRINTED WATER RESISTANT SOFTSHELL
022691 EXODUS KIDS PRINTED WATER RESISTANT SOFTSHELL
022691 EXODUS KIDS PRINTED WATER RESISTANT SOFTSHELL
022691 EXODUS KIDS PRINTED WATER RESISTANT SOFTSHELL
022691 EXODUS KIDS PRINTED WATER RESISTANT SOFTSHELL
022691 EXODUS KIDS PRINTED WATER RESISTANT SOFTSHELL