Merino Womens Round Neck Thermal Top
×
BESTSELLER
This item is selling fast!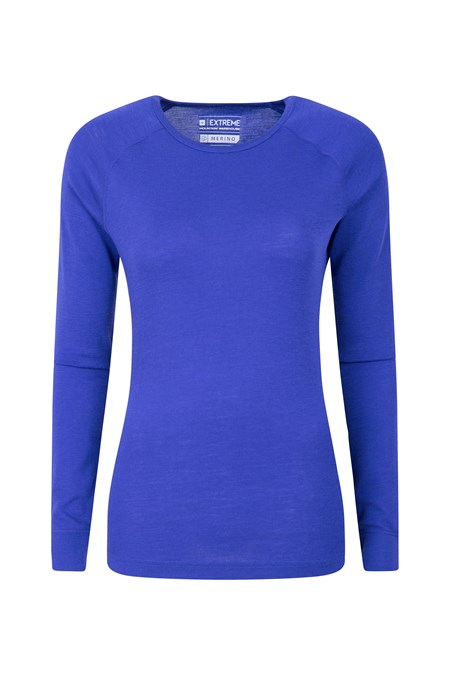 Merino Womens Round Neck Thermal Top
Members Price
$39.99
What is a members rewards card?

The Mountain Warehouse Members Rewards Card is an exclusive card that entitles you to significant discounts across our range of products. You will receive a digital card to save on plastic and space in your wallet.

Ships from Canada
Code: 023557
The Merino Womens Round Neck Top is a high performance baselayer for ultimate warmth and comfort. The fabric is lightweight, breathable and naturally antibacterial - ideal for skiing, hiking or everyday wear in winter.
Naturally Antibacterial - Natural merino wool helps your garment stay fresh and odour free
High Wicking - Actively wicks moisture away from the skin, keeping you dry and comfortable
Breathable - Highly breathable fabric lets moisture out, making sure you stay dry on the inside
Lightweight - Great for travelling, walking and more. No added bulk
Easy Care - Machine washable on a 30 degree wool cycle for easy care
Fabric Composition
Polyester 20% Merino Wool 80%
023557 MERINO WOMENS LONG SLEEVE TOP
023557 MERINO WOMENS LONG SLEEVE TOP
023557 MERINO WOMENS LONG SLEEVE TOP
023557 MERINO WOMENS LONG SLEEVE TOP
023557 MERINO WOMENS LONG SLEEVE TOP
023557 MERINO WOMENS LONG SLEEVE TOP
023557 MERINO WOMENS LONG SLEEVE TOP
023557 MERINO WOMENS LONG SLEEVE TOP
023557 MERINO WOMENS LONG SLEEVE TOP
023557 MERINO WOMENS LONG SLEEVE TOP
023557 MERINO WOMENS LONG SLEEVE TOP
023557 MERINO WOMENS LONG SLEEVE TOP
023557 MERINO WOMENS LONG SLEEVE TOP
023557 MERINO WOMENS LONG SLEEVE TOP
023557 MERINO WOMENS LONG SLEEVE TOP
023557 MERINO WOMENS LONG SLEEVE TOP
023557 MERINO WOMENS LONG SLEEVE TOP
023557 MERINO WOMENS LONG SLEEVE TOP
023557 MERINO WOMENS LONG SLEEVE TOP
023557 MERINO WOMENS LONG SLEEVE TOP
023557 MERINO WOMENS LONG SLEEVE TOP
023557 MERINO WOMENS LONG SLEEVE TOP
023557 MERINO WOMENS LONG SLEEVE TOP
023557 MERINO WOMENS LONG SLEEVE TOP
023557 MERINO WOMENS LONG SLEEVE TOP
023557 MERINO WOMENS LONG SLEEVE TOP
023557 MERINO WOMENS LONG SLEEVE TOP
023557 MERINO WOMENS LONG SLEEVE TOP
023557 MERINO WOMENS LONG SLEEVE TOP
023557 MERINO WOMENS LONG SLEEVE TOP
023557 MERINO WOMENS LONG SLEEVE TOP
023557 MERINO WOMENS LONG SLEEVE TOP
023557 MERINO WOMENS LONG SLEEVE TOP
023557 MERINO WOMENS LONG SLEEVE TOP
023557 MERINO WOMENS LONG SLEEVE TOP
023557 MERINO WOMENS LONG SLEEVE TOP
023557 MERINO WOMENS LONG SLEEVE TOP
023557 MERINO WOMENS LONG SLEEVE TOP
023557 MERINO WOMENS LONG SLEEVE TOP
023557 MERINO WOMENS LONG SLEEVE TOP
023557 MERINO WOMENS LONG SLEEVE TOP
023557 MERINO WOMENS LONG SLEEVE TOP
023557 MERINO WOMENS LONG SLEEVE TOP
023557 MERINO WOMENS LONG SLEEVE TOP
023557 MERINO WOMENS LONG SLEEVE TOP
023557 MERINO WOMENS LONG SLEEVE TOP
023557 MERINO WOMENS LONG SLEEVE TOP
023557 MERINO WOMENS LONG SLEEVE TOP
023557 MERINO WOMENS LONG SLEEVE TOP
023557 MERINO WOMENS LONG SLEEVE TOP
023557 MERINO WOMENS LONG SLEEVE TOP
023557 MERINO WOMENS LONG SLEEVE TOP
023557 MERINO WOMENS LONG SLEEVE TOP
023557 MERINO WOMENS LONG SLEEVE TOP