Montana Womens Microfleece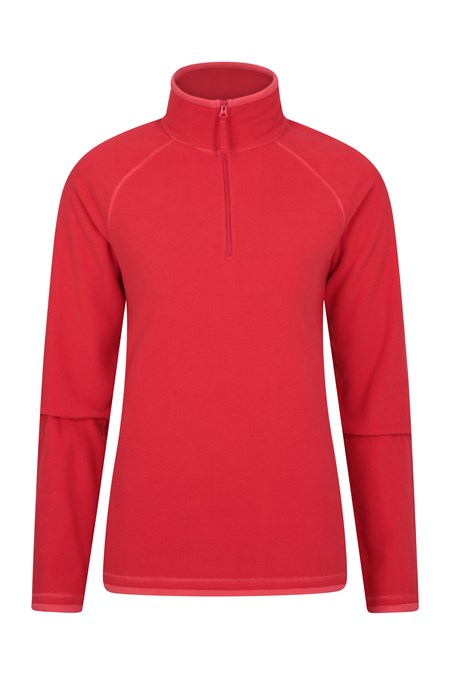 Montana Womens Microfleece
Members Price
$12.99
What is a members rewards card?

The Mountain Warehouse Members Rewards Card is an exclusive card that entitles you to significant discounts across our range of products. You will receive a digital card to save on plastic and space in your wallet.

Ships from Canada
Code: 019136
The Montana Microfleece is lightweight and super-soft to touch. Featuring a half zip, this practical and durable fleece is breathable and made with anti-pill fabric - an essential layer for the outdoors and indoors.
Microfleece - Very lightweight fleece which provides warmth without weight
Breathable - The fabric allows perspiration to pass out of the garment, keeping you cool and comfortable
Anti-Pill - Prevents the fabric bobbling due to rubbing and abrasion
Lightweight - Great for travelling and walking. Easy to pack, the perfect layer
Half Zip - Opens at the neck for more comfort, extra ventilation and a great look
Fabric Composition
Polyester 100%
019136 MONTANA WOMENS FLEECE
019136 MONTANA WOMENS FLEECE
019136 MONTANA WOMENS FLEECE
019136 MONTANA WOMENS FLEECE
019136 MONTANA WOMENS FLEECE
019136 MONTANA WOMENS FLEECE
019136 MONTANA WOMENS FLEECE
019136 MONTANA WOMENS FLEECE
019136 MONTANA WOMENS FLEECE
019136 MONTANA WOMENS FLEECE
019136 MONTANA WOMENS FLEECE
019136 MONTANA WOMENS FLEECE
019136 MONTANA WOMENS FLEECE
019136 MONTANA WOMENS FLEECE
019136 MONTANA WOMENS FLEECE
019136 MONTANA WOMENS FLEECE
019136 MONTANA WOMENS FLEECE
019136 MONTANA WOMENS FLEECE
019136 MONTANA WOMENS FLEECE
019136 MONTANA WOMENS FLEECE
019136 MONTANA WOMENS FLEECE
019136 MONTANA WOMENS FLEECE
019136 MONTANA WOMENS FLEECE
019136 MONTANA WOMENS FLEECE
019136 MONTANA WOMENS FLEECE
019136 MONTANA WOMENS FLEECE
019136 MONTANA WOMENS FLEECE
019136 MONTANA WOMENS FLEECE
019136 MONTANA WOMENS FLEECE
019136 MONTANA WOMENS FLEECE
019136 MONTANA WOMENS FLEECE
019136 MONTANA WOMENS FLEECE
019136 MONTANA WOMENS FLEECE
019136 MONTANA WOMENS FLEECE
019136 MONTANA WOMENS FLEECE
019136 MONTANA WOMENS FLEECE
019136 MONTANA WOMENS FLEECE
019136 MONTANA WOMENS FLEECE
019136 MONTANA WOMENS FLEECE
019136 MONTANA WOMENS FLEECE
019136 MONTANA WOMENS FLEECE
019136 MONTANA WOMENS FLEECE
019136 MONTANA WOMENS FLEECE
019136 MONTANA WOMENS FLEECE
019136 MONTANA WOMENS FLEECE
019136 MONTANA WOMENS FLEECE
019136 MONTANA WOMENS FLEECE
019136 MONTANA WOMENS FLEECE
019136 MONTANA WOMENS FLEECE
019136 MONTANA WOMENS FLEECE
019136 MONTANA WOMENS FLEECE
019136 MONTANA WOMENS FLEECE
019136 MONTANA WOMENS FLEECE
019136 MONTANA WOMENS FLEECE
019136 MONTANA WOMENS FLEECE
019136 MONTANA WOMENS FLEECE
019136 MONTANA WOMENS FLEECE
019136 MONTANA WOMENS FLEECE
019136 MONTANA WOMENS FLEECE
019136 MONTANA WOMENS FLEECE
019136 MONTANA WOMENS FLEECE
019136 MONTANA WOMENS FLEECE
019136 MONTANA WOMENS FLEECE
019136 MONTANA WOMENS FLEECE
019136 MONTANA WOMENS FLEECE
019136 MONTANA WOMENS FLEECE
019136 MONTANA WOMENS FLEECE
019136 MONTANA WOMENS FLEECE
019136 MONTANA WOMENS FLEECE
019136 MONTANA WOMENS FLEECE
019136 MONTANA WOMENS FLEECE
019136 MONTANA WOMENS FLEECE
019136 MONTANA WOMENS FLEECE
019136 MONTANA WOMENS FLEECE
019136 MONTANA WOMENS FLEECE
019136 MONTANA WOMENS FLEECE
019136 MONTANA WOMENS FLEECE
019136 MONTANA WOMENS FLEECE
019136 MONTANA WOMENS FLEECE
019136 MONTANA WOMENS FLEECE
019136 MONTANA WOMENS FLEECE
019136 MONTANA WOMENS FLEECE
019136 MONTANA WOMENS FLEECE
019136 MONTANA WOMENS FLEECE
019136 MONTANA WOMENS FLEECE
019136 MONTANA WOMENS FLEECE
019136 MONTANA WOMENS FLEECE
019136 MONTANA WOMENS FLEECE
019136 MONTANA WOMENS FLEECE
019136 MONTANA WOMENS FLEECE
019136 MONTANA WOMENS FLEECE
019136 MONTANA WOMENS FLEECE
019136 MONTANA WOMENS FLEECE
019136 MONTANA WOMENS FLEECE
019136 MONTANA WOMENS FLEECE
019136 MONTANA WOMENS FLEECE
019136 MONTANA WOMENS FLEECE
019136 MONTANA WOMENS FLEECE
019136 MONTANA WOMENS FLEECE
019136 MONTANA WOMENS FLEECE
019136 MONTANA WOMENS FLEECE
019136 MONTANA WOMENS FLEECE
019136 MONTANA WOMENS FLEECE
019136 MONTANA WOMENS FLEECE
019136 MONTANA WOMENS FLEECE
019136 MONTANA WOMENS FLEECE
019136 MONTANA WOMENS FLEECE
019136 MONTANA WOMENS FLEECE
019136 MONTANA WOMENS FLEECE
019136 MONTANA WOMENS FLEECE
019136 MONTANA WOMENS FLEECE
019136 MONTANA WOMENS FLEECE
019136 MONTANA WOMENS FLEECE
019136 MONTANA WOMENS FLEECE
019136 MONTANA WOMENS FLEECE
019136 MONTANA WOMENS FLEECE
019136 MONTANA WOMENS FLEECE
019136 MONTANA WOMENS FLEECE
019136 MONTANA WOMENS FLEECE
019136 MONTANA WOMENS FLEECE
019136 MONTANA WOMENS FLEECE
019136 MONTANA WOMENS FLEECE
019136 MONTANA WOMENS FLEECE
019136 MONTANA WOMENS FLEECE
019136 MONTANA WOMENS FLEECE
019136 MONTANA WOMENS FLEECE
019136 MONTANA WOMENS FLEECE
019136 MONTANA WOMENS FLEECE
019136 MONTANA WOMENS FLEECE
019136 MONTANA WOMENS FLEECE
019136 MONTANA WOMENS FLEECE
019136 MONTANA WOMENS FLEECE
019136 MONTANA WOMENS FLEECE
019136 MONTANA WOMENS FLEECE
019136 MONTANA WOMENS FLEECE
019136 MONTANA WOMENS FLEECE
019136 MONTANA WOMENS FLEECE
019136 MONTANA WOMENS FLEECE
019136 MONTANA WOMENS FLEECE
019136 MONTANA WOMENS FLEECE
019136 MONTANA WOMENS FLEECE
019136 MONTANA WOMENS FLEECE
019136 MONTANA WOMENS FLEECE
019136 MONTANA WOMENS FLEECE
019136 MONTANA WOMENS FLEECE
019136 MONTANA WOMENS FLEECE
019136 MONTANA WOMENS FLEECE
019136 MONTANA WOMENS FLEECE
019136 MONTANA WOMENS FLEECE
019136 MONTANA WOMENS FLEECE
019136 MONTANA WOMENS FLEECE
019136 MONTANA WOMENS FLEECE
019136 MONTANA WOMENS FLEECE
019136 MONTANA WOMENS FLEECE
019136 MONTANA WOMENS FLEECE
019136 MONTANA WOMENS FLEECE
019136 MONTANA WOMENS FLEECE
019136 MONTANA WOMENS FLEECE
019136 MONTANA WOMENS FLEECE
019136 MONTANA WOMENS FLEECE
019136 MONTANA WOMENS FLEECE
019136 MONTANA WOMENS FLEECE
019136 MONTANA WOMENS FLEECE
019136 MONTANA WOMENS FLEECE
019136 MONTANA WOMENS FLEECE
019136 MONTANA WOMENS FLEECE
019136 MONTANA WOMENS FLEECE
019136 MONTANA WOMENS FLEECE
019136 MONTANA WOMENS FLEECE
019136 MONTANA WOMENS FLEECE
019136 MONTANA WOMENS FLEECE
019136 MONTANA WOMENS FLEECE
019136 MONTANA WOMENS FLEECE
019136 MONTANA WOMENS FLEECE
019136 MONTANA WOMENS FLEECE
019136 MONTANA WOMENS FLEECE
019136 MONTANA WOMENS FLEECE
019136 MONTANA WOMENS FLEECE
019136 MONTANA WOMENS FLEECE
019136 MONTANA WOMENS FLEECE
019136 MONTANA WOMENS FLEECE
019136 MONTANA WOMENS FLEECE
019136 MONTANA WOMENS FLEECE
019136 MONTANA WOMENS FLEECE
019136 MONTANA WOMENS FLEECE
019136 MONTANA WOMENS FLEECE
019136 MONTANA WOMENS FLEECE
019136 MONTANA WOMENS FLEECE
019136 MONTANA WOMENS FLEECE
019136 MONTANA WOMENS FLEECE
019136 MONTANA WOMENS FLEECE
019136 MONTANA WOMENS FLEECE
019136 MONTANA WOMENS FLEECE
019136 MONTANA WOMENS FLEECE
019136 MONTANA WOMENS FLEECE
019136 MONTANA WOMENS FLEECE
019136 MONTANA WOMENS FLEECE
019136 MONTANA WOMENS FLEECE
019136 MONTANA WOMENS FLEECE
019136 MONTANA WOMENS FLEECE
019136 MONTANA WOMENS FLEECE
019136 MONTANA WOMENS FLEECE
019136 MONTANA WOMENS FLEECE
019136 MONTANA WOMENS FLEECE