Rapid Waterproof Kids Walking Boots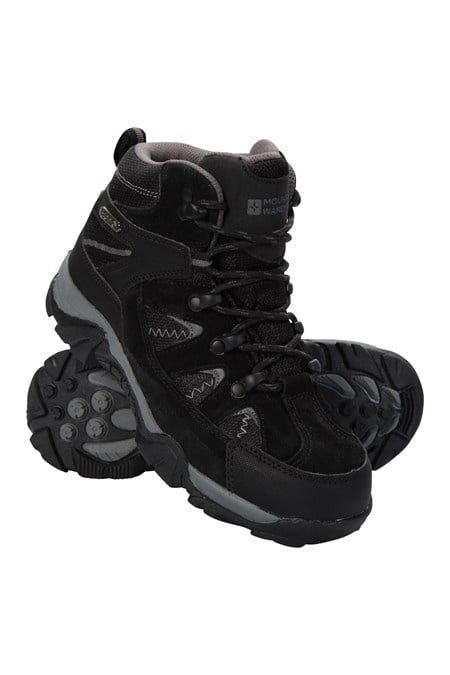 Rapid Waterproof Kids Walking Boots
Members Price
$49.99
What is a members rewards card?

The Mountain Warehouse Members Rewards Card is an exclusive card that entitles you to significant discounts across our range of products. You will receive a digital card to save on plastic and space in your wallet.

Ships from Canada
Code: 022724
The Rapid Kids Waterproof Boots are durable and comfortable, great for walking and hiking. With a suede and mesh upper these boots are lightweight and breathable, whilst the padded tongue and ankle provide cushioned support.
Cushioned Footbed - Supports your foot for added comfort, particularly at the arch and toe
Suede & Mesh Upper - Durable and breathable, a lighter style of footwear for hiking and walking
Waterproof - Constructed of water resistant upper and waterproof membrane
Padded Tongue & Ankle - Extra cushioning on tongue and support moulds to fit your ankle for all day long comfort
Heel & Toe Bumpers - Added rubber reinforcement at heel and toe, makes your footwear last longer
Please note the colour option indicated is orange, however the shoe is pink. Please refer to product images.
022724 RAPID WATERPROOF KIDS BOOT
022724 RAPID WATERPROOF KIDS BOOT
022724 RAPID WATERPROOF KIDS BOOT
022724 RAPID WATERPROOF KIDS BOOT
022724 RAPID WATERPROOF KIDS BOOT
022724 RAPID WATERPROOF KIDS BOOT
022724 RAPID WATERPROOF KIDS BOOT
022724 RAPID WATERPROOF KIDS BOOT
022724 RAPID WATERPROOF KIDS BOOT
022724 RAPID WATERPROOF KIDS BOOT
022724 RAPID WATERPROOF KIDS BOOT
022724 RAPID WATERPROOF KIDS BOOT
022724 RAPID WATERPROOF KIDS BOOT
022724 RAPID WATERPROOF KIDS BOOT
022724 RAPID WATERPROOF KIDS BOOT
022724 RAPID WATERPROOF KIDS BOOT
022724 RAPID WATERPROOF KIDS BOOT
022724 RAPID WATERPROOF KIDS BOOT
022724 RAPID WATERPROOF KIDS BOOT
022724 RAPID WATERPROOF KIDS BOOT
022724 RAPID WATERPROOF KIDS BOOT
022724 RAPID WATERPROOF KIDS BOOT
022724 RAPID WATERPROOF KIDS BOOT
022724 RAPID WATERPROOF KIDS BOOT
022724 RAPID WATERPROOF KIDS BOOT
022724 RAPID WATERPROOF KIDS BOOT
022724 RAPID WATERPROOF KIDS BOOT
022724 RAPID WATERPROOF KIDS BOOT
022724 RAPID WATERPROOF KIDS BOOT
022724 RAPID WATERPROOF KIDS BOOT
022724 RAPID WATERPROOF KIDS BOOT
022724 RAPID WATERPROOF KIDS BOOT
022724 RAPID WATERPROOF KIDS BOOT
022724 RAPID WATERPROOF KIDS BOOT
022724 RAPID WATERPROOF KIDS BOOT
022724 RAPID WATERPROOF KIDS BOOT
022724 RAPID WATERPROOF KIDS BOOT
022724 RAPID WATERPROOF KIDS BOOT
022724 RAPID WATERPROOF KIDS BOOT
022724 RAPID WATERPROOF KIDS BOOT
022724 RAPID WATERPROOF KIDS BOOT
022724 RAPID WATERPROOF KIDS BOOT
022724 RAPID WATERPROOF KIDS BOOT
022724 RAPID WATERPROOF KIDS BOOT
022724 RAPID WATERPROOF KIDS BOOT
022724 RAPID WATERPROOF KIDS BOOT
022724 RAPID WATERPROOF KIDS BOOT
022724 RAPID WATERPROOF KIDS BOOT
022724 RAPID WATERPROOF KIDS BOOT
022724 RAPID WATERPROOF KIDS BOOT
022724 RAPID WATERPROOF KIDS BOOT
022724 RAPID WATERPROOF KIDS BOOT
022724 RAPID WATERPROOF KIDS BOOT
022724 RAPID WATERPROOF KIDS BOOT
022724 RAPID WATERPROOF KIDS BOOT
022724 RAPID WATERPROOF KIDS BOOT
022724 RAPID WATERPROOF KIDS BOOT
022724 RAPID WATERPROOF KIDS BOOT
022724 RAPID WATERPROOF KIDS BOOT
022724 RAPID WATERPROOF KIDS BOOT
022724 RAPID WATERPROOF KIDS BOOT
022724 RAPID WATERPROOF KIDS BOOT
022724 RAPID WATERPROOF KIDS BOOT
022724 RAPID WATERPROOF KIDS BOOT
022724 RAPID WATERPROOF KIDS BOOT
022724 RAPID WATERPROOF KIDS BOOT
022724 RAPID WATERPROOF KIDS BOOT
022724 RAPID WATERPROOF KIDS BOOT
022724 RAPID WATERPROOF KIDS BOOT
022724 RAPID WATERPROOF KIDS BOOT
022724 RAPID WATERPROOF KIDS BOOT