Correspondent Mens Down Padded 3 In 1 Jacket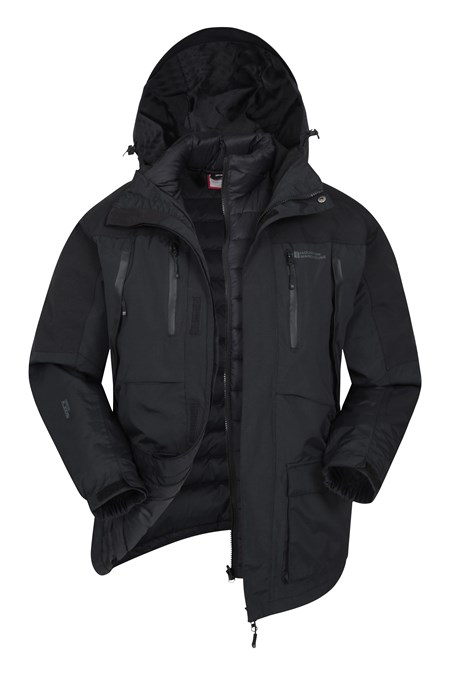 This product is out of stock, please try again later.
The Correspondent Down Padded 3 in 1 Jacket is perfect for changeable weather conditions. Fully waterproof, breathable outer with taped seams and a detachable down padded jacket, featuring multiple pockets and a removable hood.
3 In 1 Jacket - Wear three ways, outer waterproof shell, inner warm lightweight jacket and both together for waterproof & warmth
Down Filling - Down feathers are designed to trap heat and retain warmth, perfect for keeping you cosy in cold weather
Waterproof - Our IsoDry fabric has a waterproof and breathable membrane to allow perspiration out, but keep you dry
Taped Seams - Waterproof tape runs across all stitched areas, making the item fully waterproof
Detachable Hood - Detachable for greater versatility. Ideal for all weather conditions
Lots Of Pockets - Multiple pockets to keep valuables safe
Thermal Tested -30 °C - Laboratory tested. Health & physical activity, exposure time & perspiration will affect performance & comfort
Fabric Composition
Nylon 100%
028551 CORRESPONDENT EXTREME DOWN PADDED 3 IN 1 JACKET
028551 CORRESPONDENT EXTREME DOWN PADDED 3 IN 1 JACKET
028551 CORRESPONDENT EXTREME DOWN PADDED 3 IN 1 JACKET
028551 CORRESPONDENT EXTREME DOWN PADDED 3 IN 1 JACKET
028551 CORRESPONDENT EXTREME DOWN PADDED 3 IN 1 JACKET
028551 CORRESPONDENT EXTREME DOWN PADDED 3 IN 1 JACKET
028551 CORRESPONDENT EXTREME DOWN PADDED 3 IN 1 JACKET