Exodus Womens Water Resistant Softshell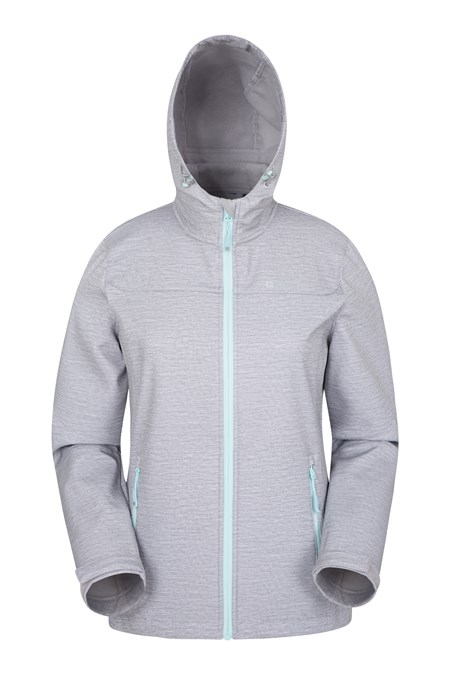 Exodus Womens Water Resistant Softshell
Discount Card Price
€39.99
What is a discount card?

By shopping online, you can take advantage of our discount card price.
Exodus Womens Water Resistant Softshell
Code: 024916
The Exodus Womens Printed Softshell Jacket is ideal for general everyday wear. With zipped pockets and adjustable features, you'll be well protected thanks to the water- and wind-resistant fabric.
Wind Resistant - Keeps the wind out so you stay warmer
Breathable - The fabric allows perspiration to pass out of the garment, keeping you cool and comfortable
Adjustable Fit - Adjustable cuffs, hood and hem for a great fit
Chin Guard - Fabric covering the underside of the zip for more comfort at your chin and neck
Water-resistant - Treated with Durable Water Repellent (DWR), droplets will bead and roll off the fabric. Light rain, or limited exposure to rain
Side Pockets - Two convenient side pockets
Fabric Composition
Polyester 96% Elastane 4%
024916 EXODUS PRINTED WOMENS SOFTSHELL
024916 EXODUS PRINTED WOMENS SOFTSHELL
024916 EXODUS PRINTED WOMENS SOFTSHELL
024916 EXODUS PRINTED WOMENS SOFTSHELL
024916 EXODUS PRINTED WOMENS SOFTSHELL
024916 EXODUS PRINTED WOMENS SOFTSHELL
024916 EXODUS PRINTED WOMENS SOFTSHELL
024916 EXODUS PRINTED WOMENS SOFTSHELL
024916 EXODUS PRINTED WOMENS SOFTSHELL
024916 EXODUS PRINTED WOMENS SOFTSHELL
024916 EXODUS PRINTED WOMENS SOFTSHELL
024916 EXODUS PRINTED WOMENS SOFTSHELL
024916 EXODUS PRINTED WOMENS SOFTSHELL
024916 EXODUS PRINTED WOMENS SOFTSHELL
024916 EXODUS PRINTED WOMENS SOFTSHELL
024916 EXODUS PRINTED WOMENS SOFTSHELL
024916 EXODUS PRINTED WOMENS SOFTSHELL
024916 EXODUS PRINTED WOMENS SOFTSHELL
024916 EXODUS PRINTED WOMENS SOFTSHELL
024916 EXODUS PRINTED WOMENS SOFTSHELL
024916 EXODUS PRINTED WOMENS SOFTSHELL
024916 EXODUS PRINTED WOMENS SOFTSHELL
024916 EXODUS PRINTED WOMENS SOFTSHELL
024916 EXODUS PRINTED WOMENS SOFTSHELL
024916 EXODUS PRINTED WOMENS SOFTSHELL
024916 EXODUS PRINTED WOMENS SOFTSHELL
024916 EXODUS PRINTED WOMENS SOFTSHELL
024916 EXODUS PRINTED WOMENS SOFTSHELL
024916 EXODUS PRINTED WOMENS SOFTSHELL
024916 EXODUS PRINTED WOMENS SOFTSHELL
024916 EXODUS PRINTED WOMENS SOFTSHELL
024916 EXODUS PRINTED WOMENS SOFTSHELL
024916 EXODUS PRINTED WOMENS SOFTSHELL
024916 EXODUS PRINTED WOMENS SOFTSHELL
024916 EXODUS PRINTED WOMENS SOFTSHELL
024916 EXODUS PRINTED WOMENS SOFTSHELL
024916 EXODUS PRINTED WOMENS SOFTSHELL
024916 EXODUS PRINTED WOMENS SOFTSHELL
024916 EXODUS PRINTED WOMENS SOFTSHELL
024916 EXODUS PRINTED WOMENS SOFTSHELL
024916 EXODUS PRINTED WOMENS SOFTSHELL
024916 EXODUS PRINTED WOMENS SOFTSHELL
024916 EXODUS PRINTED WOMENS SOFTSHELL
024916 EXODUS PRINTED WOMENS SOFTSHELL
024916 EXODUS PRINTED WOMENS SOFTSHELL
024916 EXODUS PRINTED WOMENS SOFTSHELL
024916 EXODUS PRINTED WOMENS SOFTSHELL
024916 EXODUS PRINTED WOMENS SOFTSHELL
024916 EXODUS PRINTED WOMENS SOFTSHELL
024916 EXODUS PRINTED WOMENS SOFTSHELL
024916 EXODUS PRINTED WOMENS SOFTSHELL
024916 EXODUS PRINTED WOMENS SOFTSHELL
024916 EXODUS PRINTED WOMENS SOFTSHELL
024916 EXODUS PRINTED WOMENS SOFTSHELL
024916 EXODUS PRINTED WOMENS SOFTSHELL
024916 EXODUS PRINTED WOMENS SOFTSHELL
024916 EXODUS PRINTED WOMENS SOFTSHELL
024916 EXODUS PRINTED WOMENS SOFTSHELL
024916 EXODUS PRINTED WOMENS SOFTSHELL
024916 EXODUS PRINTED WOMENS SOFTSHELL
024916 EXODUS PRINTED WOMENS SOFTSHELL
024916 EXODUS PRINTED WOMENS SOFTSHELL
024916 EXODUS PRINTED WOMENS SOFTSHELL
024916 EXODUS PRINTED WOMENS SOFTSHELL
024916 EXODUS PRINTED WOMENS SOFTSHELL