Traveller Men's Waterproof Hiking Boots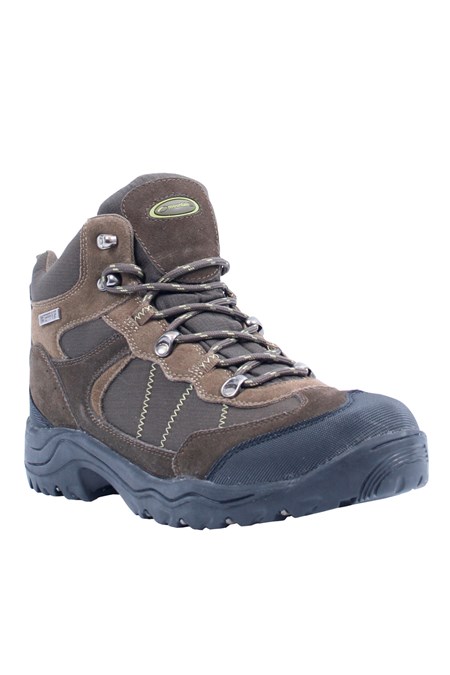 This product is out of stock, please try again later.
The Traveller men's hiking boot is a great value stylish waterproof boot that offers comfort and durability.
Waterproof

The Traveller hiking boot has a highly waterproof liner within the upper, which prevents water from penetrating and will keep your feet dry and warm. The suede and mesh upper make the boot both fashionable and comfortable.
Support & Comfort
The boot fits above the ankle giving you added support when climbing and hiking down uneven terrain. The tongue is well padded which makes the boot comfortable when the laces are tightened. The moulded EVA midsole give the Traveller walking boot added comfort and will help reduce shock impact. The durable rubber outer sole is highly textured tread providing additional grip in wet or slippery conditions.
Weight as a pair: 0.8kg
013475 TRAVELLER WATERPROOF BOOT
013475 TRAVELLER WATERPROOF BOOT
013475 TRAVELLER WATERPROOF BOOT
013475 TRAVELLER WATERPROOF BOOT
013475 TRAVELLER WATERPROOF BOOT
013475 TRAVELLER WATERPROOF BOOT
013475 TRAVELLER WATERPROOF BOOT
013475 TRAVELLER WATERPROOF BOOT
013475 TRAVELLER WATERPROOF BOOT
013475 TRAVELLER WATERPROOF BOOT
013475 TRAVELLER WATERPROOF BOOT
013475 TRAVELLER WATERPROOF BOOT
013475 TRAVELLER WATERPROOF BOOT
013475 TRAVELLER WATERPROOF BOOT
013475 TRAVELLER WATERPROOF BOOT
013475 TRAVELLER WATERPROOF BOOT
013475 TRAVELLER WATERPROOF BOOT
013475 TRAVELLER WATERPROOF BOOT
013475 TRAVELLER WATERPROOF BOOT
013475 TRAVELLER WATERPROOF BOOT
013475 TRAVELLER WATERPROOF BOOT
013475 TRAVELLER WATERPROOF BOOT
013475 TRAVELLER WATERPROOF BOOT
013475 TRAVELLER WATERPROOF BOOT
013475 TRAVELLER WATERPROOF BOOT
013475 TRAVELLER WATERPROOF BOOT
013475 TRAVELLER WATERPROOF BOOT
013475 TRAVELLER WATERPROOF BOOT
013475 TRAVELLER WATERPROOF BOOT
013475 TRAVELLER WATERPROOF BOOT
013475 TRAVELLER WATERPROOF BOOT
013475 TRAVELLER WATERPROOF BOOT
013475 TRAVELLER WATERPROOF BOOT