Adventurer Mens Waterproof Boots
Adventurer Mens Waterproof Boots
×
BESTSELLER
This item is selling fast!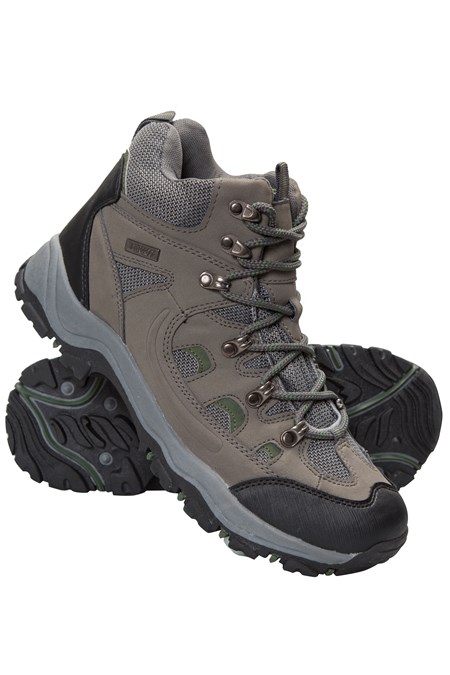 Code: 021960
Was £59.99 Save 50%
Now
£29.99
Free Exchanges & No Hassle Returns
The Adventurer Mens Waterproof Boots are ideal for outdoor escapades this season. Designed with a durable synthetic upper, they are breathable and waterproof. With supportive outsoles and foot bed, these boots will protect, grip and give comfort for walks and hiking.
Waterproof - Constructed of a water-resistant upper and waterproof membrane
Synthetic Upper - Durable and breathable, a lighter style of footwear for hiking, walking and sports
Mesh Lining - Improves breathability to help keep your feet fresh whist out and about
Deep Lugs - Adds extra grip and stability to your footwear
Cushioned Footbed - Supports your foot for added comfort, particularly at the arch and toe
Heel & Toe Bumpers - Added rubber reinforcement at heel and toe, ensuring your footwear lasts for longer
Fabric Composition
Synthetic
Adventurer Mens Waterproof Boots
Adventurer Mens Waterproof Boots
Adventurer Mens Waterproof Boots
Adventurer Mens Waterproof Boots
Adventurer Mens Waterproof Boots
Adventurer Mens Waterproof Boots
Adventurer Mens Waterproof Boots
Adventurer Mens Waterproof Boots
Adventurer Mens Waterproof Boots
Adventurer Mens Waterproof Boots
Adventurer Mens Waterproof Boots
Adventurer Mens Waterproof Boots
Adventurer Mens Waterproof Boots
Adventurer Mens Waterproof Boots
Adventurer Mens Waterproof Boots
Adventurer Mens Waterproof Boots
Adventurer Mens Waterproof Boots
Adventurer Mens Waterproof Boots
Adventurer Mens Waterproof Boots
Adventurer Mens Waterproof Boots
Adventurer Mens Waterproof Boots
Adventurer Mens Waterproof Boots
Adventurer Mens Waterproof Boots
Adventurer Mens Waterproof Boots
Adventurer Mens Waterproof Boots
Adventurer Mens Waterproof Boots