Outdoor Mens Walking Shoes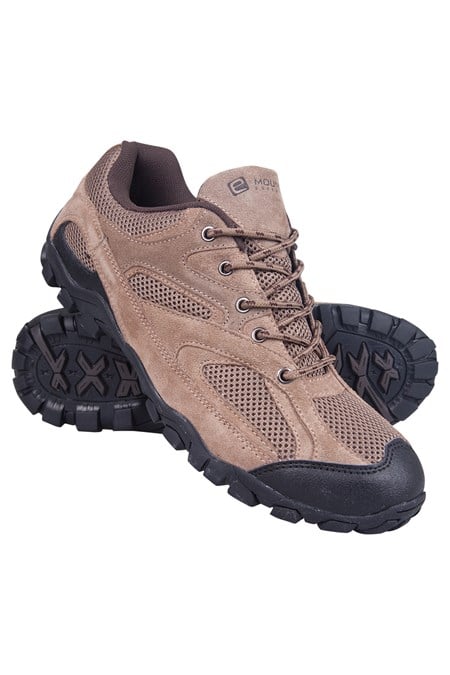 Code: 018892
Was £39.99 Save 50%
Now
£19.99
Free Exchanges & No Hassle Returns
The Outdoor Mens Walking Shoes are a great everyday essential. They're made of durable suede with breathable mesh inserts and feature extra cushioning in the sole for added comfort. The rubber sole is tough and lightweight, offering an ideal choice for short walks or hikes, travelling or everyday wear.
Suede & Mesh Upper - Durable and breathable, a lighter style of footwear for hiking and walking
100% Rubber Sole - Flexible and lightweight. Very long lasting
Cushioned Footbed - Supports your foot for added comfort, particularly at the arch and toe
Mesh Lining - Improves breathability to help keep your feet fresh whilst out and about
Fabric Composition
Upper = Leather, Textile. Lining = Textile. Outsole = Rubber.
Outdoor Mens Walking Shoes
Outdoor Mens Walking Shoes
Outdoor Mens Walking Shoes
Outdoor Mens Walking Shoes
Outdoor Mens Walking Shoes
Outdoor Mens Walking Shoes
Outdoor Mens Walking Shoes
Outdoor Mens Walking Shoes
Outdoor Mens Walking Shoes
Outdoor Mens Walking Shoes
Outdoor Mens Walking Shoes
Outdoor Mens Walking Shoes
Outdoor Mens Walking Shoes
Outdoor Mens Walking Shoes
Outdoor Mens Walking Shoes
Outdoor Mens Walking Shoes
Outdoor Mens Walking Shoes
Outdoor Mens Walking Shoes
Outdoor Mens Walking Shoes
Outdoor Mens Walking Shoes
Outdoor Mens Walking Shoes
Outdoor Mens Walking Shoes
Outdoor Mens Walking Shoes
Outdoor Mens Walking Shoes
Outdoor Mens Walking Shoes
Outdoor Mens Walking Shoes
Outdoor Mens Walking Shoes
Outdoor Mens Walking Shoes
Outdoor Mens Walking Shoes
Outdoor Mens Walking Shoes
Outdoor Mens Walking Shoes
Outdoor Mens Walking Shoes
Outdoor Mens Walking Shoes
Outdoor Mens Walking Shoes
Outdoor Mens Walking Shoes
Outdoor Mens Walking Shoes
Outdoor Mens Walking Shoes
Outdoor Mens Walking Shoes
Outdoor Mens Walking Shoes
Outdoor Mens Walking Shoes
Outdoor Mens Walking Shoes
Outdoor Mens Walking Shoes
Outdoor Mens Walking Shoes
Outdoor Mens Walking Shoes