Horizon Womens Down Jacket
×
BESTSELLER
This item is selling fast!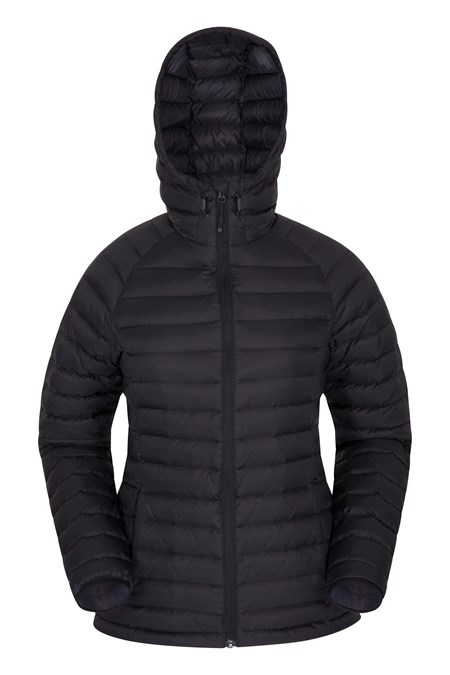 Horizon Womens Down Jacket

Save For Later
Free Exchanges & No Hassle Returns
Code: 024321
The Horizon Down Jacket is durable and warm. Made in water-resistant ripstop fabric with down/feather filling, an adjustable hood and pockets, the jacket keeps you dry and protected during the winter season.
Thermal Tested -30 °C - Laboratory tested. Health & physical activity, exposure time & perspiration will affect performance & comfort
Lightweight - Great for travelling, comfortable to wear and easy to pack
Water-resistant - Treated with Durable Water Repellent (DWR), droplets will bead and roll off the fabric. Light rain, or limited exposure to rain
Rip Stop Fabric - Stop rips in their tracks with this heavy duty fabric
Adjustable Hood - Easily adjusted for the perfect fit
Down Filling - Down feathers are designed to trap heat and retain warmth, perfect for keeping you cosy in cold weather
Downproof Lining - Stops the feathers and the filling from poking through the outer fabric
Fill Power Rating 600 - Higher fill power = warmer item. The measure of the loft (fluffiness). The higher the rating, the more air trapped per ounce of down allowing a higher level of insulation
Fabric Composition
Nylon 100%
024321 HORIZON II WOMENS HYDROPHOBIC DOWN JACKET
024321 HORIZON II WOMENS HYDROPHOBIC DOWN JACKET
024321 HORIZON II WOMENS HYDROPHOBIC DOWN JACKET
024321 HORIZON II WOMENS HYDROPHOBIC DOWN JACKET
024321 HORIZON II WOMENS HYDROPHOBIC DOWN JACKET
024321 HORIZON II WOMENS HYDROPHOBIC DOWN JACKET
024321 HORIZON II WOMENS HYDROPHOBIC DOWN JACKET
024321 HORIZON II WOMENS HYDROPHOBIC DOWN JACKET
024321 HORIZON II WOMENS HYDROPHOBIC DOWN JACKET
024321 HORIZON II WOMENS HYDROPHOBIC DOWN JACKET
024321 HORIZON II WOMENS HYDROPHOBIC DOWN JACKET
024321 HORIZON II WOMENS HYDROPHOBIC DOWN JACKET
024321 HORIZON II WOMENS HYDROPHOBIC DOWN JACKET
024321 HORIZON II WOMENS HYDROPHOBIC DOWN JACKET
024321 HORIZON II WOMENS HYDROPHOBIC DOWN JACKET
024321 HORIZON II WOMENS HYDROPHOBIC DOWN JACKET
024321 HORIZON II WOMENS HYDROPHOBIC DOWN JACKET
024321 HORIZON II WOMENS HYDROPHOBIC DOWN JACKET
024321 HORIZON II WOMENS HYDROPHOBIC DOWN JACKET
024321 HORIZON II WOMENS HYDROPHOBIC DOWN JACKET
024321 HORIZON II WOMENS HYDROPHOBIC DOWN JACKET
024321 HORIZON II WOMENS HYDROPHOBIC DOWN JACKET
024321 HORIZON II WOMENS HYDROPHOBIC DOWN JACKET
024321 HORIZON II WOMENS HYDROPHOBIC DOWN JACKET
024321 HORIZON II WOMENS HYDROPHOBIC DOWN JACKET
024321 HORIZON II WOMENS HYDROPHOBIC DOWN JACKET
024321 HORIZON II WOMENS HYDROPHOBIC DOWN JACKET
024321 HORIZON II WOMENS HYDROPHOBIC DOWN JACKET
024321 HORIZON II WOMENS HYDROPHOBIC DOWN JACKET
024321 HORIZON II WOMENS HYDROPHOBIC DOWN JACKET
024321 HORIZON II WOMENS HYDROPHOBIC DOWN JACKET
024321 HORIZON II WOMENS HYDROPHOBIC DOWN JACKET
024321 HORIZON II WOMENS HYDROPHOBIC DOWN JACKET
024321 HORIZON II WOMENS HYDROPHOBIC DOWN JACKET
024321 HORIZON II WOMENS HYDROPHOBIC DOWN JACKET
024321 HORIZON II WOMENS HYDROPHOBIC DOWN JACKET
024321 HORIZON II WOMENS HYDROPHOBIC DOWN JACKET
024321 HORIZON II WOMENS HYDROPHOBIC DOWN JACKET
024321 HORIZON II WOMENS HYDROPHOBIC DOWN JACKET
024321 HORIZON II WOMENS HYDROPHOBIC DOWN JACKET
024321 HORIZON II WOMENS HYDROPHOBIC DOWN JACKET
024321 HORIZON II WOMENS HYDROPHOBIC DOWN JACKET
024321 HORIZON II WOMENS HYDROPHOBIC DOWN JACKET
024321 HORIZON II WOMENS HYDROPHOBIC DOWN JACKET
024321 HORIZON II WOMENS HYDROPHOBIC DOWN JACKET
024321 HORIZON II WOMENS HYDROPHOBIC DOWN JACKET
024321 HORIZON II WOMENS HYDROPHOBIC DOWN JACKET
024321 HORIZON II WOMENS HYDROPHOBIC DOWN JACKET
024321 HORIZON II WOMENS HYDROPHOBIC DOWN JACKET
024321 HORIZON II WOMENS HYDROPHOBIC DOWN JACKET
024321 HORIZON II WOMENS HYDROPHOBIC DOWN JACKET
024321 HORIZON II WOMENS HYDROPHOBIC DOWN JACKET
024321 HORIZON II WOMENS HYDROPHOBIC DOWN JACKET
024321 HORIZON II WOMENS HYDROPHOBIC DOWN JACKET
024321 HORIZON II WOMENS HYDROPHOBIC DOWN JACKET
024321 HORIZON II WOMENS HYDROPHOBIC DOWN JACKET
024321 HORIZON II WOMENS HYDROPHOBIC DOWN JACKET
024321 HORIZON II WOMENS HYDROPHOBIC DOWN JACKET
024321 HORIZON II WOMENS HYDROPHOBIC DOWN JACKET
024321 HORIZON II WOMENS HYDROPHOBIC DOWN JACKET
024321 HORIZON II WOMENS HYDROPHOBIC DOWN JACKET
024321 HORIZON II WOMENS HYDROPHOBIC DOWN JACKET
024321 HORIZON II WOMENS HYDROPHOBIC DOWN JACKET
024321 HORIZON II WOMENS HYDROPHOBIC DOWN JACKET
024321 HORIZON II WOMENS HYDROPHOBIC DOWN JACKET
024321 HORIZON II WOMENS HYDROPHOBIC DOWN JACKET
024321 HORIZON II WOMENS HYDROPHOBIC DOWN JACKET
024321 HORIZON II WOMENS HYDROPHOBIC DOWN JACKET
024321 HORIZON II WOMENS HYDROPHOBIC DOWN JACKET
024321 HORIZON II WOMENS HYDROPHOBIC DOWN JACKET
024321 HORIZON II WOMENS HYDROPHOBIC DOWN JACKET