Asgard Mens Merino Zip Neck Top

- Red

×
BESTSELLER
This item is selling fast!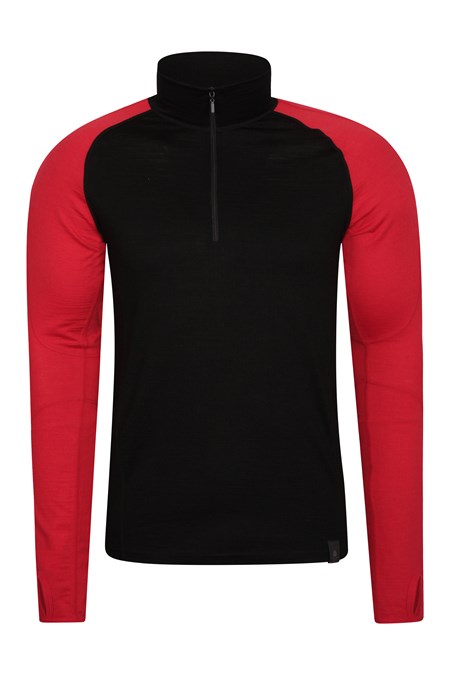 Asgard Mens Merino Zip Neck Top

- Red

£79.99

Save £60.00

Now

£19.99
Free Exchanges & No Hassle Returns
Code: 022241
The Asgard Mens Zip Neck Top from Mountain Warehouse is a high performance base layer made with a merino wool blend for comfort and softness. It features a zip neck collar and thumb holes which help keep you warm by preventing the sleeves from riding up during activity. In a slightly heavier weight fabric, the Asgard will keep you warm whether skiing, walking or any other outdoor sport in chilly weather.
Half Zip - Opens at the neck for more comfort, extra ventilation and a great look
Merino - Extra warm high quality wool blend. Lightweight and highly breathable so perfect for active wear
Heavier Weight - For improved warmth
Breathable - Highly breathable fabric lets moisture out, making sure you stay dry on the inside
Antibacterial - Antibacterial finish keeps your garment fresh and odour free
Easy Care - Fully machine washable for easy care
Composition - 80% Merino Wool, 20% Polyester
Fabric Composition
Polyester 20% Merino Wool 80%
022241 ASGARD MERINO ZIP NECK TOP
022241 ASGARD MERINO ZIP NECK TOP
022241 ASGARD MERINO ZIP NECK TOP
022241 ASGARD MERINO ZIP NECK TOP
022241 ASGARD MERINO ZIP NECK TOP
022241 ASGARD MERINO ZIP NECK TOP
022241 ASGARD MERINO ZIP NECK TOP
022241 ASGARD MERINO ZIP NECK TOP
022241 ASGARD MERINO ZIP NECK TOP
022241 ASGARD MERINO ZIP NECK TOP
022241 ASGARD MERINO ZIP NECK TOP
022241 ASGARD MERINO ZIP NECK TOP
022241 ASGARD MERINO ZIP NECK TOP
022241 ASGARD MERINO ZIP NECK TOP
022241 ASGARD MERINO ZIP NECK TOP
022241 ASGARD MERINO ZIP NECK TOP
022241 ASGARD MERINO ZIP NECK TOP
022241 ASGARD MERINO ZIP NECK TOP
022241 ASGARD MERINO ZIP NECK TOP
022241 ASGARD MERINO ZIP NECK TOP
022241 ASGARD MERINO ZIP NECK TOP
022241 ASGARD MERINO ZIP NECK TOP
022241 ASGARD MERINO ZIP NECK TOP
022241 ASGARD MERINO ZIP NECK TOP
022241 ASGARD MERINO ZIP NECK TOP