Trek Short Sleeved Men's Shirt

- Brown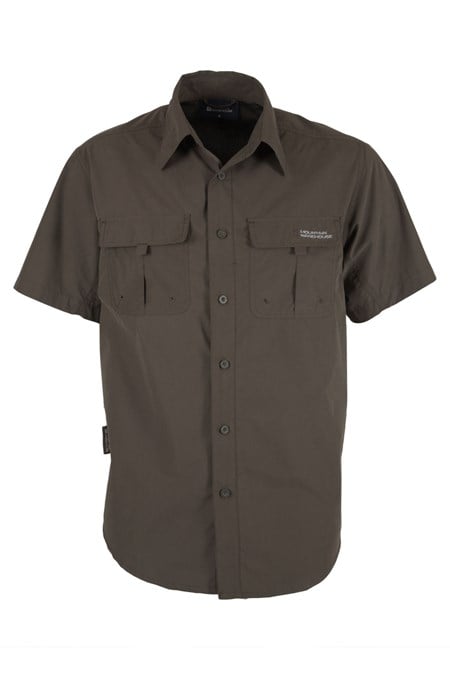 Code: 016753
Was £32.99 Save 52%
Now
£15.99
Free Exchanges & No Hassle Returns
The Trek short sleeved men's shirt is lightweight and fast drying, perfect for travelling and trekking this summer. The men's trek shirt is packed full of great features to keep you cool and comfortable in extreme conditions. The short sleeved shirt is mesh lined for improved breathability and has air vents at the lower armholes for enhanced ventilation. The men's shirt is both shrink and fade resistant to ensure it continues to look good after multiple wears in the toughest terrain. The shirt has a pleat at the back which looks great while also improving the fit and comfort the shirt, while the two Velcro chest pockets are perfect for your essentials.
Breathable & mesh lined with extra ventilation
The trek shirt is breathable to keep you cool, dry and comfortable while outdoors in the heat. The mesh lining aids the overall breathability of the fabric by drawing moisture away from your skin to help keep you drier and cooler, the quick dry fabric means that any perspiration will be absorbed quickly to prevent you from getting cold. For added comfort the shirt also has air vents at the lower arm holes to allow more airflow and better ventilation.
Lightweight & fast drying
The men's shirt is lightweight and fast drying making it ideal for trekking and travelling, the lightweight fabric is comfortable in hot weather, while being fast drying means that it can be washed overnight and will be ready to wear the following day.
Shrink & fade resistant
The men's trek shirt will not shrink or fade after multiple wears and washes and will continue to look great even while facing the toughest conditions.
Velcro pockets
The men's breathable shirt has two pockets at the chest that fasten with Velcro, which are convenient for keeping essential items such as your mobile phone and keys.
Fabric Composition
100% Cotton
Trek Short Sleeved Men's Shirt
Trek Short Sleeved Men's Shirt
Trek Short Sleeved Men's Shirt
Trek Short Sleeved Men's Shirt
Trek Short Sleeved Men's Shirt
Trek Short Sleeved Men's Shirt
Trek Short Sleeved Men's Shirt
Trek Short Sleeved Men's Shirt
Trek Short Sleeved Men's Shirt
Trek Short Sleeved Men's Shirt
Trek Short Sleeved Men's Shirt
Trek Short Sleeved Men's Shirt
Trek Short Sleeved Men's Shirt
Trek Short Sleeved Men's Shirt