Merino Kids Stripe Round Neck Top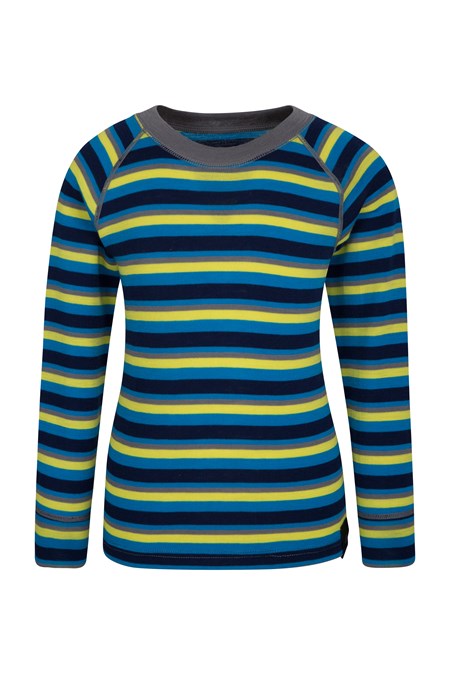 Merino Kids Stripe Round Neck Top

Save For Later
Free Exchanges & No Hassle Returns
Code: 024636
The Merino Kids Stripe Round Neck Top is a fun, colourful base layer, perfect for when it gets colder. In a bold striped pattern, the top is made with merino wool, which is naturally antibacterial and is sure to keep your little ones warm and toasty.
Merino Blend - Merino is a very warm, high quality natural fibre.
Breathable - Highly breathable fabric lets moisture out, making sure you stay dry on the inside.
Quick Wicking - Actively wicks moisture away from the skin, keeping you dry and comfortable.
Naturally Antibacterial - Fibres have natural antibacterial properties, keeping your garment fresh and odour free.
Lightweight - Compact and easy to carry. No added bulk.
Fabric Composition - 70% Merino Wool, 30% Polyester.
024636 MERINO KIDS STRIPE ROUND NECK TOP
024636 MERINO KIDS STRIPE ROUND NECK TOP
024636 MERINO KIDS STRIPE ROUND NECK TOP
024636 MERINO KIDS STRIPE ROUND NECK TOP
024636 MERINO KIDS STRIPE ROUND NECK TOP
024636 MERINO KIDS STRIPE ROUND NECK TOP
024636 MERINO KIDS STRIPE ROUND NECK TOP
024636 MERINO KIDS STRIPE ROUND NECK TOP
024636 MERINO KIDS STRIPE ROUND NECK TOP
024636 MERINO KIDS STRIPE ROUND NECK TOP
024636 MERINO KIDS STRIPE ROUND NECK TOP
024636 MERINO KIDS STRIPE ROUND NECK TOP
024636 MERINO KIDS STRIPE ROUND NECK TOP
024636 MERINO KIDS STRIPE ROUND NECK TOP
024636 MERINO KIDS STRIPE ROUND NECK TOP
024636 MERINO KIDS STRIPE ROUND NECK TOP
024636 MERINO KIDS STRIPE ROUND NECK TOP
024636 MERINO KIDS STRIPE ROUND NECK TOP
024636 MERINO KIDS STRIPE ROUND NECK TOP
024636 MERINO KIDS STRIPE ROUND NECK TOP
024636 MERINO KIDS STRIPE ROUND NECK TOP
024636 MERINO KIDS STRIPE ROUND NECK TOP
024636 MERINO KIDS STRIPE ROUND NECK TOP
024636 MERINO KIDS STRIPE ROUND NECK TOP
024636 MERINO KIDS STRIPE ROUND NECK TOP
024636 MERINO KIDS STRIPE ROUND NECK TOP
024636 MERINO KIDS STRIPE ROUND NECK TOP
024636 MERINO KIDS STRIPE ROUND NECK TOP
024636 MERINO KIDS STRIPE ROUND NECK TOP
024636 MERINO KIDS STRIPE ROUND NECK TOP
024636 MERINO KIDS STRIPE ROUND NECK TOP
024636 MERINO KIDS STRIPE ROUND NECK TOP
024636 MERINO KIDS STRIPE ROUND NECK TOP
024636 MERINO KIDS STRIPE ROUND NECK TOP
024636 MERINO KIDS STRIPE ROUND NECK TOP
024636 MERINO KIDS STRIPE ROUND NECK TOP
024636 MERINO KIDS STRIPE ROUND NECK TOP
024636 MERINO KIDS STRIPE ROUND NECK TOP
024636 MERINO KIDS STRIPE ROUND NECK TOP
024636 MERINO KIDS STRIPE ROUND NECK TOP
024636 MERINO KIDS STRIPE ROUND NECK TOP
024636 MERINO KIDS STRIPE ROUND NECK TOP