Falcon Extreme Kids Ski Pants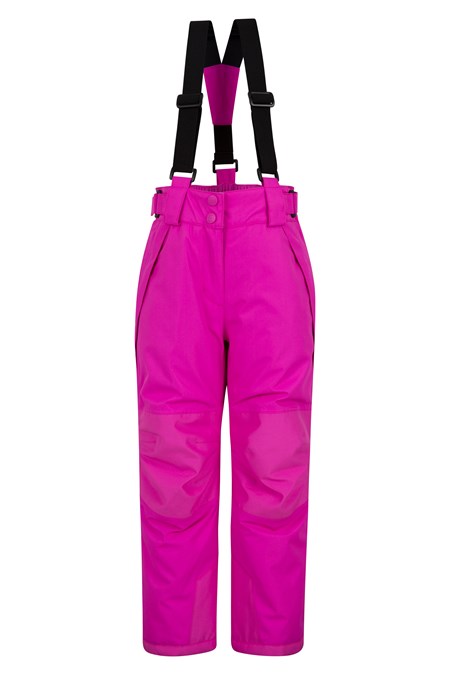 Falcon Extreme Kids Ski Pants
Discount Card Price
$89.99
What is a discount card?

By shopping online, you can take advantage of our discount card price.
Code: 021943
The Falcon Extreme Kids Ski Pants are a pair of warm, high performance ski trousers. Fully waterproof with taped seams and a soft tricot lining makes sure that these salopettes will keep your child warm and dry. Detachable braces keep the pants up whilst active and integrated snow gaiters stop snow from entering at the ankles. Fully insulated and colourful, these salopettes are essential for your child's skiing and mountainous adventures.
Waterproof - Waterproof and breathable membrane to allow perspiration out, but keep your child dry
Taped Seams - Taped seams make this garment fully waterproof
Insulated - Tricot lined and insulated for extra comfort and warmth
Snow Gaiters - Half leg zips give your child freedom to flex whilst in ski boots. An inner snow gaiter with rubber trim which clings onto the boot stops any snow from entering the trousers
Waistband - Adjustable and elasticated waistband has a soft tricot lining for extra comfort
Pockets - Tricot lined zipped front security pockets for storing valuables
Reinforced Knees - Double layer scuff guard panels at the knees, ensures longer lasting wear
Fabric Composition
Polyester 100%
021943 FALCON EXTREME WATERPROOF KIDS SNOW PANT
021943 FALCON EXTREME WATERPROOF KIDS SNOW PANT
021943 FALCON EXTREME WATERPROOF KIDS SNOW PANT
021943 FALCON EXTREME WATERPROOF KIDS SNOW PANT
021943 FALCON EXTREME WATERPROOF KIDS SNOW PANT
021943 FALCON EXTREME WATERPROOF KIDS SNOW PANT
021943 FALCON EXTREME WATERPROOF KIDS SNOW PANT
021943 FALCON EXTREME WATERPROOF KIDS SNOW PANT
021943 FALCON EXTREME WATERPROOF KIDS SNOW PANT
021943 FALCON EXTREME WATERPROOF KIDS SNOW PANT
021943 FALCON EXTREME WATERPROOF KIDS SNOW PANT
021943 FALCON EXTREME WATERPROOF KIDS SNOW PANT
021943 FALCON EXTREME WATERPROOF KIDS SNOW PANT
021943 FALCON EXTREME WATERPROOF KIDS SNOW PANT
021943 FALCON EXTREME WATERPROOF KIDS SNOW PANT
021943 FALCON EXTREME WATERPROOF KIDS SNOW PANT
021943 FALCON EXTREME WATERPROOF KIDS SNOW PANT
021943 FALCON EXTREME WATERPROOF KIDS SNOW PANT
021943 FALCON EXTREME WATERPROOF KIDS SNOW PANT
021943 FALCON EXTREME WATERPROOF KIDS SNOW PANT
021943 FALCON EXTREME WATERPROOF KIDS SNOW PANT
021943 FALCON EXTREME WATERPROOF KIDS SNOW PANT
021943 FALCON EXTREME WATERPROOF KIDS SNOW PANT
021943 FALCON EXTREME WATERPROOF KIDS SNOW PANT
021943 FALCON EXTREME WATERPROOF KIDS SNOW PANT
021943 FALCON EXTREME WATERPROOF KIDS SNOW PANT
021943 FALCON EXTREME WATERPROOF KIDS SNOW PANT
021943 FALCON EXTREME WATERPROOF KIDS SNOW PANT
021943 FALCON EXTREME WATERPROOF KIDS SNOW PANT
021943 FALCON EXTREME WATERPROOF KIDS SNOW PANT
021943 FALCON EXTREME WATERPROOF KIDS SNOW PANT
021943 FALCON EXTREME WATERPROOF KIDS SNOW PANT
021943 FALCON EXTREME WATERPROOF KIDS SNOW PANT
021943 FALCON EXTREME WATERPROOF KIDS SNOW PANT
021943 FALCON EXTREME WATERPROOF KIDS SNOW PANT
021943 FALCON EXTREME WATERPROOF KIDS SNOW PANT
021943 FALCON EXTREME WATERPROOF KIDS SNOW PANT
021943 FALCON EXTREME WATERPROOF KIDS SNOW PANT
021943 FALCON EXTREME WATERPROOF KIDS SNOW PANT
021943 FALCON EXTREME WATERPROOF KIDS SNOW PANT
021943 FALCON EXTREME WATERPROOF KIDS SNOW PANT
021943 FALCON EXTREME WATERPROOF KIDS SNOW PANT
021943 FALCON EXTREME WATERPROOF KIDS SNOW PANT
021943 FALCON EXTREME WATERPROOF KIDS SNOW PANT
021943 FALCON EXTREME WATERPROOF KIDS SNOW PANT
021943 FALCON EXTREME WATERPROOF KIDS SNOW PANT
021943 FALCON EXTREME WATERPROOF KIDS SNOW PANT
021943 FALCON EXTREME WATERPROOF KIDS SNOW PANT
021943 FALCON EXTREME WATERPROOF KIDS SNOW PANT
021943 FALCON EXTREME WATERPROOF KIDS SNOW PANT
021943 FALCON EXTREME WATERPROOF KIDS SNOW PANT
021943 FALCON EXTREME WATERPROOF KIDS SNOW PANT
021943 FALCON EXTREME WATERPROOF KIDS SNOW PANT
021943 FALCON EXTREME WATERPROOF KIDS SNOW PANT
021943 FALCON EXTREME WATERPROOF KIDS SNOW PANT
021943 FALCON EXTREME WATERPROOF KIDS SNOW PANT
021943 FALCON EXTREME WATERPROOF KIDS SNOW PANT
021943 FALCON EXTREME WATERPROOF KIDS SNOW PANT
021943 FALCON EXTREME WATERPROOF KIDS SNOW PANT
021943 FALCON EXTREME WATERPROOF KIDS SNOW PANT
021943 FALCON EXTREME WATERPROOF KIDS SNOW PANT
021943 FALCON EXTREME WATERPROOF KIDS SNOW PANT
021943 FALCON EXTREME WATERPROOF KIDS SNOW PANT
021943 FALCON EXTREME WATERPROOF KIDS SNOW PANT
021943 FALCON EXTREME WATERPROOF KIDS SNOW PANT
021943 FALCON EXTREME WATERPROOF KIDS SNOW PANT
021943 FALCON EXTREME WATERPROOF KIDS SNOW PANT
021943 FALCON EXTREME WATERPROOF KIDS SNOW PANT
021943 FALCON EXTREME WATERPROOF KIDS SNOW PANT
021943 FALCON EXTREME WATERPROOF KIDS SNOW PANT
021943 FALCON EXTREME WATERPROOF KIDS SNOW PANT
021943 FALCON EXTREME WATERPROOF KIDS SNOW PANT
021943 FALCON EXTREME WATERPROOF KIDS SNOW PANT
021943 FALCON EXTREME WATERPROOF KIDS SNOW PANT
021943 FALCON EXTREME WATERPROOF KIDS SNOW PANT
021943 FALCON EXTREME WATERPROOF KIDS SNOW PANT
021943 FALCON EXTREME WATERPROOF KIDS SNOW PANT
021943 FALCON EXTREME WATERPROOF KIDS SNOW PANT
021943 FALCON EXTREME WATERPROOF KIDS SNOW PANT
021943 FALCON EXTREME WATERPROOF KIDS SNOW PANT
021943 FALCON EXTREME WATERPROOF KIDS SNOW PANT
021943 FALCON EXTREME WATERPROOF KIDS SNOW PANT
021943 FALCON EXTREME WATERPROOF KIDS SNOW PANT
021943 FALCON EXTREME WATERPROOF KIDS SNOW PANT
021943 FALCON EXTREME WATERPROOF KIDS SNOW PANT
021943 FALCON EXTREME WATERPROOF KIDS SNOW PANT
021943 FALCON EXTREME WATERPROOF KIDS SNOW PANT