Nordic Extreme Printed Womens Ski Jacket

- Blue

×
BESTSELLER
This item is selling fast!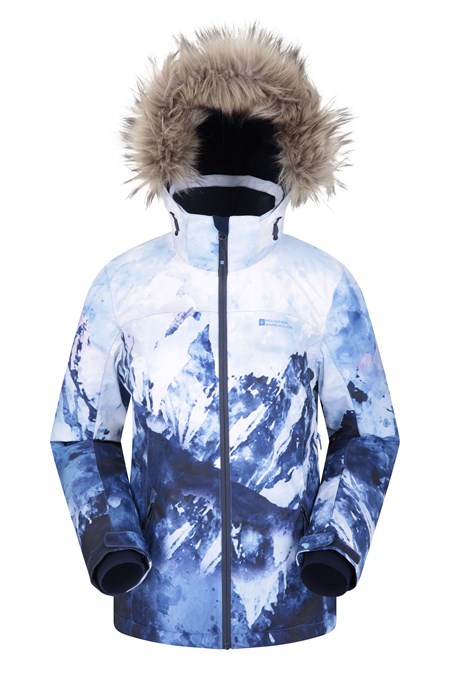 Nordic Extreme Printed Womens Ski Jacket

- Blue
Code: 031485
Be fully equipped for the slopes with our Nordic Extreme Ski Jacket. Part of our Extreme range, this jacket is insulated, fully waterproof and breathable with taped seams, an adjustable fit and all the necessary pockets.
Waterproof 10,000mm - Tested to withstand 10,000mm of rain in a 24 hour period, suitable for extremely heavy rain
Breathable - The fabric allows perspiration to pass out of the garment, keeping you cool and comfortable. Rated at 5,000mm
Taped Seams - Waterproof tape runs across all stitched areas, making the item fully waterproof
Recco® Reflectors - Advanced rescue technology, RECCO® Reflectors bounce back location information in case of an avalanche
Detachable Snowskirt - Helps prevent snow getting inside your jacket if you take a tumble. Detachable.
Adjustable Fit - Adjustable cuffs, hood and hem for a great fit
Underarm Zips - Unzip for extra ventilation
Stretch cuff - for a comfortable and secure fit
Lift Pass Pocket - Sleeve pocket for quick access or use with electronic lift pass
Fabric Composition
Polyester 100%
031485 NORDIC WOMENS PRINTED EXTREME SKI JACKET
031485 NORDIC WOMENS PRINTED EXTREME SKI JACKET
031485 NORDIC WOMENS PRINTED EXTREME SKI JACKET
031485 NORDIC WOMENS PRINTED EXTREME SKI JACKET
031485 NORDIC WOMENS PRINTED EXTREME SKI JACKET
031485 NORDIC WOMENS PRINTED EXTREME SKI JACKET
031485 NORDIC WOMENS PRINTED EXTREME SKI JACKET
031485 NORDIC WOMENS PRINTED EXTREME SKI JACKET