Orbit 4 Way Stretch Mens Ski Pants
×
BESTSELLER
This item is selling fast!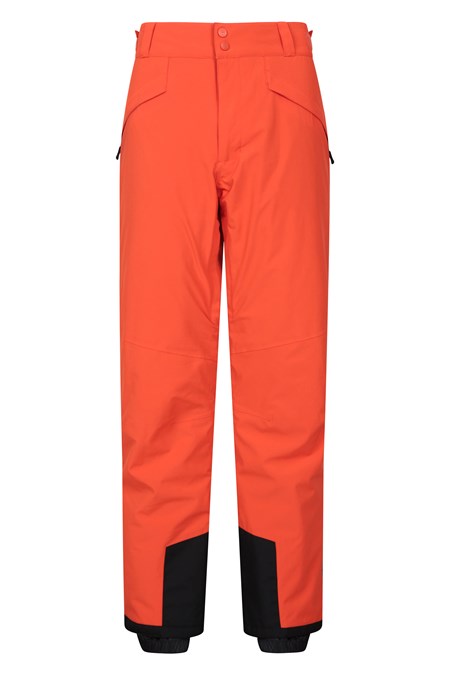 Orbit 4 Way Stretch Mens Ski Pants

Save For Later
Free Exchanges & No Hassle Returns
Code: 024434
The Orbit 4-Way-Stretch Ski Pants give you full mobility and flexibility on the slopes. They're made in stretchy fabric with RECCO reflectors, while also being fully waterproof and highly breathable.
IsoDry - Waterproof & breathable membrane allows moisture out & prevents rain getting in
Recco® Reflectors - Advanced rescue technology, RECCO® Reflectors bounce back location information in case of an avalanche
Taped Seams - All seams are taped to make this item fully waterproof
Waterproof 10,000mm - Tested to withstand 10,000mm of rain in a 24 hour period, suitable for extremely heavy rain
Breathable - The fabric allows perspiration to pass out of the garment, keeping you cool and comfortable. Rated at 5,000mm
Heat Rating - Laboratory tested to -25°C. Health & physical activity, exposure time & perspiration will affect performance & comfort
Fabric Composition
Polyester 93% Elastane 7%
024434 ORBIT 4 WAY STRETCH SKI PANT
024434 ORBIT 4 WAY STRETCH SKI PANT
024434 ORBIT 4 WAY STRETCH SKI PANT
024434 ORBIT 4 WAY STRETCH SKI PANT
024434 ORBIT 4 WAY STRETCH SKI PANT
024434 ORBIT 4 WAY STRETCH SKI PANT
024434 ORBIT 4 WAY STRETCH SKI PANT
024434 ORBIT 4 WAY STRETCH SKI PANT
024434 ORBIT 4 WAY STRETCH SKI PANT
024434 ORBIT 4 WAY STRETCH SKI PANT
024434 ORBIT 4 WAY STRETCH SKI PANT
024434 ORBIT 4 WAY STRETCH SKI PANT
024434 ORBIT 4 WAY STRETCH SKI PANT
024434 ORBIT 4 WAY STRETCH SKI PANT
024434 ORBIT 4 WAY STRETCH SKI PANT
024434 ORBIT 4 WAY STRETCH SKI PANT
024434 ORBIT 4 WAY STRETCH SKI PANT
024434 ORBIT 4 WAY STRETCH SKI PANT
024434 ORBIT 4 WAY STRETCH SKI PANT
024434 ORBIT 4 WAY STRETCH SKI PANT
024434 ORBIT 4 WAY STRETCH SKI PANT
024434 ORBIT 4 WAY STRETCH SKI PANT
024434 ORBIT 4 WAY STRETCH SKI PANT
024434 ORBIT 4 WAY STRETCH SKI PANT
024434 ORBIT 4 WAY STRETCH SKI PANT
024434 ORBIT 4 WAY STRETCH SKI PANT
024434 ORBIT 4 WAY STRETCH SKI PANT
024434 ORBIT 4 WAY STRETCH SKI PANT
024434 ORBIT 4 WAY STRETCH SKI PANT
024434 ORBIT 4 WAY STRETCH SKI PANT
024434 ORBIT 4 WAY STRETCH SKI PANT
024434 ORBIT 4 WAY STRETCH SKI PANT
024434 ORBIT 4 WAY STRETCH SKI PANT
024434 ORBIT 4 WAY STRETCH SKI PANT
024434 ORBIT 4 WAY STRETCH SKI PANT
024434 ORBIT 4 WAY STRETCH SKI PANT
024434 ORBIT 4 WAY STRETCH SKI PANT
024434 ORBIT 4 WAY STRETCH SKI PANT
024434 ORBIT 4 WAY STRETCH SKI PANT
024434 ORBIT 4 WAY STRETCH SKI PANT
024434 ORBIT 4 WAY STRETCH SKI PANT
024434 ORBIT 4 WAY STRETCH SKI PANT
024434 ORBIT 4 WAY STRETCH SKI PANT
024434 ORBIT 4 WAY STRETCH SKI PANT
024434 ORBIT 4 WAY STRETCH SKI PANT
024434 ORBIT 4 WAY STRETCH SKI PANT