Samuel Kids Water-resistant Parka Jacket
×
BESTSELLER
This item is selling fast!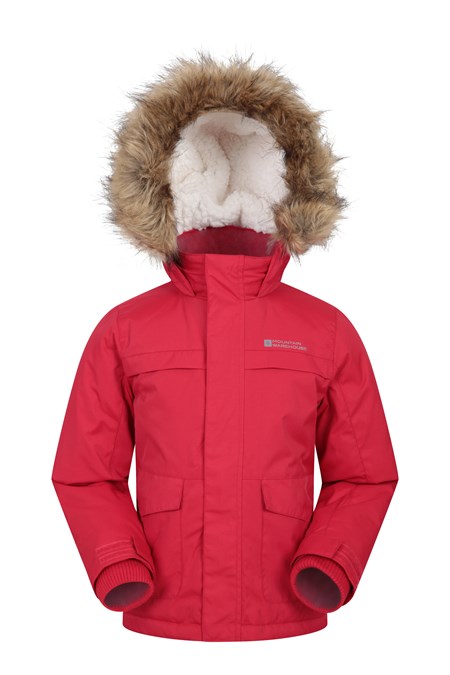 Samuel Kids Water-resistant Parka Jacket

Save For Later
Free Exchanges & No Hassle Returns
Code: 024383
The Samuel Kids Parka Jacket is ideal for the chilly winter months. Water resistant, microfibre padding, adjustable cuffs, a soft Sherpa fleece back panel for extra warmth and with a detachable fur-trim for added comfort and style.
Microfibre Insulation - Provides excellent heat retention, a synthetic alternative to down
Sherpa Lining - A soft, wool-like material, which provides warmth.
Front Pockets - Convenient pockets on the front
Adjustable cuffs - easily adjustable with Velcro fastening, for a perfect fit
Water-resistant - Treated with Durable Water Repellent (DWR), droplets will bead and roll off the fabric. Light rain, or limited exposure to rain
Improved fit - added stretch for a better fit
Fabric Composition
Polyester 100%
024383 SAMUEL KIDS WATER RESISTANT PARKA JACKET
024383 SAMUEL KIDS WATER RESISTANT PARKA JACKET
024383 SAMUEL KIDS WATER RESISTANT PARKA JACKET
024383 SAMUEL KIDS WATER RESISTANT PARKA JACKET
024383 SAMUEL KIDS WATER RESISTANT PARKA JACKET
024383 SAMUEL KIDS WATER RESISTANT PARKA JACKET
024383 SAMUEL KIDS WATER RESISTANT PARKA JACKET
024383 SAMUEL KIDS WATER RESISTANT PARKA JACKET
024383 SAMUEL KIDS WATER RESISTANT PARKA JACKET
024383 SAMUEL KIDS WATER RESISTANT PARKA JACKET
024383 SAMUEL KIDS WATER RESISTANT PARKA JACKET
024383 SAMUEL KIDS WATER RESISTANT PARKA JACKET
024383 SAMUEL KIDS WATER RESISTANT PARKA JACKET
024383 SAMUEL KIDS WATER RESISTANT PARKA JACKET
024383 SAMUEL KIDS WATER RESISTANT PARKA JACKET
024383 SAMUEL KIDS WATER RESISTANT PARKA JACKET
024383 SAMUEL KIDS WATER RESISTANT PARKA JACKET
024383 SAMUEL KIDS WATER RESISTANT PARKA JACKET
024383 SAMUEL KIDS WATER RESISTANT PARKA JACKET
024383 SAMUEL KIDS WATER RESISTANT PARKA JACKET
024383 SAMUEL KIDS WATER RESISTANT PARKA JACKET
024383 SAMUEL KIDS WATER RESISTANT PARKA JACKET
024383 SAMUEL KIDS WATER RESISTANT PARKA JACKET
024383 SAMUEL KIDS WATER RESISTANT PARKA JACKET
024383 SAMUEL KIDS WATER RESISTANT PARKA JACKET
024383 SAMUEL KIDS WATER RESISTANT PARKA JACKET
024383 SAMUEL KIDS WATER RESISTANT PARKA JACKET
024383 SAMUEL KIDS WATER RESISTANT PARKA JACKET
024383 SAMUEL KIDS WATER RESISTANT PARKA JACKET
024383 SAMUEL KIDS WATER RESISTANT PARKA JACKET
024383 SAMUEL KIDS WATER RESISTANT PARKA JACKET
024383 SAMUEL KIDS WATER RESISTANT PARKA JACKET
024383 SAMUEL KIDS WATER RESISTANT PARKA JACKET
024383 SAMUEL KIDS WATER RESISTANT PARKA JACKET
024383 SAMUEL KIDS WATER RESISTANT PARKA JACKET
024383 SAMUEL KIDS WATER RESISTANT PARKA JACKET
024383 SAMUEL KIDS WATER RESISTANT PARKA JACKET
024383 SAMUEL KIDS WATER RESISTANT PARKA JACKET
024383 SAMUEL KIDS WATER RESISTANT PARKA JACKET
024383 SAMUEL KIDS WATER RESISTANT PARKA JACKET
024383 SAMUEL KIDS WATER RESISTANT PARKA JACKET
024383 SAMUEL KIDS WATER RESISTANT PARKA JACKET
024383 SAMUEL KIDS WATER RESISTANT PARKA JACKET
024383 SAMUEL KIDS WATER RESISTANT PARKA JACKET
024383 SAMUEL KIDS WATER RESISTANT PARKA JACKET
024383 SAMUEL KIDS WATER RESISTANT PARKA JACKET
024383 SAMUEL KIDS WATER RESISTANT PARKA JACKET
024383 SAMUEL KIDS WATER RESISTANT PARKA JACKET
024383 SAMUEL KIDS WATER RESISTANT PARKA JACKET
024383 SAMUEL KIDS WATER RESISTANT PARKA JACKET
024383 SAMUEL KIDS WATER RESISTANT PARKA JACKET
024383 SAMUEL KIDS WATER RESISTANT PARKA JACKET
024383 SAMUEL KIDS WATER RESISTANT PARKA JACKET
024383 SAMUEL KIDS WATER RESISTANT PARKA JACKET
024383 SAMUEL KIDS WATER RESISTANT PARKA JACKET
024383 SAMUEL KIDS WATER RESISTANT PARKA JACKET