Seasons Mens Padded Jacket
×
BESTSELLER
This item is selling fast!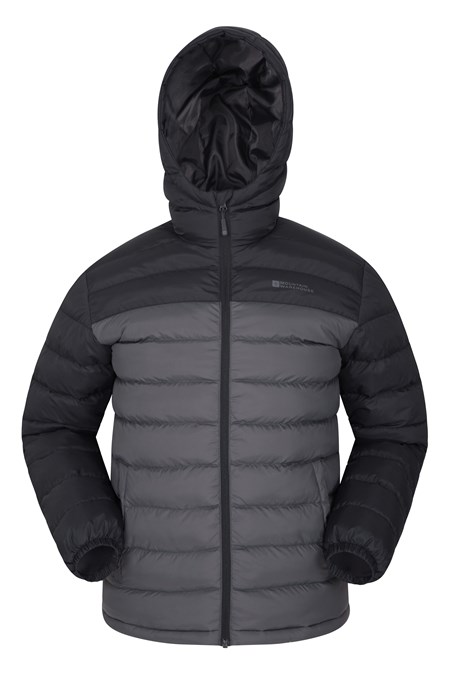 Seasons Mens Padded Jacket

Save For Later
Free Exchanges & No Hassle Returns
Code: 024274
The Seasons Mens Padded Jacket is great for every day. Lightweight and water-resistant, it's filled with microfiber filler and treated with a durable water repellent, to ensure you stay warm and protected when the temperatures start to drop.
Water-resistant - Treated with Durable Water Repellent (DWR), droplets will bead and roll off the fabric. Light rain, or limited exposure to rain
Thermal Tested -30 °C - Laboratory tested. Health & physical activity, exposure time & perspiration will affect performance & comfort
Microfibre Insulation - Provides excellent heat retention, a synthetic alternative to down
Lightweight - Great for travelling, comfortable to wear and easy to pack
Front Pockets - Convenient pockets on the front
Fabric Composition
Nylon 100%
024274 SEASONS PADDED JACKET
024274 SEASONS PADDED JACKET
024274 SEASONS PADDED JACKET
024274 SEASONS PADDED JACKET
024274 SEASONS PADDED JACKET
024274 SEASONS PADDED JACKET
024274 SEASONS PADDED JACKET
024274 SEASONS PADDED JACKET
024274 SEASONS PADDED JACKET
024274 SEASONS PADDED JACKET
024274 SEASONS PADDED JACKET
024274 SEASONS PADDED JACKET
024274 SEASONS PADDED JACKET
024274 SEASONS PADDED JACKET
024274 SEASONS PADDED JACKET
024274 SEASONS PADDED JACKET
024274 SEASONS PADDED JACKET
024274 SEASONS PADDED JACKET
024274 SEASONS PADDED JACKET
024274 SEASONS PADDED JACKET
024274 SEASONS PADDED JACKET
024274 SEASONS PADDED JACKET
024274 SEASONS PADDED JACKET
024274 SEASONS PADDED JACKET
024274 SEASONS PADDED JACKET
024274 SEASONS PADDED JACKET
024274 SEASONS PADDED JACKET
024274 SEASONS PADDED JACKET
024274 SEASONS PADDED JACKET
024274 SEASONS PADDED JACKET
024274 SEASONS PADDED JACKET
024274 SEASONS PADDED JACKET
024274 SEASONS PADDED JACKET
024274 SEASONS PADDED JACKET
024274 SEASONS PADDED JACKET
024274 SEASONS PADDED JACKET
024274 SEASONS PADDED JACKET
024274 SEASONS PADDED JACKET
024274 SEASONS PADDED JACKET
024274 SEASONS PADDED JACKET
024274 SEASONS PADDED JACKET
024274 SEASONS PADDED JACKET
024274 SEASONS PADDED JACKET
024274 SEASONS PADDED JACKET
024274 SEASONS PADDED JACKET
024274 SEASONS PADDED JACKET
024274 SEASONS PADDED JACKET
024274 SEASONS PADDED JACKET
024274 SEASONS PADDED JACKET
024274 SEASONS PADDED JACKET
024274 SEASONS PADDED JACKET
024274 SEASONS PADDED JACKET
024274 SEASONS PADDED JACKET
024274 SEASONS PADDED JACKET
024274 SEASONS PADDED JACKET
024274 SEASONS PADDED JACKET
024274 SEASONS PADDED JACKET
024274 SEASONS PADDED JACKET
024274 SEASONS PADDED JACKET
024274 SEASONS PADDED JACKET
024274 SEASONS PADDED JACKET
024274 SEASONS PADDED JACKET
024274 SEASONS PADDED JACKET
024274 SEASONS PADDED JACKET
024274 SEASONS PADDED JACKET
024274 SEASONS PADDED JACKET
024274 SEASONS PADDED JACKET
024274 SEASONS PADDED JACKET
024274 SEASONS PADDED JACKET
024274 SEASONS PADDED JACKET
024274 SEASONS PADDED JACKET
024274 SEASONS PADDED JACKET
024274 SEASONS PADDED JACKET
024274 SEASONS PADDED JACKET
024274 SEASONS PADDED JACKET
024274 SEASONS PADDED JACKET
024274 SEASONS PADDED JACKET
024274 SEASONS PADDED JACKET
024274 SEASONS PADDED JACKET
024274 SEASONS PADDED JACKET
024274 SEASONS PADDED JACKET
024274 SEASONS PADDED JACKET
024274 SEASONS PADDED JACKET
024274 SEASONS PADDED JACKET
024274 SEASONS PADDED JACKET
024274 SEASONS PADDED JACKET
024274 SEASONS PADDED JACKET
024274 SEASONS PADDED JACKET
024274 SEASONS PADDED JACKET
024274 SEASONS PADDED JACKET
024274 SEASONS PADDED JACKET
024274 SEASONS PADDED JACKET
024274 SEASONS PADDED JACKET
024274 SEASONS PADDED JACKET
024274 SEASONS PADDED JACKET
024274 SEASONS PADDED JACKET
024274 SEASONS PADDED JACKET
024274 SEASONS PADDED JACKET
024274 SEASONS PADDED JACKET
024274 SEASONS PADDED JACKET
024274 SEASONS PADDED JACKET
024274 SEASONS PADDED JACKET
024274 SEASONS PADDED JACKET
024274 SEASONS PADDED JACKET
024274 SEASONS PADDED JACKET
024274 SEASONS PADDED JACKET
024274 SEASONS PADDED JACKET
024274 SEASONS PADDED JACKET
024274 SEASONS PADDED JACKET
024274 SEASONS PADDED JACKET
024274 SEASONS PADDED JACKET
024274 SEASONS PADDED JACKET
024274 SEASONS PADDED JACKET
024274 SEASONS PADDED JACKET
024274 SEASONS PADDED JACKET
024274 SEASONS PADDED JACKET
024274 SEASONS PADDED JACKET