Shadow Mens Printed Ski Jacket
×
BESTSELLER
This item is selling fast!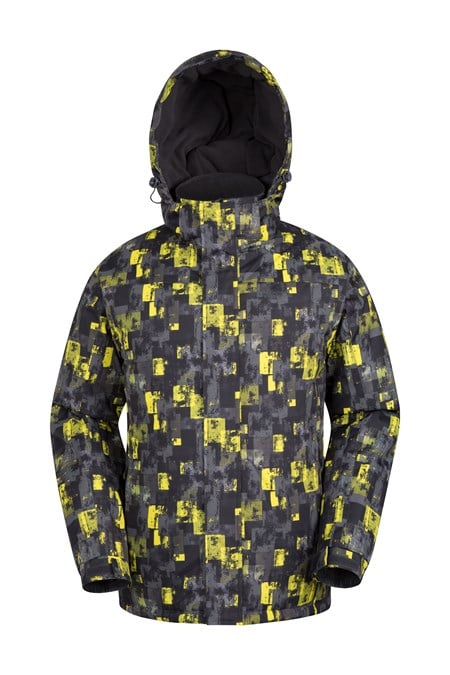 Shadow Mens Printed Ski Jacket
£79.99
Save 63%
£79.99
Save £50.00
Now
£29.99
Free Exchanges & No Hassle Returns
Code: 021917
The Shadow Mens Ski Jacket is made from a hard wearing snowproof fabric, insulated and fleece lined for extra warmth and comfort. Features adjustable cuffs and hem, and a fleece lined hood. This jacket is designed to keep you comfortable on the pistes.
Snowproof - Treated with a Durable Water Repellent, this makes the fabric water resistant. Great entry level skiwear
Thermal Tested -30 °C - Laboratory tested. Health & physical activity, exposure time & perspiration will affect performance & comfort
Extra Warmth - Insulated and fleece lined for extra warmth on the slopes
Snowskirt - Helps to prevent snow getting into your salopettes
Adjustable - Adjustable cuffs and hem make for a great fit
Hood - Easily adjusted for the perfect it. Fleece lined for extra warmth
Pockets - Two external zipped pockets, one internal mobile phone pocket
Fabric Composition
Polyester 100%
021917 SHADOW PRINTED SKI JACKET
021917 SHADOW PRINTED SKI JACKET
021917 SHADOW PRINTED SKI JACKET
021917 SHADOW PRINTED SKI JACKET
021917 SHADOW PRINTED SKI JACKET
021917 SHADOW PRINTED SKI JACKET
021917 SHADOW PRINTED SKI JACKET
021917 SHADOW PRINTED SKI JACKET
021917 SHADOW PRINTED SKI JACKET
021917 SHADOW PRINTED SKI JACKET
021917 SHADOW PRINTED SKI JACKET
021917 SHADOW PRINTED SKI JACKET
021917 SHADOW PRINTED SKI JACKET
021917 SHADOW PRINTED SKI JACKET
021917 SHADOW PRINTED SKI JACKET
021917 SHADOW PRINTED SKI JACKET
021917 SHADOW PRINTED SKI JACKET
021917 SHADOW PRINTED SKI JACKET
021917 SHADOW PRINTED SKI JACKET
021917 SHADOW PRINTED SKI JACKET
021917 SHADOW PRINTED SKI JACKET
021917 SHADOW PRINTED SKI JACKET
021917 SHADOW PRINTED SKI JACKET
021917 SHADOW PRINTED SKI JACKET
021917 SHADOW PRINTED SKI JACKET
021917 SHADOW PRINTED SKI JACKET
021917 SHADOW PRINTED SKI JACKET
021917 SHADOW PRINTED SKI JACKET
021917 SHADOW PRINTED SKI JACKET
021917 SHADOW PRINTED SKI JACKET
021917 SHADOW PRINTED SKI JACKET
021917 SHADOW PRINTED SKI JACKET
021917 SHADOW PRINTED SKI JACKET
021917 SHADOW PRINTED SKI JACKET
021917 SHADOW PRINTED SKI JACKET
021917 SHADOW PRINTED SKI JACKET
021917 SHADOW PRINTED SKI JACKET
021917 SHADOW PRINTED SKI JACKET
021917 SHADOW PRINTED SKI JACKET
021917 SHADOW PRINTED SKI JACKET
021917 SHADOW PRINTED SKI JACKET
021917 SHADOW PRINTED SKI JACKET
021917 SHADOW PRINTED SKI JACKET
021917 SHADOW PRINTED SKI JACKET
021917 SHADOW PRINTED SKI JACKET
021917 SHADOW PRINTED SKI JACKET
021917 SHADOW PRINTED SKI JACKET
021917 SHADOW PRINTED SKI JACKET
021917 SHADOW PRINTED SKI JACKET
021917 SHADOW PRINTED SKI JACKET
021917 SHADOW PRINTED SKI JACKET
021917 SHADOW PRINTED SKI JACKET
021917 SHADOW PRINTED SKI JACKET
021917 SHADOW PRINTED SKI JACKET