Moon Womens Ski Pants
×
BESTSELLER
This item is selling fast!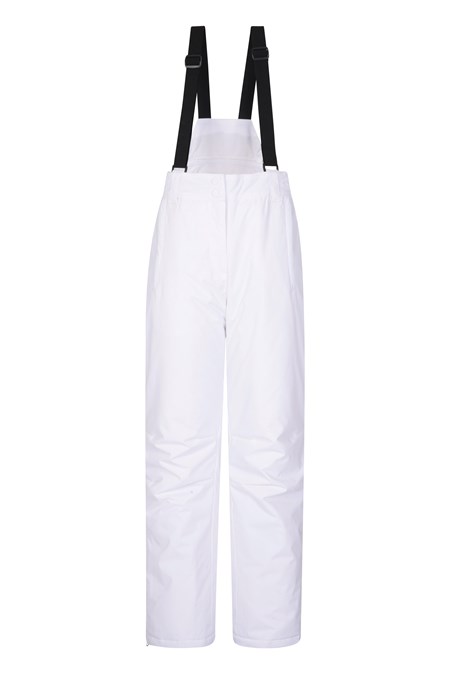 Save For Later
Free Exchanges & No Hassle Returns
Code: 021915
The Moon Womens Ski Pants from Mountain Warehouse are just what you need for keeping stylish and protected on the slopes this ski season. Designed in a durable snowproof fabric, the pants are insulated for extra warmth and have an elasticated waist for extra comfort when in motion. Integrated snow gaiters prevent snow from creeping up your legs if you have a tumble, and along with detachable braces and multiple pockets, the Moon Womens Ski Pants are a practical and easy to wear pair of trousers.
Snowproof - Treated with a Durable Water Repellent, this makes the fabric water resistant. Great entry level skiwear
Insulated - An insulated compartment which keeps your food and drink cooler for longer
Detachable Braces - Adjustable and detachable braces for your perfect fit
Elastic Waistband - For improved fit and comfort
Snow Gaiters - Helps to prevent snow getting into your salopettes
Front Pockets - Convenient pockets on the front
Thermal Tested -20 °C - Laboratory tested. Health & physical activity, exposure time & perspiration will affect performance & comfort
Fabric Composition
Polyester 100%
021915 MOON WOMENS SKI PANTS
021915 MOON WOMENS SKI PANTS
021915 MOON WOMENS SKI PANTS
021915 MOON WOMENS SKI PANTS
021915 MOON WOMENS SKI PANTS
021915 MOON WOMENS SKI PANTS
021915 MOON WOMENS SKI PANTS
021915 MOON WOMENS SKI PANTS
021915 MOON WOMENS SKI PANTS
021915 MOON WOMENS SKI PANTS
021915 MOON WOMENS SKI PANTS
021915 MOON WOMENS SKI PANTS
021915 MOON WOMENS SKI PANTS
021915 MOON WOMENS SKI PANTS
021915 MOON WOMENS SKI PANTS
021915 MOON WOMENS SKI PANTS
021915 MOON WOMENS SKI PANTS
021915 MOON WOMENS SKI PANTS
021915 MOON WOMENS SKI PANTS
021915 MOON WOMENS SKI PANTS
021915 MOON WOMENS SKI PANTS
021915 MOON WOMENS SKI PANTS
021915 MOON WOMENS SKI PANTS
021915 MOON WOMENS SKI PANTS
021915 MOON WOMENS SKI PANTS
021915 MOON WOMENS SKI PANTS
021915 MOON WOMENS SKI PANTS
021915 MOON WOMENS SKI PANTS
021915 MOON WOMENS SKI PANTS
021915 MOON WOMENS SKI PANTS
021915 MOON WOMENS SKI PANTS
021915 MOON WOMENS SKI PANTS
021915 MOON WOMENS SKI PANTS
021915 MOON WOMENS SKI PANTS
021915 MOON WOMENS SKI PANTS
021915 MOON WOMENS SKI PANTS
021915 MOON WOMENS SKI PANTS
021915 MOON WOMENS SKI PANTS
021915 MOON WOMENS SKI PANTS
021915 MOON WOMENS SKI PANTS
021915 MOON WOMENS SKI PANTS
021915 MOON WOMENS SKI PANTS
021915 MOON WOMENS SKI PANTS
021915 MOON WOMENS SKI PANTS
021915 MOON WOMENS SKI PANTS
021915 MOON WOMENS SKI PANTS
021915 MOON WOMENS SKI PANTS
021915 MOON WOMENS SKI PANTS
021915 MOON WOMENS SKI PANTS
021915 MOON WOMENS SKI PANTS
021915 MOON WOMENS SKI PANTS
021915 MOON WOMENS SKI PANTS
021915 MOON WOMENS SKI PANTS
021915 MOON WOMENS SKI PANTS
021915 MOON WOMENS SKI PANTS
021915 MOON WOMENS SKI PANTS
021915 MOON WOMENS SKI PANTS
021915 MOON WOMENS SKI PANTS
021915 MOON WOMENS SKI PANTS
021915 MOON WOMENS SKI PANTS
021915 MOON WOMENS SKI PANTS
021915 MOON WOMENS SKI PANTS
021915 MOON WOMENS SKI PANTS
021915 MOON WOMENS SKI PANTS
021915 MOON WOMENS SKI PANTS
021915 MOON WOMENS SKI PANTS