Arctic Air Womens Padded Ski Jacket
Arctic Air Womens Padded Ski Jacket
×
BESTSELLER
This item is selling fast!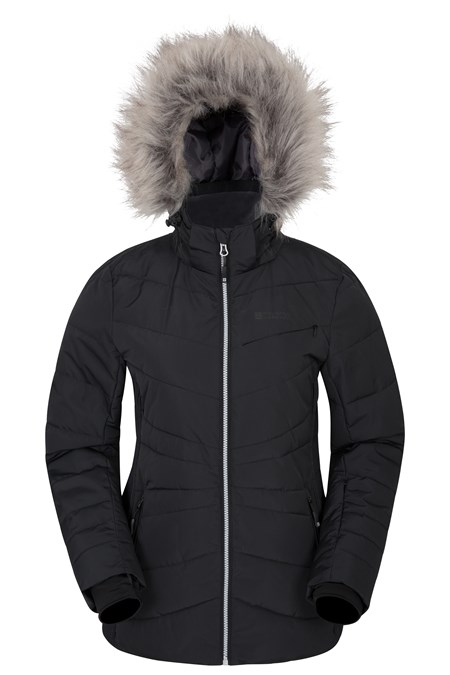 Arctic Air Womens Padded Ski Jacket
$249.99
Save 56%
$249.99
Save £140.00
Now
$109.99
Code: 025377
Get ready for the slopes with the Arctic Air Womens Ski Jacket. Snowproof, waterproof and breathable outer with a faux-fur hood and soft insulation to ensure warmth, while the snowskirt and multiple pockets provide for all your skiing needs.
Fabric composition - made of 100% polyester
Thermal Tested -40 °C - Laboratory tested. Health & physical activity, exposure time & perspiration will affect performance & comfort
Snowproof - treated with Durable Water Repellent to make fabric water-resistant
Pockets - two front pockets, ski-pass sleeve pocket and intenral pockets for a mobile, map or mp3 player
Snowskirt - helps prevent snow getting into your jacket if you take a tumble, fully detachable
Hood - easily adjustable with elastic drawcord and faux-fur trim for extra warmth
Breathable - fabric membrane allows moisture to escape to keep you cool and comfortable
Fabric Composition
Polyester 100%
025377 ARCTIC AIR WOMENS PADDED EXTREME SKI JACKET
025377 ARCTIC AIR WOMENS PADDED EXTREME SKI JACKET
025377 ARCTIC AIR WOMENS PADDED EXTREME SKI JACKET
025377 ARCTIC AIR WOMENS PADDED EXTREME SKI JACKET
025377 ARCTIC AIR WOMENS PADDED EXTREME SKI JACKET
025377 ARCTIC AIR WOMENS PADDED EXTREME SKI JACKET
025377 ARCTIC AIR WOMENS PADDED EXTREME SKI JACKET
025377 ARCTIC AIR WOMENS PADDED EXTREME SKI JACKET
025377 ARCTIC AIR WOMENS PADDED EXTREME SKI JACKET
025377 ARCTIC AIR WOMENS PADDED EXTREME SKI JACKET
025377 ARCTIC AIR WOMENS PADDED EXTREME SKI JACKET
025377 ARCTIC AIR WOMENS PADDED EXTREME SKI JACKET
025377 ARCTIC AIR WOMENS PADDED EXTREME SKI JACKET
025377 ARCTIC AIR WOMENS PADDED EXTREME SKI JACKET
025377 ARCTIC AIR WOMENS PADDED EXTREME SKI JACKET
025377 ARCTIC AIR WOMENS PADDED EXTREME SKI JACKET
025377 ARCTIC AIR WOMENS PADDED EXTREME SKI JACKET
025377 ARCTIC AIR WOMENS PADDED EXTREME SKI JACKET
025377 ARCTIC AIR WOMENS PADDED EXTREME SKI JACKET
025377 ARCTIC AIR WOMENS PADDED EXTREME SKI JACKET
025377 ARCTIC AIR WOMENS PADDED EXTREME SKI JACKET
025377 ARCTIC AIR WOMENS PADDED EXTREME SKI JACKET
025377 ARCTIC AIR WOMENS PADDED EXTREME SKI JACKET
025377 ARCTIC AIR WOMENS PADDED EXTREME SKI JACKET