Cloud All In One Waterproof Snowsuit
×
BESTSELLER
This item is selling fast!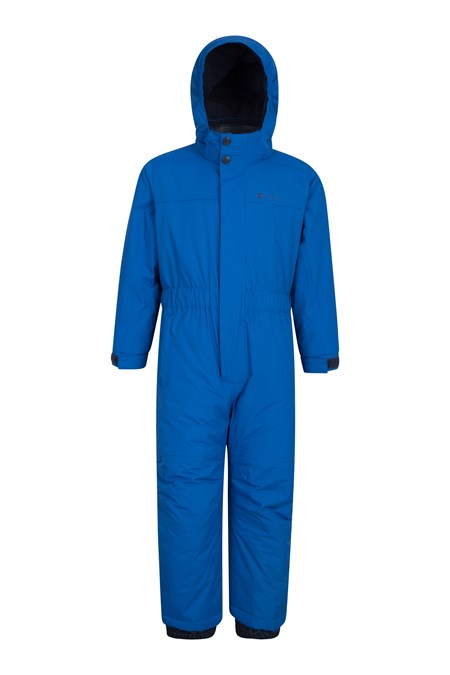 Cloud All In One Waterproof Snowsuit
Code: 018802
The Cloud All in One Kids Snowsuit is a great waterproof and breathable winter outfit. Fleece lined for a soft touch and extra warmth, the Cloud ensures your child is comfortable whilst wearing the all in one. Pockets as well as adjustable and elasticated cuffs, ankles and waist makes this a great practical and weatherproof garment, ideal for fun in the snow.
Waterproof - Our IsoDry fabric has a waterproof and breathable membrane to allow perspiration out, but keep you dry
Taped Seams - All seams are taped to make this item fully waterproof
Fleece Lining - Extra warm and very comfortable
Side Pockets - Two convenient side pockets
Reinforced Knees - Double layer scuff guard panels at the knees, ensure longer lasting wear
Snow Boot Compatible - With half leg zips giving your child freedom to flex whilst in ski boots and an inner snow gaiter with rubber trims which cling onto the boot, this all in one will stop any snow from getting in
Adjustable Fit - Adjustable cuffs, hood and hem for a great fit
018802 CLOUD KIDS ALL IN ONE WATERPROOF SNOWSUIT
018802 CLOUD KIDS ALL IN ONE WATERPROOF SNOWSUIT
018802 CLOUD KIDS ALL IN ONE WATERPROOF SNOWSUIT
018802 CLOUD KIDS ALL IN ONE WATERPROOF SNOWSUIT
018802 CLOUD KIDS ALL IN ONE WATERPROOF SNOWSUIT
018802 CLOUD KIDS ALL IN ONE WATERPROOF SNOWSUIT
018802 CLOUD KIDS ALL IN ONE WATERPROOF SNOWSUIT
018802 CLOUD KIDS ALL IN ONE WATERPROOF SNOWSUIT
018802 CLOUD KIDS ALL IN ONE WATERPROOF SNOWSUIT
018802 CLOUD KIDS ALL IN ONE WATERPROOF SNOWSUIT
018802 CLOUD KIDS ALL IN ONE WATERPROOF SNOWSUIT
018802 CLOUD KIDS ALL IN ONE WATERPROOF SNOWSUIT
018802 CLOUD KIDS ALL IN ONE WATERPROOF SNOWSUIT
018802 CLOUD KIDS ALL IN ONE WATERPROOF SNOWSUIT
018802 CLOUD KIDS ALL IN ONE WATERPROOF SNOWSUIT
018802 CLOUD KIDS ALL IN ONE WATERPROOF SNOWSUIT
018802 CLOUD KIDS ALL IN ONE WATERPROOF SNOWSUIT
018802 CLOUD KIDS ALL IN ONE WATERPROOF SNOWSUIT
018802 CLOUD KIDS ALL IN ONE WATERPROOF SNOWSUIT
018802 CLOUD KIDS ALL IN ONE WATERPROOF SNOWSUIT
018802 CLOUD KIDS ALL IN ONE WATERPROOF SNOWSUIT
018802 CLOUD KIDS ALL IN ONE WATERPROOF SNOWSUIT
018802 CLOUD KIDS ALL IN ONE WATERPROOF SNOWSUIT
018802 CLOUD KIDS ALL IN ONE WATERPROOF SNOWSUIT
018802 CLOUD KIDS ALL IN ONE WATERPROOF SNOWSUIT
018802 CLOUD KIDS ALL IN ONE WATERPROOF SNOWSUIT
018802 CLOUD KIDS ALL IN ONE WATERPROOF SNOWSUIT
018802 CLOUD KIDS ALL IN ONE WATERPROOF SNOWSUIT
018802 CLOUD KIDS ALL IN ONE WATERPROOF SNOWSUIT
018802 CLOUD KIDS ALL IN ONE WATERPROOF SNOWSUIT
018802 CLOUD KIDS ALL IN ONE WATERPROOF SNOWSUIT
018802 CLOUD KIDS ALL IN ONE WATERPROOF SNOWSUIT