Endeavour Kids Printed Fleece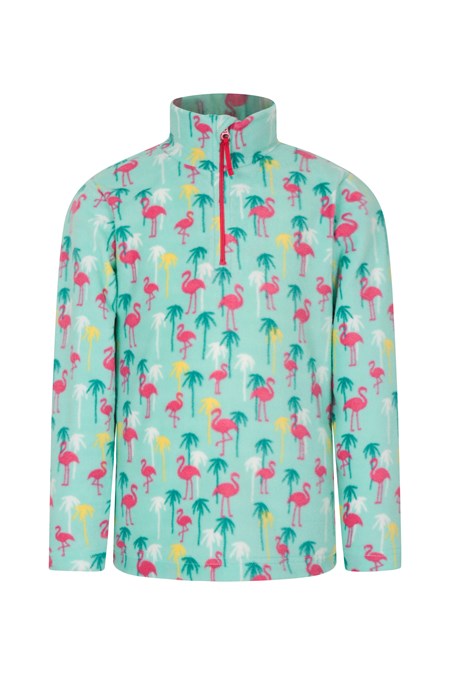 Endeavour Kids Printed Fleece
Members Price
$8.99
What is a members rewards card?

The Mountain Warehouse Members Rewards Card is an exclusive card that entitles you to significant discounts across our range of products. You will receive a digital card to save on plastic and space in your wallet.
Code: 022797
The Endeavour Kids Printed Fleece is a lightweight and breathable microfleece. Designed to help keep you comfortable in the outdoors, the antipill fabric ensures that there will be no pilling or bobbling to keep the fleece looking like new.
Lightweight - Makes it great for travelling, walking and more. No added bulk
Microfleece - Very lightweight fleece which provides warmth without weight. Ideal for layering
Breathable - Highly breathable fabric lets moisture out, makign sure you stay dry n the inside
No Bobbling- The fleece will remain soft and smooth, even after washing
Quick Dry - Quick to dry thanks to its absorbent fibres
Easy Care - This fleece is machine washable
022797 ENDEAVOUR PRINTED KIDS FLEECE
022797 ENDEAVOUR PRINTED KIDS FLEECE
022797 ENDEAVOUR PRINTED KIDS FLEECE
022797 ENDEAVOUR PRINTED KIDS FLEECE
022797 ENDEAVOUR PRINTED KIDS FLEECE
022797 ENDEAVOUR PRINTED KIDS FLEECE
022797 ENDEAVOUR PRINTED KIDS FLEECE
022797 ENDEAVOUR PRINTED KIDS FLEECE
022797 ENDEAVOUR PRINTED KIDS FLEECE
022797 ENDEAVOUR PRINTED KIDS FLEECE
022797 ENDEAVOUR PRINTED KIDS FLEECE
022797 ENDEAVOUR PRINTED KIDS FLEECE
022797 ENDEAVOUR PRINTED KIDS FLEECE
022797 ENDEAVOUR PRINTED KIDS FLEECE
022797 ENDEAVOUR PRINTED KIDS FLEECE
022797 ENDEAVOUR PRINTED KIDS FLEECE
022797 ENDEAVOUR PRINTED KIDS FLEECE
022797 ENDEAVOUR PRINTED KIDS FLEECE
022797 ENDEAVOUR PRINTED KIDS FLEECE
022797 ENDEAVOUR PRINTED KIDS FLEECE
022797 ENDEAVOUR PRINTED KIDS FLEECE
022797 ENDEAVOUR PRINTED KIDS FLEECE
022797 ENDEAVOUR PRINTED KIDS FLEECE
022797 ENDEAVOUR PRINTED KIDS FLEECE
022797 ENDEAVOUR PRINTED KIDS FLEECE
022797 ENDEAVOUR PRINTED KIDS FLEECE
022797 ENDEAVOUR PRINTED KIDS FLEECE
022797 ENDEAVOUR PRINTED KIDS FLEECE
022797 ENDEAVOUR PRINTED KIDS FLEECE
022797 ENDEAVOUR PRINTED KIDS FLEECE
022797 ENDEAVOUR PRINTED KIDS FLEECE
022797 ENDEAVOUR PRINTED KIDS FLEECE
022797 ENDEAVOUR PRINTED KIDS FLEECE
022797 ENDEAVOUR PRINTED KIDS FLEECE
022797 ENDEAVOUR PRINTED KIDS FLEECE
022797 ENDEAVOUR PRINTED KIDS FLEECE
022797 ENDEAVOUR PRINTED KIDS FLEECE
022797 ENDEAVOUR PRINTED KIDS FLEECE
022797 ENDEAVOUR PRINTED KIDS FLEECE
022797 ENDEAVOUR PRINTED KIDS FLEECE
022797 ENDEAVOUR PRINTED KIDS FLEECE
022797 ENDEAVOUR PRINTED KIDS FLEECE
022797 ENDEAVOUR PRINTED KIDS FLEECE
022797 ENDEAVOUR PRINTED KIDS FLEECE
022797 ENDEAVOUR PRINTED KIDS FLEECE
022797 ENDEAVOUR PRINTED KIDS FLEECE
022797 ENDEAVOUR PRINTED KIDS FLEECE
022797 ENDEAVOUR PRINTED KIDS FLEECE
022797 ENDEAVOUR PRINTED KIDS FLEECE
022797 ENDEAVOUR PRINTED KIDS FLEECE
022797 ENDEAVOUR PRINTED KIDS FLEECE
022797 ENDEAVOUR PRINTED KIDS FLEECE
022797 ENDEAVOUR PRINTED KIDS FLEECE
022797 ENDEAVOUR PRINTED KIDS FLEECE
022797 ENDEAVOUR PRINTED KIDS FLEECE
022797 ENDEAVOUR PRINTED KIDS FLEECE
022797 ENDEAVOUR PRINTED KIDS FLEECE
022797 ENDEAVOUR PRINTED KIDS FLEECE
022797 ENDEAVOUR PRINTED KIDS FLEECE
022797 ENDEAVOUR PRINTED KIDS FLEECE
022797 ENDEAVOUR PRINTED KIDS FLEECE
022797 ENDEAVOUR PRINTED KIDS FLEECE
022797 ENDEAVOUR PRINTED KIDS FLEECE
022797 ENDEAVOUR PRINTED KIDS FLEECE
022797 ENDEAVOUR PRINTED KIDS FLEECE
022797 ENDEAVOUR PRINTED KIDS FLEECE
022797 ENDEAVOUR PRINTED KIDS FLEECE
022797 ENDEAVOUR PRINTED KIDS FLEECE
022797 ENDEAVOUR PRINTED KIDS FLEECE
022797 ENDEAVOUR PRINTED KIDS FLEECE
022797 ENDEAVOUR PRINTED KIDS FLEECE
022797 ENDEAVOUR PRINTED KIDS FLEECE
022797 ENDEAVOUR PRINTED KIDS FLEECE
022797 ENDEAVOUR PRINTED KIDS FLEECE
022797 ENDEAVOUR PRINTED KIDS FLEECE
022797 ENDEAVOUR PRINTED KIDS FLEECE
022797 ENDEAVOUR PRINTED KIDS FLEECE
022797 ENDEAVOUR PRINTED KIDS FLEECE
022797 ENDEAVOUR PRINTED KIDS FLEECE
022797 ENDEAVOUR PRINTED KIDS FLEECE
022797 ENDEAVOUR PRINTED KIDS FLEECE
022797 ENDEAVOUR PRINTED KIDS FLEECE
022797 ENDEAVOUR PRINTED KIDS FLEECE
022797 ENDEAVOUR PRINTED KIDS FLEECE
022797 ENDEAVOUR PRINTED KIDS FLEECE
022797 ENDEAVOUR PRINTED KIDS FLEECE
022797 ENDEAVOUR PRINTED KIDS FLEECE
022797 ENDEAVOUR PRINTED KIDS FLEECE