Down Jacket Guide: What Is a Down Jacket?
---
16/02/22
Find out answers to the most common questions and learn how to choose a down jacket that's right for you in our down jacket guide.
1. What Is a Down Jacket?
A down jacket is a jacket which has been insulated with the soft and warm under feathers from duck or geese. Down is a fantastic insulator as the loft (or fluffiness) of down creates thousands of tiny air pockets which trap warm air and retain heat, thus helping to keep the wearer very warm in cold winter weather. The down fill of a jacket will be either goose down, duck down or a combination of the two. All down jackets using any of these feathers will keep you warm, with duck or a combination of duck and geese feathers often being more affordable.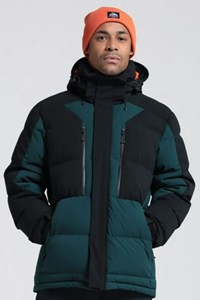 2. What is Down Fill Power?
Down fill power is a measure of the loft or 'fluffiness' of the down and its insulating properties. The higher the fill power, the more air pockets in the down and the more insulating the jacket will be for its weight.
Down Jacket Fill Power Ratings:
| | |
| --- | --- |
| Fill Power | Rating |
| 400 - 450 | Medium |
| 500 - 550 | Good |
| 550 - 650 | Very Good |
| 700 onwards | Great |
Fill power is calculated in laboratory conditions and is measured in cubic inches per ounce. To test fill power an ounce of down is compressed by a weight in a glass cylinder. It's ability to bounce back and 'loft' is calculated as the fill power. Fill power is also an indication of the quality of the down used. The better the quality of down the higher the fill power. As less down is required to provide the same amount of warmth, jackets with a higher fill power tend to be lighter and more compressible. Fill power ranges from 400 to 900. For down outerwear ratings will generally fall between 500 and 800.
Down vs Synthetic Insulation
Down Insulation
| | |
| --- | --- |
| Pros | Cons |
| Excellent heat retention | Loses insulating ability when wet |
| Lightweight- better warmth to weight ratio | Takes a long time to dry out when wet |
| Wider comfort temperature range- making it suitable for cold and warm temperatures | More expensive |
| Easier to compress and packs small | Requires special cleaning |
Synthetic Insulation
| | |
| --- | --- |
| Pros | Cons |
| Cheaper than down | Heavier |
| Easier to clean | |
---
Check Out The Mountain Warehouse Down Range
4. Jacket Construction
There are three types for down jackets, Sewn Through, Box Baffle or Heat Seamed Baffle.
Sewn Through
This is the most common type of down jacket, most Mountain Warehouse down items are made using this method. Sewn through is just as the name suggests, chambers are created between stitches as the outer fabric is sewn through to the inner fabric lining. No extra fabric is added so the item is usually more lightweight than something using the box baffle technique.
Box Baffle
The box baffle items have small chambers of down, separated by a wall of fabric. Imagine a line of squares next to each other, touching, that is what box baffle looks like. Extra fabric is added, meaning it can be heavier than a jacket using the sewn through method, and because extra fabric is used and the technique is more complex, box baffle items are often more expensive.
Heat Seamed
Heat seamed baffle (sometimes called welded or bonded) is when the outer fabric is bonded together with the inner fabric using heat. Like the sewn through technique, chambers are created between the bonded baffle. However, as there is no stitching, warmth can't escape from the seams. This can also make this type of down jacket more wind and water resistant.
Outer Material
The materials used for the outer shell will have an effect on the jackets performance in four vital ways:
Durability
Weight
Warmth
Waterproofness/Breathability
---
5. Durability & Weight
A super lightweight down jacket will be made with a thin, light material for the outer shell. Although ideal for reducing weight they can be more vulnerable to snagging and abrasions. This type of jacket is great if you are wearing it now and again on cold days. If you are looking for a jacket to wear regularly for many years to come, it is worth looking for a slightly heavier and thicker outer shell which will last far longer.
---
6. Fit
A down jacket should not be too fitted or too loose. You should allow for adding layers underneath but ensure it's not too roomy as cold air could get in through the hem and arms. Down jackets tend to be heavier than regular waterproof jackets or wool coats so remember you need a bit of room in it to allow you to move about.
---
7. Features
Hoods – A hood will help add extra warmth but will also add bulk. If you are wearing a down jacket as a mid-layer, i.e. under a waterproof coat, you may consider wearing a jacket without a hood.
Cuffed waist and wrists – Help to seal in the warmth.
Pockets – Padded lined pockets are ideal for cold hands.
---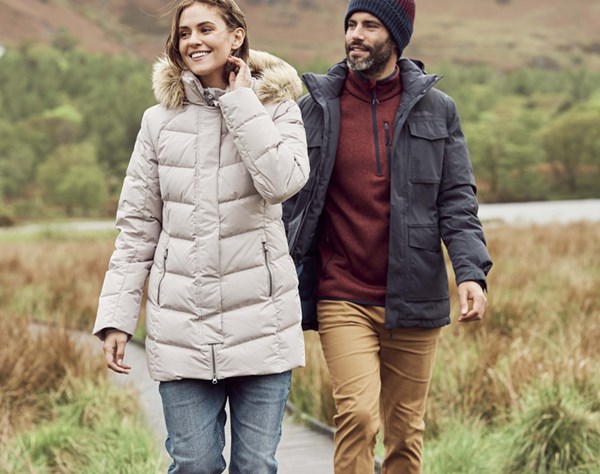 ---
Share It!