Henry II Extreme Mens Down Padded Jacket
×
BESTSELLER
This item is selling fast!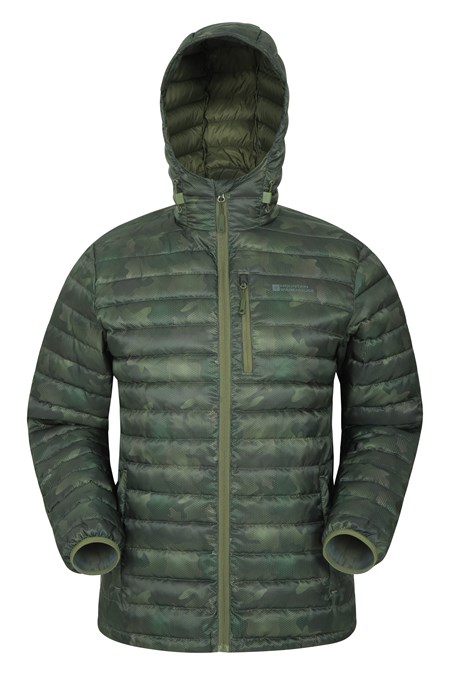 Henry II Extreme Mens Down Padded Jacket
Code: 028161
Warmth and comfort combined, the Henry II Down Padded Jacket is great for everyday wear during colder months. Lightweight and water-resistant, with down padding for premium insulation - keeping you stay warm and dry when the temperature drops.
Lightweight - Great for travelling, comfortable to wear and easy to pack
Down Filling - Down feathers are designed to trap heat and retain warmth, perfect for keeping you cosy in cold weather
Water-resistant - Treated with Durable Water Repellent (DWR), droplets will bead and roll off the fabric. Light rain, or limited exposure to rain
Warm & Cosy - fabric feels soft on the skin and keeps you warm
Adjustable Hood - Easily adjusted for the perfect fit
Zipped pockets - for convenient and safe storage
Thermal Tested -30 °C - Laboratory tested. Health & physical activity, exposure time & perspiration will affect performance & comfort
028161 HENRY II DOWN PADDED JACKET
028161 HENRY II DOWN PADDED JACKET
028161 HENRY II DOWN PADDED JACKET
028161 HENRY II DOWN PADDED JACKET
028161 HENRY II DOWN PADDED JACKET
028161 HENRY II DOWN PADDED JACKET
028161 HENRY II DOWN PADDED JACKET
028161 HENRY II DOWN PADDED JACKET
028161 HENRY II DOWN PADDED JACKET
028161 HENRY II DOWN PADDED JACKET
028161 HENRY II DOWN PADDED JACKET
028161 HENRY II DOWN PADDED JACKET
028161 HENRY II DOWN PADDED JACKET
028161 HENRY II DOWN PADDED JACKET
028161 HENRY II DOWN PADDED JACKET
028161 HENRY II DOWN PADDED JACKET
028161 HENRY II DOWN PADDED JACKET
028161 HENRY II DOWN PADDED JACKET
028161 HENRY II DOWN PADDED JACKET
028161 HENRY II DOWN PADDED JACKET
028161 HENRY II DOWN PADDED JACKET
028161 HENRY II DOWN PADDED JACKET
028161 HENRY II DOWN PADDED JACKET
028161 HENRY II DOWN PADDED JACKET
028161 HENRY II DOWN PADDED JACKET
028161 HENRY II DOWN PADDED JACKET
028161 HENRY II DOWN PADDED JACKET
028161 HENRY II DOWN PADDED JACKET
028161 HENRY II DOWN PADDED JACKET
028161 HENRY II DOWN PADDED JACKET
028161 HENRY II DOWN PADDED JACKET
028161 HENRY II DOWN PADDED JACKET
028161 HENRY II DOWN PADDED JACKET
028161 HENRY II DOWN PADDED JACKET
028161 HENRY II DOWN PADDED JACKET
028161 HENRY II DOWN PADDED JACKET
028161 HENRY II DOWN PADDED JACKET
028161 HENRY II DOWN PADDED JACKET
028161 HENRY II DOWN PADDED JACKET
028161 HENRY II DOWN PADDED JACKET
028161 HENRY II DOWN PADDED JACKET
028161 HENRY II DOWN PADDED JACKET
028161 HENRY II DOWN PADDED JACKET
028161 HENRY II DOWN PADDED JACKET
028161 HENRY II DOWN PADDED JACKET
028161 HENRY II DOWN PADDED JACKET
028161 HENRY II DOWN PADDED JACKET
028161 HENRY II DOWN PADDED JACKET
028161 HENRY II DOWN PADDED JACKET
028161 HENRY II DOWN PADDED JACKET
028161 HENRY II DOWN PADDED JACKET
028161 HENRY II DOWN PADDED JACKET
028161 HENRY II DOWN PADDED JACKET
028161 HENRY II DOWN PADDED JACKET
028161 HENRY II DOWN PADDED JACKET
028161 HENRY II DOWN PADDED JACKET
028161 HENRY II DOWN PADDED JACKET
028161 HENRY II DOWN PADDED JACKET
028161 HENRY II DOWN PADDED JACKET
028161 HENRY II DOWN PADDED JACKET
028161 HENRY II DOWN PADDED JACKET
028161 HENRY II DOWN PADDED JACKET
028161 HENRY II DOWN PADDED JACKET
028161 HENRY II DOWN PADDED JACKET
028161 HENRY II DOWN PADDED JACKET
028161 HENRY II DOWN PADDED JACKET
028161 HENRY II DOWN PADDED JACKET
028161 HENRY II DOWN PADDED JACKET
028161 HENRY II DOWN PADDED JACKET
028161 HENRY II DOWN PADDED JACKET
028161 HENRY II DOWN PADDED JACKET
028161 HENRY II DOWN PADDED JACKET
028161 HENRY II DOWN PADDED JACKET
028161 HENRY II DOWN PADDED JACKET
028161 HENRY II DOWN PADDED JACKET
028161 HENRY II DOWN PADDED JACKET
028161 HENRY II DOWN PADDED JACKET
028161 HENRY II DOWN PADDED JACKET
028161 HENRY II DOWN PADDED JACKET
028161 HENRY II DOWN PADDED JACKET
028161 HENRY II DOWN PADDED JACKET
028161 HENRY II DOWN PADDED JACKET
028161 HENRY II DOWN PADDED JACKET
028161 HENRY II DOWN PADDED JACKET
028161 HENRY II DOWN PADDED JACKET
028161 HENRY II DOWN PADDED JACKET
028161 HENRY II DOWN PADDED JACKET
028161 HENRY II DOWN PADDED JACKET
028161 HENRY II DOWN PADDED JACKET
028161 HENRY II DOWN PADDED JACKET