Turbine Kids Water Resistant Padded Jacket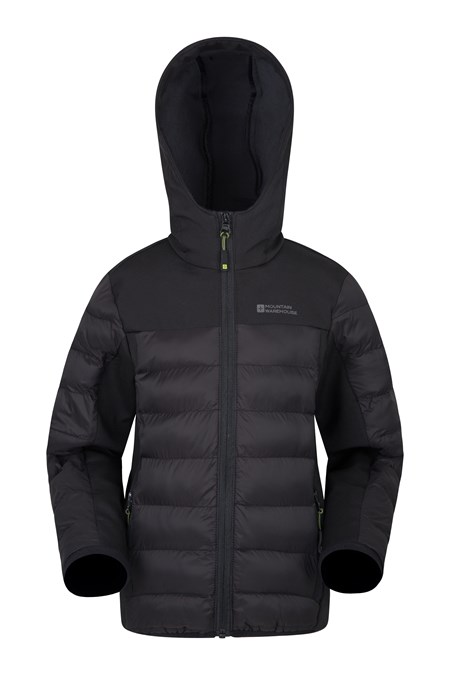 Turbine Kids Water Resistant Padded Jacket
Members Price
$29.99
What is a members rewards card?

The Mountain Warehouse Members Rewards Card is an exclusive card that entitles you to significant discounts across our range of products. You will receive a digital card to save on plastic and space in your wallet.
Code: 025734
The Turbine Kids Padded Jacket provides a polyester-elastane blend with stretch for a warm and comforting finish. With practical zip pockets and a reliable water-resistant outer, enabling them to enjoy the snow happily this winter.
Fleece Lined Collar - Extra soft for added comfort and warmth
Padded Insulation - Microfibre filling provides excellent heat retention, a synthetic alternative to down
Water-resistant - Treated with Durable Water Repellent (DWR), droplets will bead and roll off the fabric. Light rain, or limited exposure to rain
Side Pockets - Two convenient side pockets
Fabric Composition
Polyester 100%
025734 TURBINE KIDS WATER RESISTANT PADDED JACKET
025734 TURBINE KIDS WATER RESISTANT PADDED JACKET
025734 TURBINE KIDS WATER RESISTANT PADDED JACKET
025734 TURBINE KIDS WATER RESISTANT PADDED JACKET
025734 TURBINE KIDS WATER RESISTANT PADDED JACKET
025734 TURBINE KIDS WATER RESISTANT PADDED JACKET
025734 TURBINE KIDS WATER RESISTANT PADDED JACKET
025734 TURBINE KIDS WATER RESISTANT PADDED JACKET
025734 TURBINE KIDS WATER RESISTANT PADDED JACKET
025734 TURBINE KIDS WATER RESISTANT PADDED JACKET
025734 TURBINE KIDS WATER RESISTANT PADDED JACKET
025734 TURBINE KIDS WATER RESISTANT PADDED JACKET
025734 TURBINE KIDS WATER RESISTANT PADDED JACKET
025734 TURBINE KIDS WATER RESISTANT PADDED JACKET
025734 TURBINE KIDS WATER RESISTANT PADDED JACKET
025734 TURBINE KIDS WATER RESISTANT PADDED JACKET
025734 TURBINE KIDS WATER RESISTANT PADDED JACKET
025734 TURBINE KIDS WATER RESISTANT PADDED JACKET
025734 TURBINE KIDS WATER RESISTANT PADDED JACKET
025734 TURBINE KIDS WATER RESISTANT PADDED JACKET
025734 TURBINE KIDS WATER RESISTANT PADDED JACKET
025734 TURBINE KIDS WATER RESISTANT PADDED JACKET
025734 TURBINE KIDS WATER RESISTANT PADDED JACKET
025734 TURBINE KIDS WATER RESISTANT PADDED JACKET
025734 TURBINE KIDS WATER RESISTANT PADDED JACKET