Trek Women's Regular Length Trousers
Trek Women's Regular Length Trousers

- Brown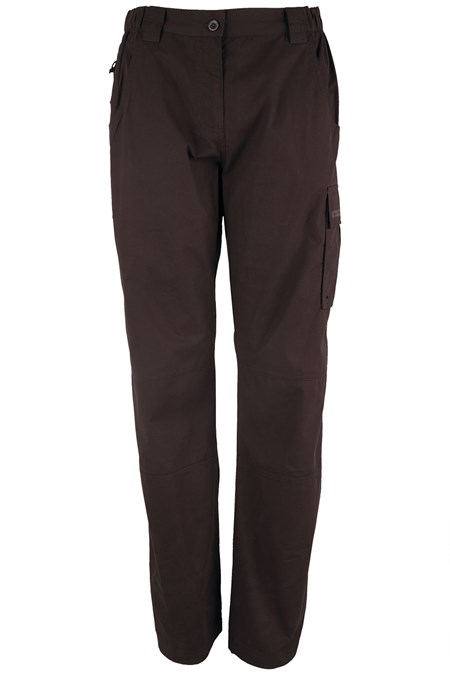 Code: 018439
Was £34.99 Save 51%
Now
£16.99
Free Exchanges & No Hassle Returns
The Trek Womens Pants are a comfortable and functional piece of outdoor clothing perfect for walking, hiking and trekking. The key features of this classic item will soon make it a favourite in your wardrobe.
Regular Length - Regular leg length measuring 31 inches/79 cm

Lightweight - A combination of cotton and polyester for easy wearing and care
Fast Drying Fabric - Added convenience
Shrink & Fade Resistant - Longer lasting quality
Elasticated Waistband - Sections of elastic in the waistband for improved fit
Multiple Pockets - Two front pockets, one front security pocket and one back security pocket as well as a velcro closure side cargo pocket
See the Short Length Women's Trek Trousers here.
Fabric Composition
65% polyester 35% cotton
Trek Women's Regular Length Trousers
Trek Women's Regular Length Trousers
Trek Women's Regular Length Trousers
Trek Women's Regular Length Trousers
Trek Women's Regular Length Trousers
Trek Women's Regular Length Trousers
Trek Women's Regular Length Trousers
Trek Women's Regular Length Trousers
Trek Women's Regular Length Trousers
Trek Women's Regular Length Trousers
Trek Women's Regular Length Trousers
Trek Women's Regular Length Trousers
Trek Women's Regular Length Trousers
Trek Women's Regular Length Trousers
Trek Women's Regular Length Trousers
Trek Women's Regular Length Trousers
Trek Women's Regular Length Trousers
Trek Women's Regular Length Trousers
Trek Women's Regular Length Trousers
Trek Women's Regular Length Trousers
Trek Women's Regular Length Trousers
Trek Women's Regular Length Trousers
Trek Women's Regular Length Trousers
Trek Women's Regular Length Trousers
Trek Women's Regular Length Trousers
Trek Women's Regular Length Trousers
Trek Women's Regular Length Trousers