Frost Extreme Mens Down Padded Jacket
×
BESTSELLER
This item is selling fast!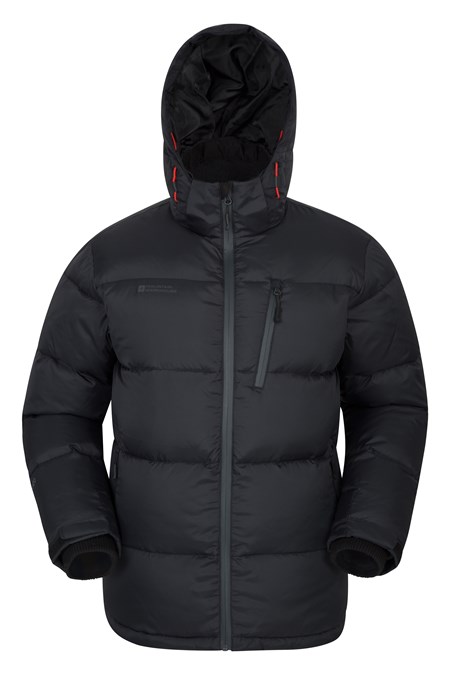 Frost Extreme Mens Down Padded Jacket

Save For Later
Free Exchanges & No Hassle Returns
Code: 022003
The Frost Extreme Down Padded Jacket is a high performance winter jacket. With waterproof zips, rip-stop fabric that's also water-resistant and a downproof lining - this jacket offers superb warmth and comfort.
Water-resistant - Treated with Durable Water Repellent (DWR), droplets will bead and roll off the fabric. Light rain, or limited exposure to rain
Rip Stop Fabric - Stop rips in their tracks with this heavy duty fabric
Downproof Lining - Stops the feathers and the filling from poking through the outer fabric
Waterproof Zips - Taped seams around the zip ensure no water leaks through
Adjustable Fit - Adjustable cuffs, hood and hem for a great fit
Thermal Tested -50 °C - Laboratory tested. Health & physical activity, exposure time & perspiration will affect performance & comfort
Zipped pockets - for convenient and safe storage
Fabric Composition
Down 75% Feather 25% Rip-Stop Polyester 100%
022003 FROST DOWN PADDED JACKET
022003 FROST DOWN PADDED JACKET
022003 FROST DOWN PADDED JACKET
022003 FROST DOWN PADDED JACKET
022003 FROST DOWN PADDED JACKET
022003 FROST DOWN PADDED JACKET
022003 FROST DOWN PADDED JACKET
022003 FROST DOWN PADDED JACKET
022003 FROST DOWN PADDED JACKET
022003 FROST DOWN PADDED JACKET
022003 FROST DOWN PADDED JACKET
022003 FROST DOWN PADDED JACKET
022003 FROST DOWN PADDED JACKET
022003 FROST DOWN PADDED JACKET
022003 FROST DOWN PADDED JACKET
022003 FROST DOWN PADDED JACKET
022003 FROST DOWN PADDED JACKET
022003 FROST DOWN PADDED JACKET
022003 FROST DOWN PADDED JACKET
022003 FROST DOWN PADDED JACKET
022003 FROST DOWN PADDED JACKET
022003 FROST DOWN PADDED JACKET
022003 FROST DOWN PADDED JACKET
022003 FROST DOWN PADDED JACKET
022003 FROST DOWN PADDED JACKET
022003 FROST DOWN PADDED JACKET
022003 FROST DOWN PADDED JACKET
022003 FROST DOWN PADDED JACKET
022003 FROST DOWN PADDED JACKET
022003 FROST DOWN PADDED JACKET