Need to speak to someone?
There are lots of ways to get in touch.

Phone, email, letter, visit us in store

You can also find lots of useful information in our Help Centre.
Size Guide
Our sizes tend to be a bit generous, if you are between sizes, or not sure, we would advise opting for the smaller size.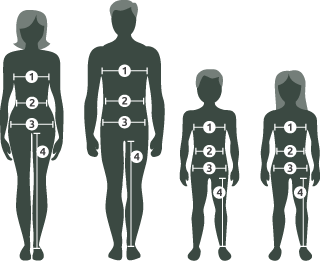 BUST / CHEST
Measure across the fullest part of the chest under the arms and straight across back.
WAIST
Measure around the natural waistline - with the tape snug but not tight.
HIPS
Measure the fullest part of the body, generally 20cm below the waist.
INSIDE LEG
Measure from the top of inside leg at crotch to ankle bone.
Womens
Womens International Table
 
XS (TP)
S(P)
M
L(G)
XL (TG)
XXL (TTG)
XXXL(TTTG)
AUS/NZ/UK
4
6
8
10
12
14
16
18
20
22
24
26
28
30
32
EU/FR/ES/PL
32
34
36
38
40
42
44
46
48
50
52
54
56
58
60
DE/AUT/NL
30
32
34
36
38
40
42
44
46
48
50
52
54
56
58
ITA
36
38
40
42
44
46
48
50
52
54
56
58
60
62
64
US/CAN
0
2
4
6
8
10
12
14
16
18
20
22
24
26
28
Womens (sizes 4-28)
 
 
4
6
8
10
12
14
16
18
20
22
24
26
28
30
32
Chest
cm
80
82
84
88
93
98
104
110
117
124
131
136
141
146
151
inch
31.5
32
33
34.5
36.5
38.5
41
43
46
49
51.5
54
56.5
58.5
60
Waist
cm
63
65
67
71
76
81
87
93
100
107
114
119
124
129
134
inch
25
25.5
26.5
28
30
32
34.5
36.5
39.5
42.5
45
47.5
49.5
51.5
53.5
Hips
cm
88
90
92
96
101
106
112
118
125
132
139
144
149
154
159
inch
34.5
35
36
37.5
39.5
41.5
44
46
49
52
54.5
57
59.5
61.5
63.5
Leg lengths
| | | | | | |
| --- | --- | --- | --- | --- | --- |
|   | EXTRA SHORT | SHORT | REGULAR | SKI REGULAR | LONG |
| cm | 69 | 74 | 79 | 79 | 84 |
| inch | 27 | 29 | 31 | 31 | 33 |
| Height | to fit 5'1" and under | to fit 5'3" and under | to fit 5'4"-5'7" | to fit 5'4"-5'7" | to fit 5'8" and over |
Womens (S-L)
S (8-10)
M (12-14)
L (16-18)
 
cm / inch
Chest
88 / 34.5
98 / 38.5
108 / 42.5
Waist
71 / 28
82 / 32.5
92 / 36
Hips
96 / 37.5
106 / 41.5
116 / 45.5
Womens Footwear
AUS/NZ/US/CAN
5
6
6.5
7
7.5
8
8.5
9
9.5
10
11
UK
3
4
4.5
5
5.5
6
6.5
7
7.5
8
9
EU (Incl. De & ITA)
36
37
37.5
38
38.5
39
39.5
40
40.5
41
42
Foot length (mm)
220
229
237
246
254
262
271
Slippers
 
S/M
M/L
 
Womens Backpacks

Mens
Mens Tops
 
AUS/NZ/UK/US/CAN
XXS
XS
S
M
L
XL
2XL
3XL
4XL
 
32
34
36
38-40
42
44-46
48
50-52
54-56
 
EU (Incl. DE & ITA)
42
44
46
48-50
52
54-56
58
60-62
64-66
Chest
cm
82
88
94
100
108
116
124
132
140
inch
32.5
34.5
37
39.5
42.5
45.5
49
52
55
Waist
cm
68
74
80
86
94
102
110
118
126
inch
27
29
31.5
34
37
40
43.5
46.5
49.5
Mens Trousers (XXS-4XL)
 
AUS/NZ/UK/US/CAN
XXS
XS
S
M
L
XL
2XL
3XL
4XL
 
26
28
30-32
34
36
38-40
42-44
46
48-50
 
EU (Incl. DE & ITA)
42
44
46-48
50
52
54-56
58-60
62
64-66
Waist
cm
68
74
80
86
94
102
110
118
126
inch
27
29
31.5
34
37
40
43.5
46.5
49.5
Leg lengths
| | | | | | | |
| --- | --- | --- | --- | --- | --- | --- |
|   | SHORT | REGULAR | LONG | SKI SHORT | SKI REGULAR | SKI LONG |
| cm | 76 | 81 | 86 | 78 | 83 | 88 |
| inch | 30 | 32 | 34 | 31 | 33 | 35 |
Mens Trousers (26"-46")
| | | | | | | | | | | | | |
| --- | --- | --- | --- | --- | --- | --- | --- | --- | --- | --- | --- | --- |
|   | AUS/NZ/UK/US/CAN | 26" | 28" | 30" | 32" | 34" | 36" | 38" | 40" | 42" | 44" | 46" |
|   | EU (Incl. DE & ITA) | 42 | 44 | 46 | 48 | 50 | 52 | 54 | 56 | 58 | 60 | 62 |
| Waist | cm | 66 | 71 | 76 | 81 | 86 | 91 | 96 | 101 | 106 | 111 | 116 |
Leg lengths
| | | | | | | |
| --- | --- | --- | --- | --- | --- | --- |
|   | SHORT | REGULAR | LONG | SKI SHORT | SKI REGULAR | SKI LONG |
| cm | 76 | 81 | 86 | 78 | 83 | 88 |
| inch | 30 | 32 | 34 | 31 | 33 | 35 |
| Height | to fit 5'7" and under | to fit 5'8"-5'11" | to fit 6" and over | to fit 5'7" and under | to fit 5'8"-5'11" | to fit 6" and over |
Mens Footwear
AUS/NZ
6
7
7.5
8
8.5
9
9.5
10
10.5
11
11.5
12
13
UK
6
7
7.5
8
8.5
9
9.5
10
10.5
11
11.5
12
13
EU (Incl. DE & ITA)
40
41
41.5
42
42.5
43
43.5
44
44.5
45
45.5
46
47
US/CAN
7
8
8.5
9
9.5
10
10.5
11
11.5
12
12.5
13
14
Foot length (mm)
246
254
262
271
279
288
296
304
Slippers
 
M/L
L/XL
Mens Backpacks

Infants and Kids
Infants/Toddlers
 
AUS/NZ
0-3m
3-6m
6-9m
9-12m
12-18m
18-24m
 
UK
0-3m
3-6m
6-9m
9-12m
12-18m
18-24m
 
EU (Incl. DE & ITA)
62 cm and under
62-68 cm
68-72 cm
72-76 cm
76-82 cm
82-90 cm
 
US/CAN
0-3m
3-6m
6-9m
9-12m
12-18m
18-24m
 
 
 
 
 
 
 
 
Chest
cm
42
44
46
48
50
52
to fit Chest "
16.25-17
17-17.75
17.75-18.5
18.5-19.25
19.25-20
20-20.75
Waist
cm
 
 
 
 
45
47
to fit Waist "
 
 
 
 
17.5-18.25
18.25-19
Weight
lbs
10-14
14-18
18-21
21-24
 
 
Kids 2 to 8 Years
 
AUS/NZ
3
4
5-6
7-8
 
UK
2-3 yrs
3-4 yrs
5-6 yrs
7-8 yrs
 
98 cm
104 cm
116 cm
128 cm
 
EU (Incl. DE & ITA)
92-98 cm
98-104 cm
104-116 cm
116-128 cm
 
US/CAN
2T
3T-4T
5-6
6X-8
 
 
 
 
 
 
Height
cm
92-98
98-104
104-116
116-128
Chest
cm
54
56
60
64
inch
21.25
22
23.5
25
Waist
cm
52
54
56
60
inch
20.5
21
22
23.5
Arm length
cm
34
37
42
46.5
inch
13.5
14.5
16.5
18.5
Leg inseam
cm
41
45
51
58
inch
16
17.5
20
23
Waist to hip
cm
12
12.5
13.5
15.5
inch
4.5
5
5.5
6
Kids 9 to 13 Years
 
 
GIRLS
BOYS
 
AUS/NZ
9-10
11-12
13
9-10
11-12
13
 
UK
9-10 yrs
11-12 yrs
13 yrs
9-10 yrs
11-12 yrs
13 yrs
 
140 cm
152 cm
163 cm
140 cm
152 cm
163 cm
 
EU (Incl. DE & ITA)
128-140 cm
140-152 cm
152-163 cm
128-140 cm
140-152 cm
152-163 cm
 
US/CAN
9-10
11-12
13-16
9-10
11-12
13-16
 
 
 
 
 
 
 
 
Height
cm
128-140
140-152
152-161
128-140
140-152
152-163
Chest
cm
70
76
82
70
76
82
inch
27.5
30
32
27.5
30
32
Waist
cm
64
67
69
64
68
70
inch
25
27
27
25
27
27.5
Arm length
cm
51
55.5
60
52
57
62
inch
20
22
23.5
20.5
22.5
24.5
Leg inseam
cm
64
70
75
64
70
75
inch
25
27.5
30
25
27.5
30
Waist to hip
cm
17
18
19
16
17.5
18.5
inch
6.5
7
7.5
6
7
7.5
Kids Base Layer Top
 
S (P)
M
L (G)
UK/ AU/NZ
2-3YRS
3-4YRS
5-6YRS
7-8YRS
9-10YRS
11-12YRS
13YRS
EU/ Height (cm)
90-98
98-106
106-118
118-130
130-142
142 - 154
154 - 162
EU/ Height (")
35.5 - 38.5
38.5 - 41.75
41.75 - 46.5
46.5 - 51.25
51.25 - 56
56 - 60.5
60.5 - 63.75
US/ CA
2T
3T - 4T
5 - 6
6X - 8
9 - 10
11 - 12
13-14
Model Chest (cm)
54
56
60
64
70
76
82
To fit Chest (cm)
53 - 55
55 - 57
57 - 61
61 - 66
66 - 72
72 - 78
78 - 83
To fit Chest (")
20.75 - 21.75
21.75 - 22.5
22.5 - 24
24 - 26
26 - 28.5
28.5 - 30.75
30.75 - 33
Model Waist (cm)
49
51
55
59
63
67
70
To fit waist Boys (cm)
48 - 50
50 - 52
52 - 56
56 - 60
60 - 64
64 - 68
68 -71
To fit waist Girls(cm)
64 - 67
67- 70
To fit waist Boys (")
19 - 19.75
19.75 - 20.5
20.5 - 22
22 - 23.75
23.75 - 25.25
25.25 - 26.75
26.75 - 28
To fit waist Girls(")
25.25 - 26.5
26.5 - 27.75
Kids Base Layer Bottom
 
S (P)
M
L (G)
UK/ AU/NZ
2-3YRS
3-4YRS
5-6YRS
7-8YRS
9-10YRS
11-12YRS
13YRS
EU/ Height (cm)
90-98
98-106
106-118
118-130
130-142
142 - 154
154 - 162
EU/ Height (")
35.5 - 38.5
38.5 - 41.75
41.75 - 46.5
46.5 - 51.25
51.25 - 56
56 - 60.5
60.5 - 63.75
US/ CA
2T
3T - 4T
5 - 6
6X - 8
9 - 10
11 - 12
13-14
Model Waist (cm)
49
51
55
59
63
67
70
To fit waist Boys (cm)
48 - 50
50 - 52
52 - 56
56 - 60
60 - 64
64 - 68
68 -71
To fit waist Girls(cm)
64 - 67
67- 70
To fit waist Boys (")
19 - 19.75
19.75 - 20.5
20.5 - 22
22 - 23.75
23.75 - 25.25
25.25 - 26.75
26.75 - 28
To fit waist Girls(")
25.25 - 26.5
26.5 - 27.75
Kids Ski Gloves & Mittens
Kids Ski Gloves & Mittens
| | | |
| --- | --- | --- |
|   | SKI GLOVES | SNOW MITTENS |
| Age | Size | Size |
| 2-5y | - | XS |
| 5-6y | S | S |
| 7-8y | M | M |
| 9-10y | L | L |
| 11-13y | XL | - |
Kids Footwear
AUS/NZ
6
7
8
9
10
11
12
13
1
2
3
4
5
6
UK
6
7
8
9
10
11
12
13
1
2
3
4
5
6
EU (Incl. DE & ITA)
23
24
25.5
27
28
29
30.5
32
33
34
35
36
37
38
US/CAN
7
8
9
10
11
12
13
1
2
3
4
5
6
7
Foot length (mm)
149-156
157-164
165-173
174-181
182-190
191-198
199-206
207-215
216-223
224-232
234-240
241-249
250-257
258-264
Slippers
 
S
M
L