Polar Hybrid Womens Long Down Jacket
×
BESTSELLER
This item is selling fast!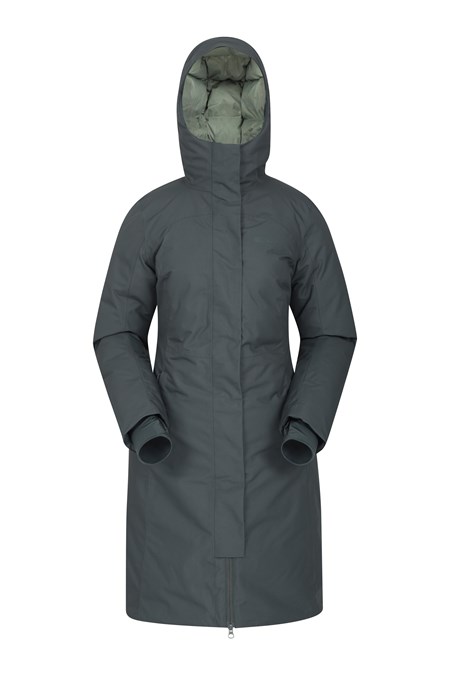 Polar Hybrid Womens Long Down Jacket
Code: 031651
Keep out the cold weather in style with the Polar Hybrid Down Jacket. In a longer length for added cover, the jacket is fully waterproof with taped seams and padded with down to provide premium warmth - just what you need for the winter.
Down Filling - Down feathers are designed to trap heat and retain warmth, perfect for keeping you cosy in cold weather
Fill Power Rating 600 - Higher fill power = warmer item. The measure of the loft (fluffiness). The higher the rating, the more air trapped per ounce of down allowing a higher level of insulation
Waterproof 5000Mm - Tested to withstand 5,000mm of rain in a 24 hour period, suitable for heavy rain
Taped Seams - All seams are taped to make this item fully waterproof
Side Pockets - Two convenient side pockets
Breathable - The fabric allows perspiration to pass out of the garment, keeping you cool and comfortable. Rated at 3,000mm
Fabric Composition
Polyester 100%
031651 POLAR WOMENS HYBRID LONG PADDED JACKET
031651 POLAR WOMENS HYBRID LONG PADDED JACKET
031651 POLAR WOMENS HYBRID LONG PADDED JACKET
031651 POLAR WOMENS HYBRID LONG PADDED JACKET
031651 POLAR WOMENS HYBRID LONG PADDED JACKET
031651 POLAR WOMENS HYBRID LONG PADDED JACKET
031651 POLAR WOMENS HYBRID LONG PADDED JACKET
031651 POLAR WOMENS HYBRID LONG PADDED JACKET
031651 POLAR WOMENS HYBRID LONG PADDED JACKET
031651 POLAR WOMENS HYBRID LONG PADDED JACKET
031651 POLAR WOMENS HYBRID LONG PADDED JACKET
031651 POLAR WOMENS HYBRID LONG PADDED JACKET
031651 POLAR WOMENS HYBRID LONG PADDED JACKET
031651 POLAR WOMENS HYBRID LONG PADDED JACKET
031651 POLAR WOMENS HYBRID LONG PADDED JACKET
031651 POLAR WOMENS HYBRID LONG PADDED JACKET
031651 POLAR WOMENS HYBRID LONG PADDED JACKET
031651 POLAR WOMENS HYBRID LONG PADDED JACKET
031651 POLAR WOMENS HYBRID LONG PADDED JACKET
031651 POLAR WOMENS HYBRID LONG PADDED JACKET
031651 POLAR WOMENS HYBRID LONG PADDED JACKET
031651 POLAR WOMENS HYBRID LONG PADDED JACKET