Skyline Womens Walking Shoes

- Black

×
BESTSELLER
This item is selling fast!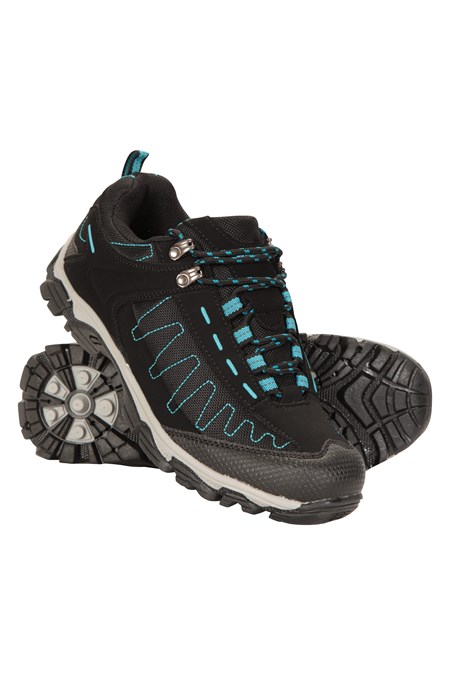 Skyline Womens Walking Shoes

- Black
Code: 022079
The Skyline Womens Walking Shoes from Mountain Warehouse provide support, style and comfort, a great pair of shoes to ramble around the countryside in. Designed in a durable synthetic upper with mesh inserts for breathability, the outsole has a deep lugged design to give you better traction and grip on all terrain types. Rubber heel and toe bumpers protect the shoes and your feet from any damage via impact and thanks to their breathable mesh lining, the Skyline Womens Walking Shoes will keep your feet fresh and comfortable all day.
Synthetic Upper - Durable and breathable, a lighter style of footwear for hiking, walking and sports
Cushioned Footbed - A moulded foam footbed which supports your foot for added comfort, particularly at the arch and toe
Deep Lugs - Adds extra grip and stability to your footwear
Heel & Toe Bumpers - Added rubber reinforcement at heel and toe protects your feet from direct impact, ensuring your footwear lasts for longer
Mesh Lining - Improves breathability to help keep your feet fresh whilst out and about
Great For - Perfect for rambling around the countryside in comfort and style this season
022079 SKYLINE WOMENS WALKING SHOE
022079 SKYLINE WOMENS WALKING SHOE
022079 SKYLINE WOMENS WALKING SHOE
022079 SKYLINE WOMENS WALKING SHOE
022079 SKYLINE WOMENS WALKING SHOE
022079 SKYLINE WOMENS WALKING SHOE
022079 SKYLINE WOMENS WALKING SHOE
022079 SKYLINE WOMENS WALKING SHOE
022079 SKYLINE WOMENS WALKING SHOE
022079 SKYLINE WOMENS WALKING SHOE
022079 SKYLINE WOMENS WALKING SHOE
022079 SKYLINE WOMENS WALKING SHOE
022079 SKYLINE WOMENS WALKING SHOE
022079 SKYLINE WOMENS WALKING SHOE