Honey Kids Snow Pants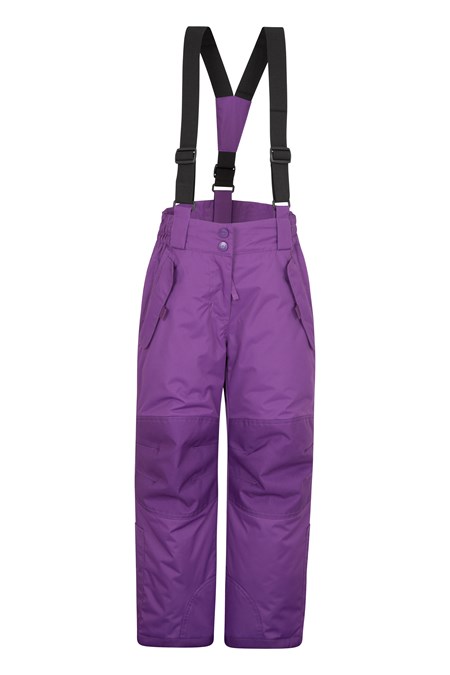 Honey Kids Snow Pants
Discount Card Price
$64.99
What is a discount card?

By shopping online, you can take advantage of our discount card price.
Code: 023170
Designed in durable snowproof fabric with a part elasticated waist for comfort, the Honey Ski Pants have detachable braces, zipped pockets, snow gaiters and ankle openings - perfect for keeping your little ones warm and happy on the slopes this season.
Snowproof - treated with a durable water repellent to make the fabric water resistant
Integrated snow gaiters - provides a seal around your ankle to help prevent snow getting into your salopettes
Zipped ankle opening - makes it easy to fit your salopettes over your boots
Detachable braces - adjustable and detachable braces for your perfect fit
Pockets - two front zipped security pockets to keep your valuables safe when on the slopes
Fabric Composition
Polyester 100%
023170 HONEY KIDS SNOW PANTS
023170 HONEY KIDS SNOW PANTS
023170 HONEY KIDS SNOW PANTS
023170 HONEY KIDS SNOW PANTS
023170 HONEY KIDS SNOW PANTS
023170 HONEY KIDS SNOW PANTS
023170 HONEY KIDS SNOW PANTS
023170 HONEY KIDS SNOW PANTS
023170 HONEY KIDS SNOW PANTS
023170 HONEY KIDS SNOW PANTS
023170 HONEY KIDS SNOW PANTS
023170 HONEY KIDS SNOW PANTS
023170 HONEY KIDS SNOW PANTS
023170 HONEY KIDS SNOW PANTS
023170 HONEY KIDS SNOW PANTS
023170 HONEY KIDS SNOW PANTS
023170 HONEY KIDS SNOW PANTS
023170 HONEY KIDS SNOW PANTS
023170 HONEY KIDS SNOW PANTS
023170 HONEY KIDS SNOW PANTS
023170 HONEY KIDS SNOW PANTS
023170 HONEY KIDS SNOW PANTS
023170 HONEY KIDS SNOW PANTS
023170 HONEY KIDS SNOW PANTS
023170 HONEY KIDS SNOW PANTS
023170 HONEY KIDS SNOW PANTS
023170 HONEY KIDS SNOW PANTS
023170 HONEY KIDS SNOW PANTS
023170 HONEY KIDS SNOW PANTS
023170 HONEY KIDS SNOW PANTS
023170 HONEY KIDS SNOW PANTS
023170 HONEY KIDS SNOW PANTS
023170 HONEY KIDS SNOW PANTS
023170 HONEY KIDS SNOW PANTS
023170 HONEY KIDS SNOW PANTS
023170 HONEY KIDS SNOW PANTS
023170 HONEY KIDS SNOW PANTS
023170 HONEY KIDS SNOW PANTS
023170 HONEY KIDS SNOW PANTS
023170 HONEY KIDS SNOW PANTS
023170 HONEY KIDS SNOW PANTS
023170 HONEY KIDS SNOW PANTS
023170 HONEY KIDS SNOW PANTS
023170 HONEY KIDS SNOW PANTS
023170 HONEY KIDS SNOW PANTS
023170 HONEY KIDS SNOW PANTS
023170 HONEY KIDS SNOW PANTS
023170 HONEY KIDS SNOW PANTS
023170 HONEY KIDS SNOW PANTS
023170 HONEY KIDS SNOW PANTS
023170 HONEY KIDS SNOW PANTS
023170 HONEY KIDS SNOW PANTS
023170 HONEY KIDS SNOW PANTS
023170 HONEY KIDS SNOW PANTS
023170 HONEY KIDS SNOW PANTS
023170 HONEY KIDS SNOW PANTS
023170 HONEY KIDS SNOW PANTS
023170 HONEY KIDS SNOW PANTS
023170 HONEY KIDS SNOW PANTS
023170 HONEY KIDS SNOW PANTS
023170 HONEY KIDS SNOW PANTS
023170 HONEY KIDS SNOW PANTS
023170 HONEY KIDS SNOW PANTS