Seasons Kids Water Resistant Padded Jacket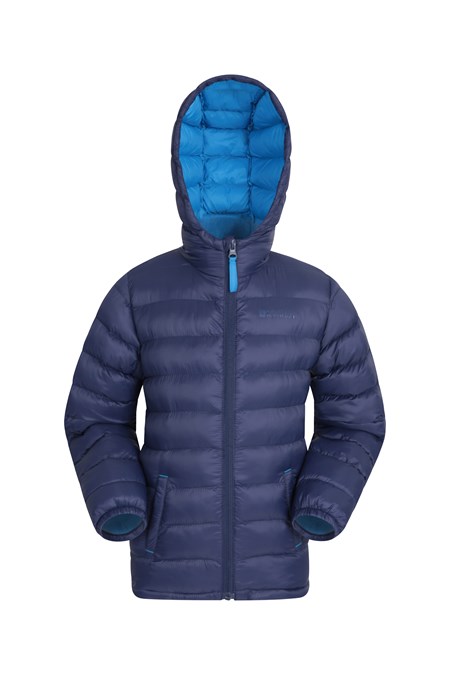 Seasons Kids Water Resistant Padded Jacket
Discount Card Price
€19.99
What is a discount card?

By shopping online, you can take advantage of our discount card price.
Code: 025350
The Seasons Boys Padded Jacket keeps your child warm and protected, when getting caught in light showers. Lightweight microfiber padding for better insulation and with a water-resistant outer - it's great for winter outdoor fun.
Padded Insulation - Microfibre filling provides excellent heat retention, a synthetic alternative to down
Water-resistant - Treated with Durable Water Repellent (DWR), droplets will bead and roll off the fabric. Light rain, or limited exposure to rain
Side Pockets - Two convenient side pockets
Fabric Composition
Polyester 100%
025350 SEASONS KIDS PADDED JACKET
025350 SEASONS KIDS PADDED JACKET
025350 SEASONS KIDS PADDED JACKET
025350 SEASONS KIDS PADDED JACKET
025350 SEASONS KIDS PADDED JACKET
025350 SEASONS KIDS PADDED JACKET
025350 SEASONS KIDS PADDED JACKET
025350 SEASONS KIDS PADDED JACKET
025350 SEASONS KIDS PADDED JACKET
025350 SEASONS KIDS PADDED JACKET
025350 SEASONS KIDS PADDED JACKET
025350 SEASONS KIDS PADDED JACKET
025350 SEASONS KIDS PADDED JACKET
025350 SEASONS KIDS PADDED JACKET
025350 SEASONS KIDS PADDED JACKET
025350 SEASONS KIDS PADDED JACKET
025350 SEASONS KIDS PADDED JACKET
025350 SEASONS KIDS PADDED JACKET
025350 SEASONS KIDS PADDED JACKET
025350 SEASONS KIDS PADDED JACKET
025350 SEASONS KIDS PADDED JACKET
025350 SEASONS KIDS PADDED JACKET
025350 SEASONS KIDS PADDED JACKET
025350 SEASONS KIDS PADDED JACKET
025350 SEASONS KIDS PADDED JACKET
025350 SEASONS KIDS PADDED JACKET
025350 SEASONS KIDS PADDED JACKET
025350 SEASONS KIDS PADDED JACKET
025350 SEASONS KIDS PADDED JACKET
025350 SEASONS KIDS PADDED JACKET
025350 SEASONS KIDS PADDED JACKET
025350 SEASONS KIDS PADDED JACKET
025350 SEASONS KIDS PADDED JACKET
025350 SEASONS KIDS PADDED JACKET
025350 SEASONS KIDS PADDED JACKET
025350 SEASONS KIDS PADDED JACKET
025350 SEASONS KIDS PADDED JACKET
025350 SEASONS KIDS PADDED JACKET
025350 SEASONS KIDS PADDED JACKET
025350 SEASONS KIDS PADDED JACKET
025350 SEASONS KIDS PADDED JACKET
025350 SEASONS KIDS PADDED JACKET
025350 SEASONS KIDS PADDED JACKET
025350 SEASONS KIDS PADDED JACKET
025350 SEASONS KIDS PADDED JACKET
025350 SEASONS KIDS PADDED JACKET
025350 SEASONS KIDS PADDED JACKET
025350 SEASONS KIDS PADDED JACKET
025350 SEASONS KIDS PADDED JACKET
025350 SEASONS KIDS PADDED JACKET
025350 SEASONS KIDS PADDED JACKET
025350 SEASONS KIDS PADDED JACKET
025350 SEASONS KIDS PADDED JACKET
025350 SEASONS KIDS PADDED JACKET
025350 SEASONS KIDS PADDED JACKET
025350 SEASONS KIDS PADDED JACKET
025350 SEASONS KIDS PADDED JACKET
025350 SEASONS KIDS PADDED JACKET
025350 SEASONS KIDS PADDED JACKET
025350 SEASONS KIDS PADDED JACKET
025350 SEASONS KIDS PADDED JACKET
025350 SEASONS KIDS PADDED JACKET
025350 SEASONS KIDS PADDED JACKET
025350 SEASONS KIDS PADDED JACKET
025350 SEASONS KIDS PADDED JACKET
025350 SEASONS KIDS PADDED JACKET
025350 SEASONS KIDS PADDED JACKET
025350 SEASONS KIDS PADDED JACKET
025350 SEASONS KIDS PADDED JACKET
025350 SEASONS KIDS PADDED JACKET
025350 SEASONS KIDS PADDED JACKET
025350 SEASONS KIDS PADDED JACKET
025350 SEASONS KIDS PADDED JACKET
025350 SEASONS KIDS PADDED JACKET
025350 SEASONS KIDS PADDED JACKET
025350 SEASONS KIDS PADDED JACKET
025350 SEASONS KIDS PADDED JACKET
025350 SEASONS KIDS PADDED JACKET
025350 SEASONS KIDS PADDED JACKET
025350 SEASONS KIDS PADDED JACKET
025350 SEASONS KIDS PADDED JACKET
025350 SEASONS KIDS PADDED JACKET
025350 SEASONS KIDS PADDED JACKET
025350 SEASONS KIDS PADDED JACKET
025350 SEASONS KIDS PADDED JACKET
025350 SEASONS KIDS PADDED JACKET
025350 SEASONS KIDS PADDED JACKET
025350 SEASONS KIDS PADDED JACKET
025350 SEASONS KIDS PADDED JACKET
025350 SEASONS KIDS PADDED JACKET
025350 SEASONS KIDS PADDED JACKET
025350 SEASONS KIDS PADDED JACKET
025350 SEASONS KIDS PADDED JACKET
025350 SEASONS KIDS PADDED JACKET
025350 SEASONS KIDS PADDED JACKET
025350 SEASONS KIDS PADDED JACKET
025350 SEASONS KIDS PADDED JACKET
025350 SEASONS KIDS PADDED JACKET
025350 SEASONS KIDS PADDED JACKET
025350 SEASONS KIDS PADDED JACKET
025350 SEASONS KIDS PADDED JACKET
025350 SEASONS KIDS PADDED JACKET
025350 SEASONS KIDS PADDED JACKET
025350 SEASONS KIDS PADDED JACKET
025350 SEASONS KIDS PADDED JACKET
025350 SEASONS KIDS PADDED JACKET
025350 SEASONS KIDS PADDED JACKET
025350 SEASONS KIDS PADDED JACKET
025350 SEASONS KIDS PADDED JACKET
025350 SEASONS KIDS PADDED JACKET
025350 SEASONS KIDS PADDED JACKET
025350 SEASONS KIDS PADDED JACKET