Down Jacket Guide: What Is a Down Jacket?
---
05/02/18
When it's cold outside, nothing beats a down jacket for its insulating properties. But what exactly is a down jacket? And what makes it so warm? This guide will help you find answers to all of your down jacket questions to help you choose the perfect one for you.
What Is a Down Jacket?
Down jackets are insulated using the soft under feathers from ducks or geese. Down has incredible insulating properties because the loft (or fluffiness) of the material creates thousands of tiny air pockets that trap warm air and retain heat.
The down fill of a jacket will either be goose down or duck down, or sometimes a combination of the two. Goose down is regarded as the warmest and lightest, but duck down or jackets that use a combination are often much cheaper and still keep you very warm.

What is Down Fill Power?
You will often see a number that usually ranges from 600 to 800 when looking at down jackets. This is a rating of the fill power, which measures the loft of the down and its insulating properties. The higher the fill power, the more air pockets in the down and the warmer it will be for its weight.
Fill power is tested in laboratory conditions, where an ounce of down is compressed by a weight. It's ability to bounce back and 'loft' is calculated as the fill power.
| | |
| --- | --- |
| Fill Power | Rating |
| 400 - 450 | Medium |
| 500 - 550 | Good |
| 550 - 750 | Very Good |
| 750 - 900 | Excellent |
Another set of numbers you might see are the percentage of down and the percentage of feathers, such as 80/20. This example means that the jacket is insulated using 80% down and 20% feathers. Feathers don't provide any loft, so the higher the percentage of down used, the more insulated the jacket will be.
Are Down Jackets Waterproof?
Whilst down material loses its insulating properties when it gets wet, the shell of many down jackets will be coated with Durable Water Repellent coatings (DWR) to offer some resistance to rain. You can also get fully waterproof down jackets that combine this coating with a waterproof membrane. This prevents any moisture getting into the jacket, but is also breathable to allow moisture and sweat to escape.
You can shop our range of waterproof and water resistant mens down jackets and womens down jackets.
---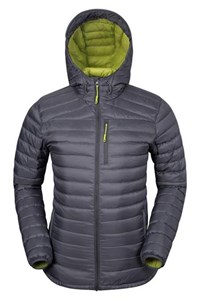 Men's Henry Down Padded Jacket
Stay warm with this lightweight down jacket, the perfect packable layer for winter.
Buy Now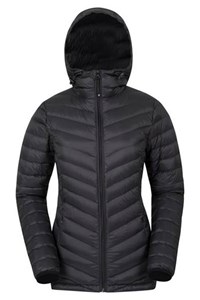 Womens Featherweight Down Jacket
With a down fill power rating of 600, this water resistant jacket will keep you warm.
Buy Now
---
Down vs Synthetic Insulation
The main differences between down and synthetic insulation are that down is lighter and a much better insulator. However, if you are a naturally warm person, or will be performing a strenuous activity such as hiking or skiing, you may find that a down jacket makes you too hot and synthetic insulation will be better suited.
Down Insulation
| | |
| --- | --- |
| Pros | Cons |
| Excellent heat retention | Loses insulating ability when wet |
| Lightweight- better warmth to weight ratio | Takes a long time to dry out when wet |
| Wider comfort temperature range- making it suitable for cold and warm temperatures | More expensive |
| Easier to compress and packs small | Requires special cleaning |
Synthetic Insulation
| | |
| --- | --- |
| Pros | Cons |
| Retains insulating properties when damp/wet | Does not retain heat as well as down |
| Cheaper than down | Bulkier |
| Easier to clean | Heavier |
Durability and Weight
The shell of a super lightweight down jacket will be made with a thin and light material. Although this is ideal for reducing weight, these jackets can be more vulnerable to snagging and abrasions. This type of jacket is great if you are wearing it now and again on cold days but if you are looking for a jacket to wear regularly for many years to come, it is worth looking for a slightly heavier and thicker outer shell which will last far longer. You can shop our entire range of down jackets, which come in a range of shapes, sizes and colors.
How Should a Down Jacket Fit?
A down jacket shouldn't be too fitted, or too loose. Try to allow for adding layers underneath your jacket, but ensure it isn't too roomy as this will allow cold air in through the hems and arms. Some down jackets have cuffed waists and wrists to help seal in the warmth.
Another feature to consider is a hood. Hooded down jackets can add extra warmth but also extra bulk. If you plan on wearing a down jacket as a midlayer (underneath a rain jacket for example) you may be better getting a jacket without a hood.
---
Share It!

Shop The Mountain Warehouse Down Jacket Range