Skiing vs Snowboarding
---
02/12/18
&nbsp
The first decision you need to make before hitting the slopes is choosing between skiing and snowboarding. This guide highlights the key differences between the two including the difficulty, injury risks, clothing and gear required, convenience and more.
Is Skiing or Snowboarding Easier?
Skiing is the easier of the two to pick up initially. However, it can be much easier to reach an advanced level of snowboarding once you've got the hang of it.
Skiing can feel more natural to beginners. When you ski, your legs remain separated allowing you to move them independently. You also have a front-facing stance. When you snowboard, your feet and legs are much more restricted and you have a side-facing stance. This can feel very unnatural to begin with and limits your peripheral vision.
Within your first few days of skiing, you can usually pick it up quite quickly and will be able to turn freely around the less steep slopes. Within your first few days of snowboarding, you will likely fall over – a lot! Once you've mastered the basics however, it can take a lot longer to perfect your skiing technique than snowboarding.
What Gear Do You Need?
The equipment and boots are very different but the clothing and accessories required for skiing or snowboarding are similar. You will need a ski jacket, ski pants, base layers to stay warm, and accessories such as goggles and gloves.
If you need to buy all this in one go before your trip, you can check out our unique ski outfit packages, where you can choose your favourite jacket, pants, gloves, beanie and socks and benefit from incredible savings.
---
5 Items Ski Packages
Get a Jacket, Pants, Gloves, Socks & Hat together at one great price!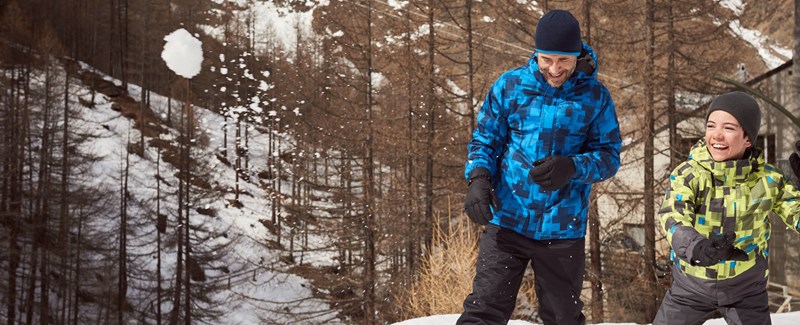 Shop Now
---
Which Is More Dangerous?
The most common types of injuries can be quite different for skiers and snowboarders. The risk of injuring your knees is higher when skiing, whereas ankle, wrist and shoulder injuries are more common when snowboarding.
You can still expect your knees to ache after skiing, along with your calves and shins. Expect muscles you didn't even know you had to ache after snowboarding! Snowboarding is generally the most tiring of the two as it requires full body movement. You also don't have any ski poles to help you stay upright, so even standing still uses up energy.
Which Is More Convenient?
You'll have more gear to carry around if you choose to ski. Instead of just one snowboard, you'll have to juggle two skis and two ski poles - all while trying to walk in awkward ski boots.
Getting on and off ski lifts is easier for skiers and can be tricky to master on a snowboard. You'll need to practise snowboarding on one foot as one boot will be unstrapped while you travel on the lift.
---
Share It!

Shop The Mountain Warehouse Ski Range