Sleeping Bag Guide: Choose the Best Sleeping Bag For You
---
14/05/18
The right sleeping bag can make all the difference to a restful night's sleep whether you are camping in the US summer or planning a winter adventure outdoors. In this guide, we will take you through all the important considerations and key features so you can choose the best sleeping bag for you.
---
Sleeping Bag Season Ratings
Sleeping bag season ratings are designed to make it easier to choose your sleeping bag. Ratings range from season 1, designed for summer camping, to season 4, designed for cold winter nights.
Season
Season Rating
Perfect for
Season 1
Summer camping. Indoor use
Season 2

Late spring Early autumn

Season 3
Autumn/Winter Cold nights. No frost
Season 4

Cold winter nights, may be frost/snow
Sleeping Bag Temperature Ratings
The temperature rating is an important factor to consider when choosing a sleeping bag. The rating you choose will depend on where you will be using your sleeping bag and what temperature you are comfortable sleeping in.
Temperature ratings will be expressed in comfort (lower comfort and upper comfort limits) and extreme ratings.
Comfort Ratings
The 'comfort' rating refers to the optimum temperature you will feel warm and comfortable sleeping in when in a rolled up position. When the bag is used in any temperatures below the 'comfort rating' the user is likely to feel the cold. On average women feel the cold more than men so this rating is some degrees above the 'comfort limit' for a man.
Extreme Ratings
The 'extreme' temperature rating is essentially 'the survival temperature'. Put simply, this is the very limit at which the bag will keep you alive without frostbite, or any other temperature related ailments. It is not the lowest temperature you will be comfortable in and you should not expect regular use of the bag at this temperature.
Our Everest Down Sleeping Bag is an example of a bag with a high extreme rating. It has an extreme survival rating of -28C, meaning it is a bag designed to keep you alive in tougher conditions where there may be a very real threat of hypothermia.
---
Down Vs Synthetic
There are two key types of sleeping bag. Down Sleeping Bags are made with the fine under feathers from ducks or geese and synthetic sleeping bags, which are filled with man-made insulation, mostly poly-fibres.
Synthetic Sleeping Bags
Synthetic insulation is the most common type of insulation used in sleeping bags. A synthetic sleeping bag will be cheaper, easier to clean and require less care than a down sleeping bag. They also perform better when wet than down bags, retaining around 50% of their insulating ability when wet.
However, synthetic insulation does not retain heat like natural down. Synthetic bags are also bulkier and heavier than down bags as they need more filling in order to work efficiently in a similar temperature range.
| | |
| --- | --- |
| Pros | Cons |
| Retains insulation when damp/wet | Does not retain heat as well as down |
| Cheaper than down | Bulkier and heavier |
| Easier to clean | Shorter life span |
Down Sleeping Bags
The loft of down creates thousands of tiny air pockets which means down sleeping bags are more effective at trapping warm air and retaining heat. They are also much lighter than synthetic bags and compress to a smaller size when packed. The warmth-to-weight ratio of a down sleeping bag cannot be beaten by a synthetic bag.
The disadvantage of down is that it easily absorbs moisture when damp and when it gets wet, its heat insulating properties are lost. Down sleeping bags also take much longer to dry out than synthetic bags. For these reasons, duck down sleeping bags are well suited to cold but dry conditions
Pros
Cons
  Excellent heat retention
 

Loses heat insulation ability when wet

  Lightweight- better warmth to weight ratio
 

Takes a long time to dry out when wet

  Wider comfort temperature range- making it suitable for cold and warm temperatures
 

More expensive

  Long lifespan if looked after
 

Requires special cleaning

  Easier to compress and packs small
Shapes, Sizes & Weights
Regular Sleeping Bags
A basic sleeping bag will be rectangular or 'envelope' in shape with a zip around two sides. These are roomier than mummy sleeping bags and can be fully opened and used as a blanket. Rectangular sleeping bags are less effective at retaining heat than mummy bags and are best for indoor use, caravanning and summer camping.
Mummy Sleeping Bags
A mummy sleeping bag, such as the Microlite 1400, tapers towards the feet and is therefore more fitted than a regular rectangular bag, which improves heat retention. The hood of a mummy sleeping bag also helps keep in the warmth. A mummy sleeping bag also weighs less than a rectangular bag.
Most mummy bags will be single but it is possible to buy left and right handed bags that can be zipped together to create a double bag. Our Microlite and Summit sleeping bags are good examples of this.
The packed size and weight of the bag should also be taken into consideration. This is especially important if you plan to fit your sleeping bag into a backpack or will be carrying the bag long distances.
Key Features
Left & Right Hand Zips
Sleeping bags are available with the zip opening on the right and left hand sides. To make it easier to unzip when you are inside, choose a bag with a zip opening the opposite side to your leading hand. If you are right handed choose a left bag and if you are left handed choose a right bag.
Two Way Zip
A two-way zip is useful for easy opening when ventilation is required. Zips can be full length or half way.
Zip Baffle
Heat can easily be lost through the zipped area of a sleeping bag. An insulated zip baffle (behind the zip) helps reduce heat loss.
Zip Cover
A zip cover (a piece of fabric that is normally fastened with velcro) covers the zip when the bag is fully zipped up helping to prevent the zip coming undone when asleep.
Hood
Much of your body heat is lost through your head, a shaped hood will help keep in heat. A draw cord closure allows you to pull the hood tight against your face for added warmth.
Draft Collar (or Neck/Shoulder Baffle)
An insulated draft collar (at the base of the hood) helps to stop body heat escaping from the bag and keeps out the cold around the neck and shoulders. Most draft collars will have an adjustable draw-cord to tighten if necessary.
Inner Pockets
Normally found near the top of the bag. Handy for keeping valuables such as wallets and phones safely tucked away.
Stuff Sack
Mummy sleeping bags will come with a stuff sack with a draw string closure. Unlike a rectangular bag that can be folded, a mummy bag should simply be stuffed into its bag. Compression straps help reduce the size of the packed bag.
Sleeping Bag Accessories
Although choosing the best sleeping bag for you is important, a few small additions can allow you to increase comfort and improve your night's sleep.
Sleeping Bag Liners
Sleeping bag liners are inserted inside your sleeping bag to provide an extra layer of warmth, improve hygiene and extend the life of the sleeping bag.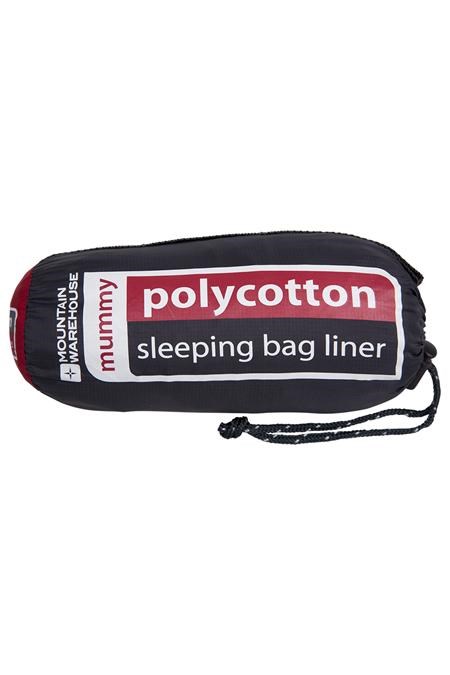 Sleeping Bag Liners
Travel Pillows
Travel pillows are smaller and lighter than standard pillows, making them the ideal companion for any trip where space is limited.
Sleeping Mats
Sleeping mats and roll mats go under your sleeping bag and provide insulation from the ground to keep you warm when sleeping outdoors.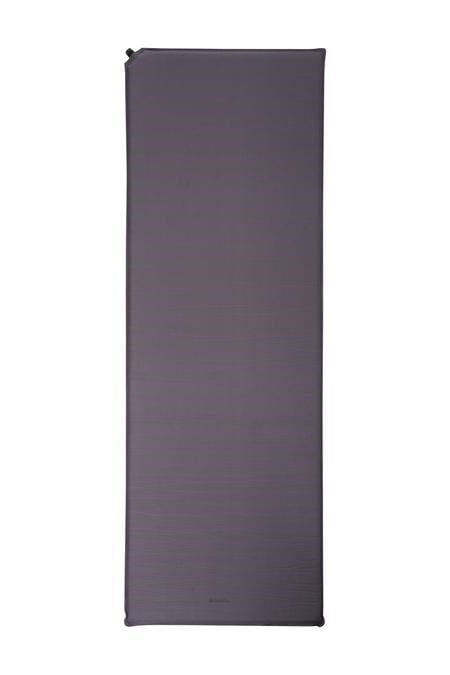 Sleeping Mats
Air Beds
Air beds will add a layer of home comfort to your sleeping bag setup.
---
Share It!

Shop The Mountain Warehouse Sleeping Bag Range