Rapid Mens Waterproof Boots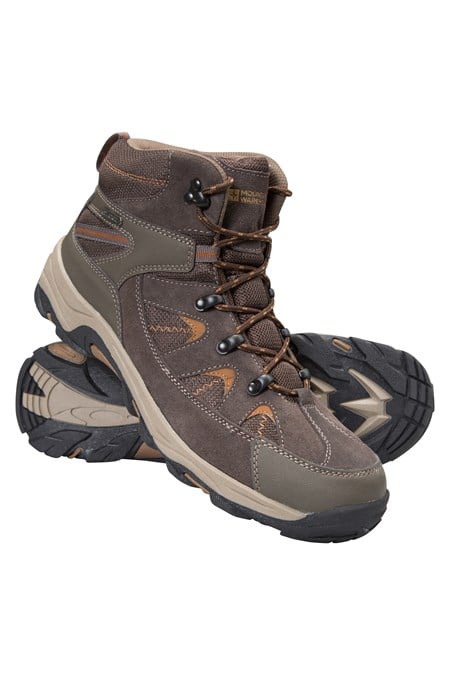 Rapid Mens Waterproof Boots
Members Price
$39.99
What is a members rewards card?

The Mountain Warehouse Members Rewards Card is an exclusive card that entitles you to significant discounts across our range of products. You will receive a digital card to save on plastic and space in your wallet.
Code: 028253
The Rapid Waterproof Boots are the ideal footwear for your next hiking adventure. With a suede upper, breathable mesh lining, deep lugs for high traction and heel and toe bumpers for added durability.
Waterproof - Constructed of a water-resistant upper and waterproof membrane
Deep Lugs - Traction on the sole for grip & stability
EVA cushioning - Moulds to your foot providing support & comfort
Heel & Toe Bumpers - Added rubber reinforcement at heel and toe, makes your footwear last longer
Mesh Lining - Improves breathability to help keep your feet fresh whilst out and about
028253 RAPID WATERPROOF BOOT
028253 RAPID WATERPROOF BOOT
028253 RAPID WATERPROOF BOOT
028253 RAPID WATERPROOF BOOT
028253 RAPID WATERPROOF BOOT
028253 RAPID WATERPROOF BOOT
028253 RAPID WATERPROOF BOOT
028253 RAPID WATERPROOF BOOT
028253 RAPID WATERPROOF BOOT
028253 RAPID WATERPROOF BOOT
028253 RAPID WATERPROOF BOOT
028253 RAPID WATERPROOF BOOT
028253 RAPID WATERPROOF BOOT
028253 RAPID WATERPROOF BOOT