Featherweight Down Womens Hooded Jacket
×
BESTSELLER
This item is selling fast!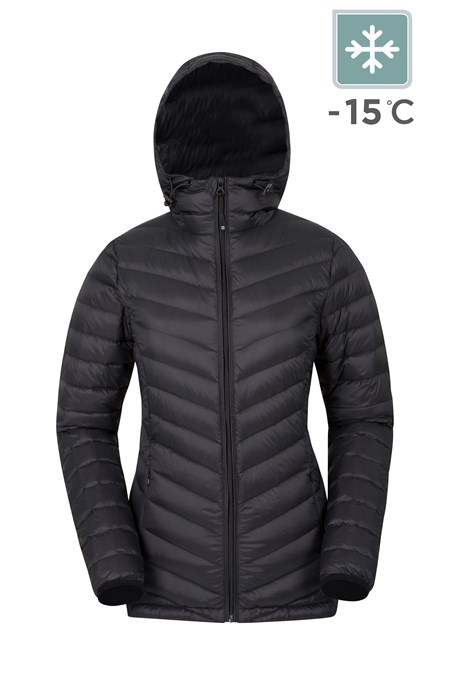 Featherweight Down Womens Hooded Jacket
Was

£109.99 Save 41%
Now
£64.99
Free Exchanges & No Hassle Returns
Code: 025373
The Featherweight Down Jacket with hood is a great wardrobe choice for this winter. Folds into its own bag and made of water-resistant nylon fabric with a down fill power of 600, this jacket keeps you warm and protected in light showers.
Temperature Guidance - The temperature ratings are a guideline only. Every person handles temperatures differently, always keep this in mind when choosing a product.
Fill Power Rating 600 - Higher fill power = warmer item. The measure of the loft (fluffiness). The higher the rating, the more air trapped per ounce of down allowing a higher level of insulation
Thermal - Retains heat for warmth without weight
Packs Away - Conveniently packs away into its own pocket. Great for travellers, walkers and more
Water-resistant - Treated with Durable Water Repellent (DWR), droplets will bead and roll off the fabric. Light rain, or limited exposure to rain
Fabric Composition
Nylon 100%
025373 FEATHERWEIGHT DOWN WOMENS HOODED JACKET
025373 FEATHERWEIGHT DOWN WOMENS HOODED JACKET
025373 FEATHERWEIGHT DOWN WOMENS HOODED JACKET
025373 FEATHERWEIGHT DOWN WOMENS HOODED JACKET
025373 FEATHERWEIGHT DOWN WOMENS HOODED JACKET
025373 FEATHERWEIGHT DOWN WOMENS HOODED JACKET
025373 FEATHERWEIGHT DOWN WOMENS HOODED JACKET
025373 FEATHERWEIGHT DOWN WOMENS HOODED JACKET
025373 FEATHERWEIGHT DOWN WOMENS HOODED JACKET
025373 FEATHERWEIGHT DOWN WOMENS HOODED JACKET
025373 FEATHERWEIGHT DOWN WOMENS HOODED JACKET
025373 FEATHERWEIGHT DOWN WOMENS HOODED JACKET
025373 FEATHERWEIGHT DOWN WOMENS HOODED JACKET
025373 FEATHERWEIGHT DOWN WOMENS HOODED JACKET