Fell Water-resistant Kids 3 in 1 Jacket
×
BESTSELLER
This item is selling fast!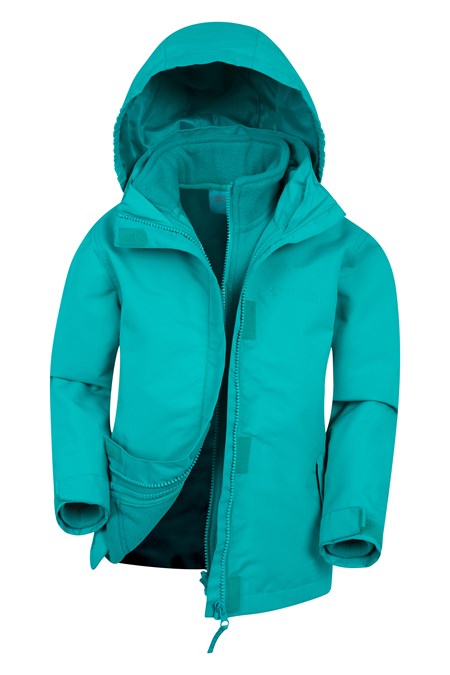 Fell Water-resistant Kids 3 in 1 Jacket

Save For Later
Free Exchanges & No Hassle Returns
Code: 023797
The Fell Kids 3 in 1 Jacket is perfect for changeable weather conditions. With a water-resistant outer shell and inner fleece for protection from the wind and light rain, this jacket will keep your little ones warm and snug this season.
Detachable Inner Jacket - Can been worn on its own or with the waterproof outer
Packaway Hood - Simply roll up the hood and pack away into the collar pocket
Water-resistant - Treated with Durable Water Repellent (DWR), droplets will bead and roll off the fabric. Light rain, or limited exposure to rain
Side Pockets - Two convenient side pockets
023797 FELL KIDS 3 IN 1 WATER RESISTANT JACKET
023797 FELL KIDS 3 IN 1 WATER RESISTANT JACKET
023797 FELL KIDS 3 IN 1 WATER RESISTANT JACKET
023797 FELL KIDS 3 IN 1 WATER RESISTANT JACKET
023797 FELL KIDS 3 IN 1 WATER RESISTANT JACKET
023797 FELL KIDS 3 IN 1 WATER RESISTANT JACKET
023797 FELL KIDS 3 IN 1 WATER RESISTANT JACKET
023797 FELL KIDS 3 IN 1 WATER RESISTANT JACKET
023797 FELL KIDS 3 IN 1 WATER RESISTANT JACKET
023797 FELL KIDS 3 IN 1 WATER RESISTANT JACKET
023797 FELL KIDS 3 IN 1 WATER RESISTANT JACKET
023797 FELL KIDS 3 IN 1 WATER RESISTANT JACKET
023797 FELL KIDS 3 IN 1 WATER RESISTANT JACKET
023797 FELL KIDS 3 IN 1 WATER RESISTANT JACKET
023797 FELL KIDS 3 IN 1 WATER RESISTANT JACKET
023797 FELL KIDS 3 IN 1 WATER RESISTANT JACKET
023797 FELL KIDS 3 IN 1 WATER RESISTANT JACKET
023797 FELL KIDS 3 IN 1 WATER RESISTANT JACKET
023797 FELL KIDS 3 IN 1 WATER RESISTANT JACKET
023797 FELL KIDS 3 IN 1 WATER RESISTANT JACKET
023797 FELL KIDS 3 IN 1 WATER RESISTANT JACKET
023797 FELL KIDS 3 IN 1 WATER RESISTANT JACKET
023797 FELL KIDS 3 IN 1 WATER RESISTANT JACKET
023797 FELL KIDS 3 IN 1 WATER RESISTANT JACKET
023797 FELL KIDS 3 IN 1 WATER RESISTANT JACKET
023797 FELL KIDS 3 IN 1 WATER RESISTANT JACKET
023797 FELL KIDS 3 IN 1 WATER RESISTANT JACKET
023797 FELL KIDS 3 IN 1 WATER RESISTANT JACKET
023797 FELL KIDS 3 IN 1 WATER RESISTANT JACKET
023797 FELL KIDS 3 IN 1 WATER RESISTANT JACKET
023797 FELL KIDS 3 IN 1 WATER RESISTANT JACKET
023797 FELL KIDS 3 IN 1 WATER RESISTANT JACKET
023797 FELL KIDS 3 IN 1 WATER RESISTANT JACKET
023797 FELL KIDS 3 IN 1 WATER RESISTANT JACKET
023797 FELL KIDS 3 IN 1 WATER RESISTANT JACKET
023797 FELL KIDS 3 IN 1 WATER RESISTANT JACKET
023797 FELL KIDS 3 IN 1 WATER RESISTANT JACKET
023797 FELL KIDS 3 IN 1 WATER RESISTANT JACKET
023797 FELL KIDS 3 IN 1 WATER RESISTANT JACKET
023797 FELL KIDS 3 IN 1 WATER RESISTANT JACKET
023797 FELL KIDS 3 IN 1 WATER RESISTANT JACKET
023797 FELL KIDS 3 IN 1 WATER RESISTANT JACKET
023797 FELL KIDS 3 IN 1 WATER RESISTANT JACKET
023797 FELL KIDS 3 IN 1 WATER RESISTANT JACKET
023797 FELL KIDS 3 IN 1 WATER RESISTANT JACKET
023797 FELL KIDS 3 IN 1 WATER RESISTANT JACKET
023797 FELL KIDS 3 IN 1 WATER RESISTANT JACKET
023797 FELL KIDS 3 IN 1 WATER RESISTANT JACKET
023797 FELL KIDS 3 IN 1 WATER RESISTANT JACKET
023797 FELL KIDS 3 IN 1 WATER RESISTANT JACKET
023797 FELL KIDS 3 IN 1 WATER RESISTANT JACKET
023797 FELL KIDS 3 IN 1 WATER RESISTANT JACKET
023797 FELL KIDS 3 IN 1 WATER RESISTANT JACKET
023797 FELL KIDS 3 IN 1 WATER RESISTANT JACKET
023797 FELL KIDS 3 IN 1 WATER RESISTANT JACKET
023797 FELL KIDS 3 IN 1 WATER RESISTANT JACKET
023797 FELL KIDS 3 IN 1 WATER RESISTANT JACKET
023797 FELL KIDS 3 IN 1 WATER RESISTANT JACKET
023797 FELL KIDS 3 IN 1 WATER RESISTANT JACKET
023797 FELL KIDS 3 IN 1 WATER RESISTANT JACKET
023797 FELL KIDS 3 IN 1 WATER RESISTANT JACKET
023797 FELL KIDS 3 IN 1 WATER RESISTANT JACKET
023797 FELL KIDS 3 IN 1 WATER RESISTANT JACKET
023797 FELL KIDS 3 IN 1 WATER RESISTANT JACKET
023797 FELL KIDS 3 IN 1 WATER RESISTANT JACKET
023797 FELL KIDS 3 IN 1 WATER RESISTANT JACKET
023797 FELL KIDS 3 IN 1 WATER RESISTANT JACKET
023797 FELL KIDS 3 IN 1 WATER RESISTANT JACKET