Field Mens Waterproof Vibram Boot
Field Mens Waterproof Vibram Boot

- Brown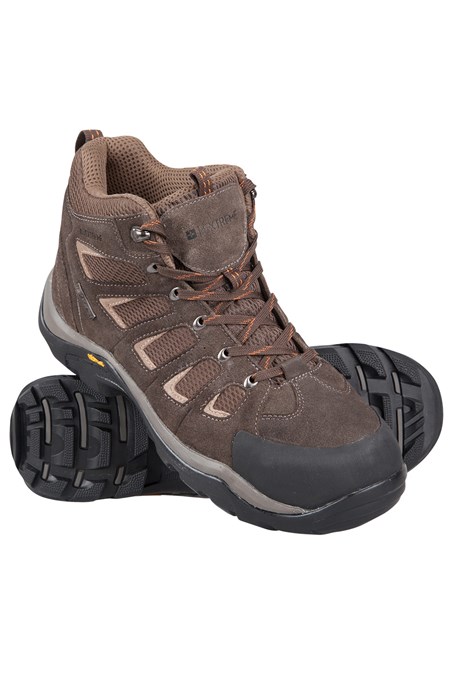 Code: 018900
Was £139.99 Save 43%
Now
£79.99
Free Exchanges & No Hassle Returns
The Field Mens Waterproof Vibram Boot is a hard wearing, highly breathable boot with an internal waterproof lining making it the ideal footwear for treks and hikes through warm and wet climates. Its Vibram outsole gives improved traction and stability with a cushioned midsole providing ultimate comfort. The Field Mens Waterproof Vibram Boot won't let you down whether you're hiking up a mountain or trekking through a humid jungle.
Waterproof - IsoDry membrane allows your feet to breathe whilst keeping them dry
Suede & Mesh Upper - Highly durable and breathable, creating a lighter style of footwear for hiking and walking
Vibram - Recognised as the world leader in performance outsoles, highly durable as well as great traction and grip
Mesh Lining - Improves breathability to help keep your feet fresh whilst out and about
Rubber Bumpers - Added rubber reinforcement at heel and toe, makes your footwear last longer
Fabric Composition
Upper = leather, textile. Lining = textile. Outsole = rubber.
Field Mens Waterproof Vibram Boot
Field Mens Waterproof Vibram Boot
Field Mens Waterproof Vibram Boot
Field Mens Waterproof Vibram Boot
Field Mens Waterproof Vibram Boot
Field Mens Waterproof Vibram Boot
Field Mens Waterproof Vibram Boot
Field Mens Waterproof Vibram Boot
Field Mens Waterproof Vibram Boot
Field Mens Waterproof Vibram Boot
Field Mens Waterproof Vibram Boot