Off-Piste Mens Snowboots

- Charcoal

×
BESTSELLER
This item is selling fast!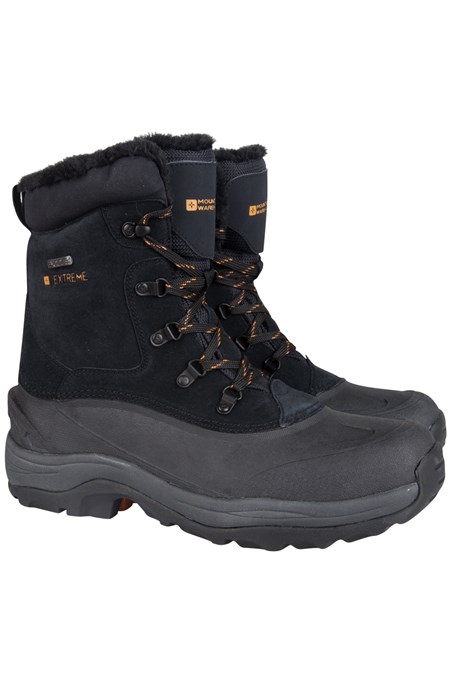 Off-Piste Mens Snowboots

- Charcoal

£99.99

Save 50%

£99.99

Save £50.00

Now

£49.99
Free Exchanges & No Hassle Returns
Code: 021931
The off-Piste Mens Snow Boots are extremely warm and durable. Thermal tested to keep you warm in temperatures as low as -20°C. The Snowproof design makes them perfect for slushy snow.
Snowproof - Highly Water Resistant with a waterproof membrane
Waterproof to indicated level
Thermal Tested - these boots will keep your feet warm in temperatures as low as -20°C. *Subject to health and physical activity, exposure time and proper dress, weather conditions and perspiration will affect performance and comfort
Isotherm Insulated Lining - 200gsm Thinsulate insulated lining adds warmth without bulk
High Traction Rubber Outsole - with deep tread for grip and stability
Great for - snowy days/keeping your feet warm/days out in moderate levels of snow/walking in slushy snow
021931 OFF-PISTE SNOW BOOT
021931 OFF-PISTE SNOW BOOT
021931 OFF-PISTE SNOW BOOT
021931 OFF-PISTE SNOW BOOT
021931 OFF-PISTE SNOW BOOT
021931 OFF-PISTE SNOW BOOT
021931 OFF-PISTE SNOW BOOT
021931 OFF-PISTE SNOW BOOT
021931 OFF-PISTE SNOW BOOT
021931 OFF-PISTE SNOW BOOT
021931 OFF-PISTE SNOW BOOT
021931 OFF-PISTE SNOW BOOT
021931 OFF-PISTE SNOW BOOT
021931 OFF-PISTE SNOW BOOT
021931 OFF-PISTE SNOW BOOT
021931 OFF-PISTE SNOW BOOT
021931 OFF-PISTE SNOW BOOT
021931 OFF-PISTE SNOW BOOT