Off-Piste Mens Snowboots

- Charcoal

×
BESTSELLER
This item is selling fast!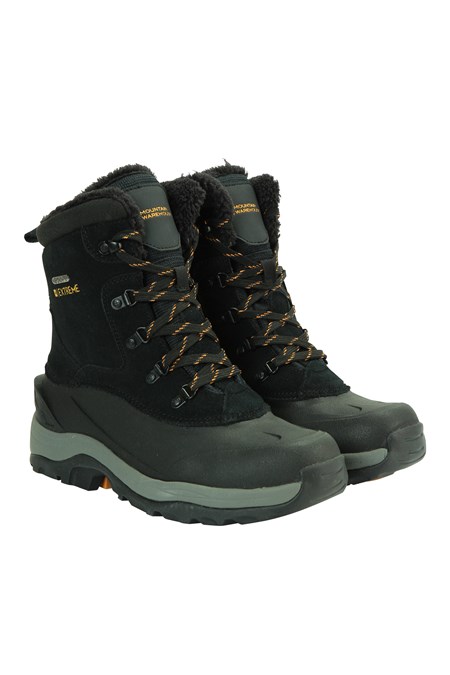 Off-Piste Mens Snowboots

- Charcoal

Save For Later
Free Exchanges & No Hassle Returns
Code: 021931
The Off-Piste Mens Snowboots are extremely warm and durable. They're snowproof, have a suede upper, IsoTherm lining and a sturdy rubber outsole - these boots are the best way to keep your feet protected this winter.
Suede Upper - Lighter than leather, very hard wearing and long lasting
Snow Proof - Treated with Durable Water Repellent (DWR), suitable in packed snow
Thermal Tested -20 °C - Laboratory tested. Health & physical activity, exposure time & perspiration will affect performance & comfort
Isotherm - Densely packed fibres to retain heat & warmth without adding bulk
Deep Lugs - Traction on the sole for grip & stability
Thinsulate Lining - Adds warmth without bulk. Densely packed fibres retain heat and are highly breathable
021931 OFF-PISTE EXTREME SNOW BOOT
021931 OFF-PISTE EXTREME SNOW BOOT
021931 OFF-PISTE EXTREME SNOW BOOT
021931 OFF-PISTE EXTREME SNOW BOOT
021931 OFF-PISTE EXTREME SNOW BOOT
021931 OFF-PISTE EXTREME SNOW BOOT
021931 OFF-PISTE EXTREME SNOW BOOT
021931 OFF-PISTE EXTREME SNOW BOOT
021931 OFF-PISTE EXTREME SNOW BOOT
021931 OFF-PISTE EXTREME SNOW BOOT
021931 OFF-PISTE EXTREME SNOW BOOT
021931 OFF-PISTE EXTREME SNOW BOOT
021931 OFF-PISTE EXTREME SNOW BOOT
021931 OFF-PISTE EXTREME SNOW BOOT
021931 OFF-PISTE EXTREME SNOW BOOT
021931 OFF-PISTE EXTREME SNOW BOOT
021931 OFF-PISTE EXTREME SNOW BOOT
021931 OFF-PISTE EXTREME SNOW BOOT