Snowfall Womens Textured Ski Jacket
×
BESTSELLER
This item is selling fast!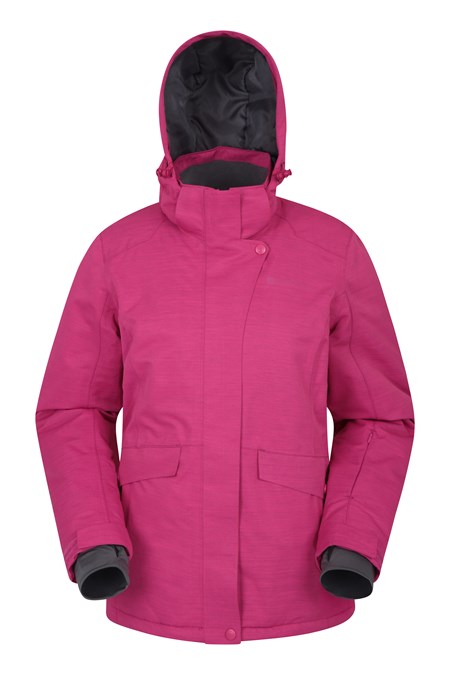 Snowfall Womens Textured Ski Jacket
£139.99
Save 57%
£139.99
Save £80.00
Now
£59.99
Free Exchanges & No Hassle Returns
Code: 028138
Get ready to shred the slopes with the Snowfall Textured Ski Jacket. Highly breathable jacket, that's fully waterproof, with taped seams, detachable features, under arm zips, and multiple pockets for convenient storage.
Waterproof - Tested to withstand 5,000mm of rain in a 24 hour period, suitable for heavy rain
Taped Seams - Waterproof tape runs across all stitched areas, making the item fully waterproof
Thermal Tested -30 °C - Laboratory tested. Health & physical activity, exposure time & perspiration will affect performance & comfort
Underarm Zips - Unzip for extra ventilation
Detachable Snowskirt - Helps prevent snow getting inside your jacket if you take a tumble. Detachable.
Detachable Hood - Detachable for greater versatility. Ideal for all weather conditions
Adjustable Fit - Adjustable cuffs, hood and hem for a great fit
Lots Of Pockets - Multiple pockets to keep valuables safe
Breathable - The fabric allows perspiration to pass out of the garment, keeping you cool and comfortable. Rated at 3,000mm
028138 SNOWFALL WOMENS TEXTURED SKI JACKET
028138 SNOWFALL WOMENS TEXTURED SKI JACKET
028138 SNOWFALL WOMENS TEXTURED SKI JACKET
028138 SNOWFALL WOMENS TEXTURED SKI JACKET
028138 SNOWFALL WOMENS TEXTURED SKI JACKET
028138 SNOWFALL WOMENS TEXTURED SKI JACKET
028138 SNOWFALL WOMENS TEXTURED SKI JACKET
028138 SNOWFALL WOMENS TEXTURED SKI JACKET
028138 SNOWFALL WOMENS TEXTURED SKI JACKET
028138 SNOWFALL WOMENS TEXTURED SKI JACKET
028138 SNOWFALL WOMENS TEXTURED SKI JACKET
028138 SNOWFALL WOMENS TEXTURED SKI JACKET
028138 SNOWFALL WOMENS TEXTURED SKI JACKET
028138 SNOWFALL WOMENS TEXTURED SKI JACKET
028138 SNOWFALL WOMENS TEXTURED SKI JACKET
028138 SNOWFALL WOMENS TEXTURED SKI JACKET
028138 SNOWFALL WOMENS TEXTURED SKI JACKET
028138 SNOWFALL WOMENS TEXTURED SKI JACKET